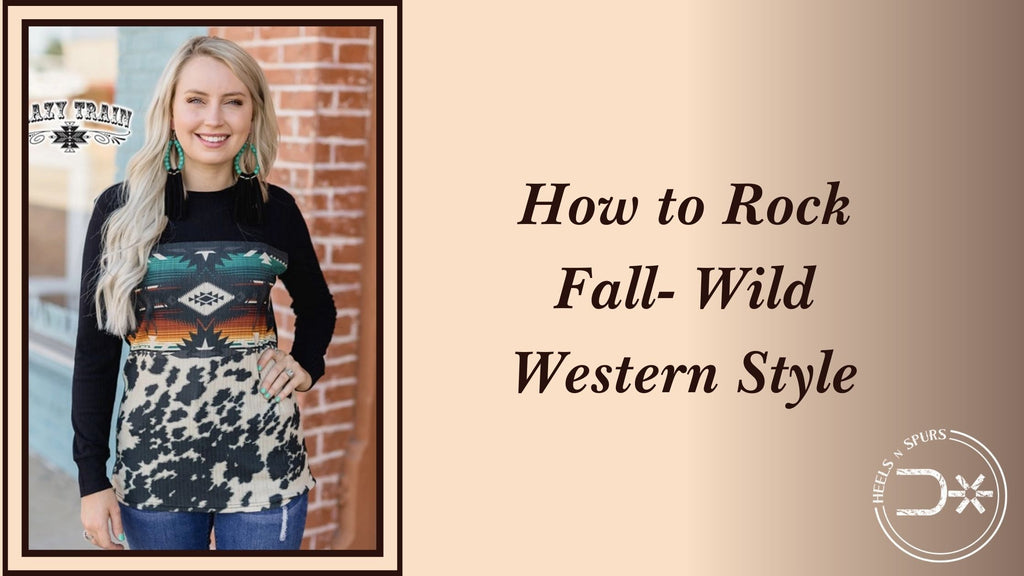 How to Rock Fall- Wild Western Style
Fall is here!
You may want to rethink your typical oversized rust-colored sweater because western style hoodies, tops, and accessories are stealing the show! This unique look is slowly taking over city streets and infiltrating trendy online boutiques.
Western-style attire has adorable yet simple designs and can also be very versatile! The idea is to highlight the various graphics and create a lovely outfit centered around western wear.
We've created a quick guide to help you style this unique design to perfection and give you some inspiration! If you like to look good without putting in much effort, these outfits will be great to incorporate into your everyday attire.
Styling Your Aztec Attire
Are you looking to add something unique to your closet this fall? Wearing something outside of your comfort zone can be intimidating. Western-styled tops, sweaters, and accessories are an excellent way to add a little extra flair to your look. But, it can be challenging to know exactly what to wear with these designs. So, we've put together a few outfit ideas so you can look as unique and effortless as possible!
1. Layering Your Top
The best thing about wearing western-styled tops is having the ability to mix and match different colors and patterns to create a customized look!
Layering any top is a quick and easy way to add a little depth and dimension to your look. You can throw on a tweed shirt and denim jacket to go for a carefree and casual vibe.
When it comes to finding quality western-styled sweatshirts, it's essential to make sure you choose the right fit. You can check out the various graphic sweatshirts we have in our online boutique.
2. Opt for Flared Jeans
Flare jeans are flattering on all body types and allow for various style options depending on the look you're going for!
When paired with a western-styled top, flared jeans make for an adorable combination. This is especially true when it's getting a bit chilly outside. Many women prefer flared jeans with flats or flat sandals, while others wear them with boots or heels. The decision is yours!
3. Throw on a Buckle Belt
A buckle belt is a statement piece of clothing to compliment your look and make you stand out.
Wearing a buckle belt is a great way to express yourself and stand out from everyone else. There are plenty of options to choose from when it comes to picking out belts. We recommend choosing one that color coordinates with your sweatshirt of choice.
4. Go Casual
Are you running to the grocery store? There's no need to put a ton of effort into your look when you can simply throw on a pair of printed joggers and a cute crop top! 
You can also pair your joggers with any of our adorable western-style graphic tees or Aztec-type sweatshirts!
5. Ditch Your Jeans
Many think that sweatshirts and hoodies can be boring. But that's simply not the case! Sweatshirts are cozy and give us the ability to mix and match with so many different types of accessories and bottom wear.
If you've been wearing your western-styled top solely with jeans, try changing it up with your favorite skirt or shorts! It can be some simple women's striped shorts or a knee-length skirt.
Try out different combinations of sweatshirts with a variety of bottom wear and see which one looks good on you!
6. Pair with Boots
Western-style attire can be paired with almost any type of shoe. But if you're looking to add a bit of extra western flare-you can pair it up with ankle-length or knee-length boots and go out cowgirl style!
You can find various patterns, colors, and lengths of boots at our online boutique!
7. Add Accessories
When styling your outfit, consider what kind of trendy accessories you'll want to add to it. A western-styled top can be paired with almost anything, but some things look better than others.
For example, a graphic t-shirt paired with a graphic scarf or mesh cap can clash and be distracting. Avoid this by combining accessories with solid elements to create a balanced look.
You can also add subtle touches like necklaces, cute bracelets, long earrings, or even a ring! Check out some of our best crossbody bags for a casual, western-style look!
Conclusion
Graphic sweatshirts are not only adorable, but they're also trendy right now! They give you the ability to mix and match so many different accessories and shoes! Who wouldn't want to wear them regularly?
Heels N Spurs is one of the most high-quality online boutiques in the USA. We offer graphic sweatshirts and other western tops for women at affordable prices. From tops to belts, shoes, and accessories, we have everything you could want in one place! So shop at our online boutique now to up your style game!