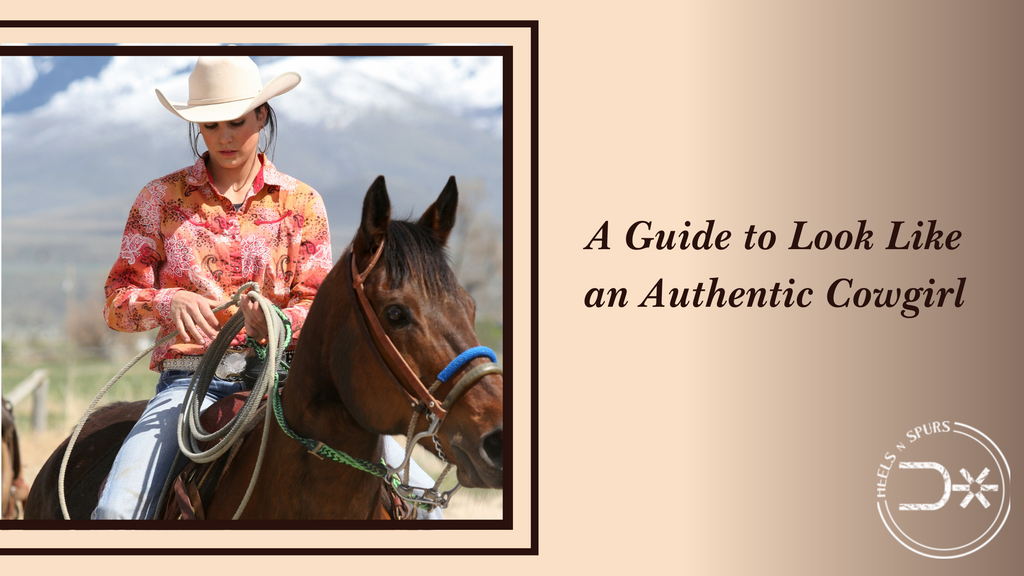 A Guide to Look Like an Authentic Cowgirl
As much as some like to call it the western 'trend,' one look at the recent runaways and fashion weeks, and you'll know that it's more than a trend. And here to stay.
If you want to dress up like an authentic cowgirl, then let us first tell you that it's the best fashion decision. The complete ensemble of a cowgirl is unlike most other attires. A cowgirl's attire oozes confidence, style, and glamour all day long.
This is why we've put together this guide to help you pick the right outfits to rock like a true cowgirl!
How Can You Dress Up Like a Cowgirl
At Heels N Spurs, we have several trendy women's clothing, most of it all aimed at the theme of cowgirls. We've picked some of our bestsellers and essentials down here to help you put together a cowgirl outfit and have heads turn your way all day!
A Modern Twist to the Typical Cowgirl Attire
If this is your first time trying to go with the cowgirl outfit or unsure about how it looks on you, here's a way to ease you in.
You can start with one part of the ensemble that screams 'cowgirl' and another a neutral piece of clothing, like this combination of animal-printed joggers and this cute, little black top.
You can see that it's the kind of top that anyone would wear, but one look at your bottom shows how bold and confident you are. And this attire can go well with your casual day out or traveling as this combo is so comfortable. You can also go for any other western tops for women that feel comfy to you.
For the sneakers, you can go with something in the cowgirl theme or if you want to play on the safer side – something simple like black, gray, or white sneakers. With just a simple change in the bottom wear, you can transform an otherwise dull outfit into a sizzling one.
Ride in 'Em Cowgirl Jeans
One of the iconic marks of a cowgirl's attire is the jeans you wear. It's not just the jeans, but actually the entire bottom wear, including the belt.
The best jeans are the flared type which instantly gives a cowgirl look. You can add chunky belts to accentuate the style further and bring attention to the narrow hips that widen to the flared jeans.
There are several models of flared jeans — flare at mid-thigh, some at the knees, and some right below the knees. Based on your body structure, you can pick one that's comfortable for you.
You can wear your usual t-shirts with these jeans or some funky t-shirts with animal prints or vintage designs to go with the cowgirl theme.
Kick in the Western Boots
If there's one definite purchase you need to make for your cowgirl outfit, it's the boots!
There's nothing more that implies and adds to the entire image than a pair of tall and funky western boots.
Just take a look at how rich and beautiful it looks! You can pair these cowgirl boots with your usual outfits over your jeans or some skirts, and you'll immediately give the impression of a cowgirl. Out of ideas to style your cowgirl boots?
Our trendy online boutique has several other collections of women's boots that go well with the cowgirl theme.
Throw a Hat on Top
How is a cowgirl outfit complete without a hat?!
Let's say that you're going low-key with the cowgirl theme or don't want to overdo it.
You can add on a wide-brimmed hat in brown or suede shades with your usual sweater, jeans, and boots, and you've got that mild cowgirl look!
You can invest in an excellent neutral-colored hat like this one to wear on days you feel like going out as an authentic cowgirl! You can even throw on some comfy sandals for women when you're not in the mood for boots and still look every bit like a cowgirl.
Go All Out with Animal-Printed Blazer
This is for those hardcore cowgirls who want to pull out all stops to give no room for doubt that you're, in fact, an authentic cowgirl.
An animal-printed blazer combo with a simple t-shirt or sweater would work the best. You can complete this outfit with your western boots, a big belt, and a nice pair of jeans. You can also add on a hat and look just like you've stepped out from Texas!
You can also pop on a couple of necklaces if it isn't too much and make a grand impression as a cowgirl. You can choose any such blazer to go with your cowgirl theme from our Online boutique USA.
Wrapping Up
Looking like an authentic cowgirl isn't much hard work like many think. With the basic trendy women's clothing from your wardrobe paired with a couple of cowgirl attires from our online boutique, you can transform yourself into a cowgirl instantly.
Heels N Spurs is one of the go-to online boutiques in the USA for western wear outfits. From beautiful cowgirl tops to women's bottom wear and right down to the accessories, we have it all.
Shop at our online boutique now for your cowgirl-themed outfit.