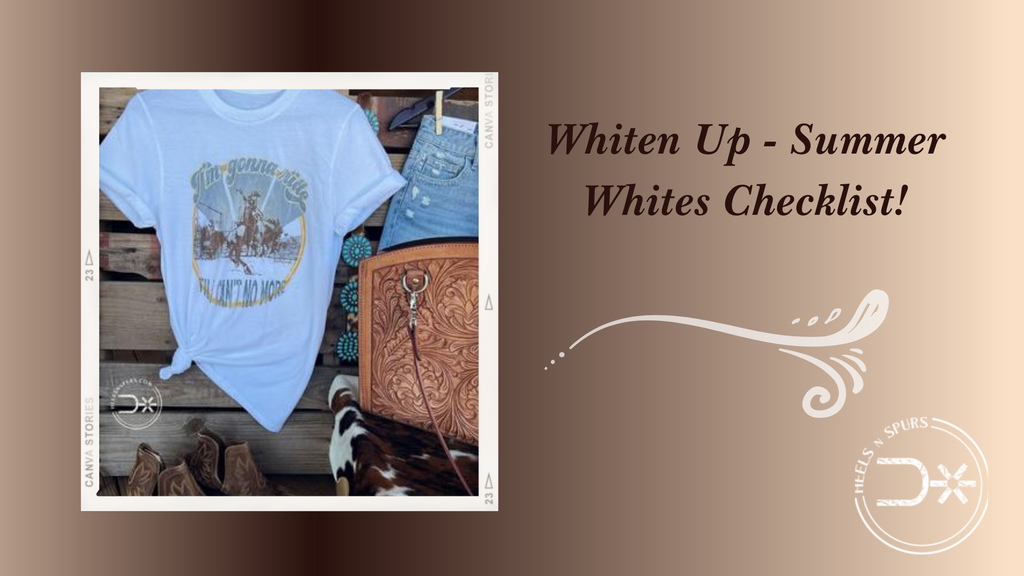 Whiten Up - Summer Whites Checklist!
It's summertime and the official period to pull out all your whites!
White is such a versatile color that it matches with other hues. There's something about white that brings out the warmth in people. 
At Heels N Spurs, we're huge fans of white dresses, tops and bottoms that we have come up with various combinations to rock this summer. Our style experts have put together some of the prettiest and most gorgeous trendy women's clothing in white this season. Let's jump right into the ocean of whites!
The All-Whites Summer Checklist
Whites are an absolute staple in the summers. You can have numerous choices of combinations to make the color work for you. In this blog, let's look at some of the different white colored clothing that you can wear to look like a breath of fresh air this summer.
A San Juan White Dress
White dresses are one of the hottest outfits to rock every summer. It's a fashion trend that never goes out of style. If you own a white dress (which you should!), then it's time to flaunt the dainty outfit this season!
Get yourself a gorgeous white sundress like this San Juan one.
You can wear this dress with a nice piece of necklace and flip-flops while strolling around the beach. Or, you can swap the flip flops for high-heeled boots for girls to wear on a shopping day. This dress is very comfortable to wear, even during hot weather. The red and orange embroidered designs add a pop of color and variation to the usual white dresses. You can also wear a belt around your waist.
You can also wear this white floral dress all year long by pairing it with a denim jacket, leggings and bulky belts.
A White Shirt with Denim Shorts
One favorite go-to combo is the white shirt + denim shorts.
This evergreen combination is a headturner. You can throw on a full-sleeved, half-sleeved, sleeveless shirt, ruffled shirt, or any other designer white shirt and pair it with blue denim shorts.
This combination looks great when you wear them with sneakers or boots, and flip flops. 
If you want to add a slight variation, you can go for asymmetrical shirts or hi-low styles.
A Classic White Ruffle Top
Talking about whites, how can we not mention a sweetheart ruffle top that adorns every woman so beautifully?
You can wear a white ruffle top with a pair of denim jeans in dark blue or flare jeans for women. You can also pair this with distressed jeans or even short skirts if you're feeling sexy that day. This also makes up for great office wear by matching it with cigarette pants and pointed heels.
You can make so many different outfits with this simple ruffle top. It's time to Shop this classic ruffle top from our women's western wear boutique here.
White Top with Denim Overall Shorts
When we said that there were hundreds of different combinations to wear with white in the summers, we really meant it. There are several ways to style your white women's tops.
Simply wear blue denim overall shorts over a white women's top of your choice. You can even go with distressed overalls or overall black shorts if you like.
If you want to look chic, wear a closed-neck top to compliment the overalls. A pair of lightweight sneakers or sandals, and a mini backpack will complete the ensemble.
You can wear accessories like a small bracelet or a dainty necklace to spice up a simple top.
White Sweaters with Denim Shorts
A loose-fitted off-white sweater is a must-have in any women's closet. There are plenty of ways to style it. You can wear it on a casual day with your usual jeans, throw on a jacket during winters, or wear them with shorts during the summers.
You tuck your sweaters into denim shorts, or add a simple necklace and heels to transform it into casual partywear.
You can also replace the heels with some catchy boots to add character to your look.
Wrapping Up
Rock this summer with white outfits from Heels N Spurs, one of the go-to online boutiques in the USA. Our western wear boutique has several trendy women's clothing and accessories you'll ever need.
Upgrade your wardrobe with stylish white outfits now.