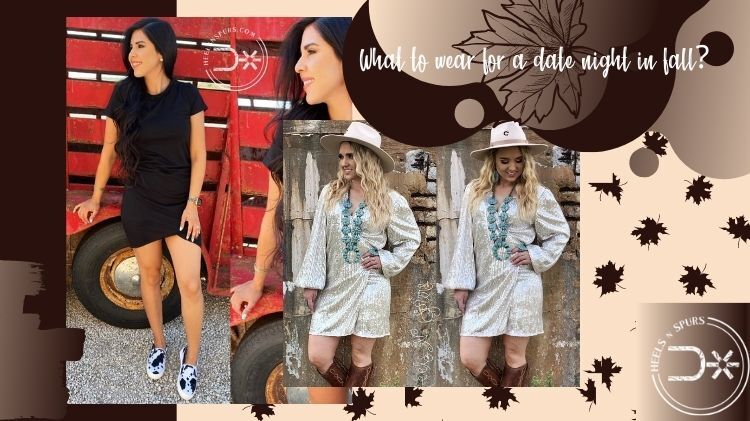 What to wear for a date night in fall?
If we're being honest, half the fun of date night is the anticipation, and the pre-date pampering sesh that comes with getting ready. Blasting music while doing your makeup in a robe with your hair in a towel is a vibe, and we are here for it! But then comes the big question...What to wear? If you're like us, you can spend a solid hour trying on different outfits before settling on the right one. Fun? Yes. But also a little anxiety-inducing! At Heels N Spurs, we wanted to take all the stress out of Date Night, so we curated a collection of the trendiest, most dazzling outfits that will have you looking and feeling your best. Fun, flirty, and comfortable, these are outfits you can count on for a good time.
4 Killer Looks For Your Night Out
1) Darling Dresses
You can absolutely never go wrong with a dress for Date Night! From fun and casual to classic glam, there's something about dresses that just make any event feel special. Pair it with chunky statement jewelry, elegant earrings, cowboy boots, or heels! Dresses are the perfect foundation piece for an outfit that shows off every amazing thing about you from your legs (yeah, we see those calf raises paying off, girl!) to your gorgeous smile. Our collection features pieces for every event, any time of day. Coffee or breakfast date? There's a dress for that! Farmer's market date? You'll be the best-dressed girl picking out your green juice and cut flowers! Wherever your date takes you, Heels N Spurs has your fashion solution.
2) Evergreen Jeans
Fall, winter, or spring; whatever season, jeans are always a great choice! Comfortable and classic, jeans can be dressed up or down for any date from drinks at the pub to a picnic at the park. Pair it with a range of women tops that you will instantly fall in love with from our collection at Heels N Spurs: a knit sweater, lace top, button-up, or flannel shirt! Mixing and matching has never been so easy or so fun!
To enhance your look, we recommend a classy denim, leather, or suede jacket. Our outerwear collection has some latest designs that will keep you stylish and warm!
Elevate the simple denim with a pair of flirty sandals for a daytime date, or get glam with a pair of sexy heels. They go with everything! Loafers...boots...wedges...that's the beauty of jeans!
3) Lovely leggings
Whether you want to rock a mini skirt without freezing your tush off, or want to accentuate your long legs, leggings are such a trendy look for Date Night! And yes, they go with everything! Pair them with a long flannel and knee-high boots, or top them with a cami and cozy kimono cardigan! Leggings say "I like to be comfy, but I like to look dang good doing it." You can even create an uber glamorous but simple look by pairing leggings and a turtleneck with some heeled booties! Finalize your look with our classy earrings for girls and you have a gorgeous fall Date Night outfit.
4) Color Coding
Solid colors feel safe, but Date Night is all about having fun, right? Try experimenting with wild colors and bold patterns. Colors have the power to enrich and empower an outfit. You will find everything from single tones to multiple shades in our collection.
Here Are The Tips To Experiment With Colors In Your Fall Wardrobe 2020.
Even if you are wearing single tones, you can spice it up with a colorful coat, scarf, or classy accessories. Adding a multicolor shawl or sweater will make you look just fabulous!
Conclusion
The online shopping world is overwhelmed with multiple options for you to choose from to make your special night even more special. What brings Heels n Spurs stand out is our remarkable service and high-quality. We promise you'll fall in love with our looks, and you'll look forward to Date Night even more knowing you'll look absolutely phenomenal.