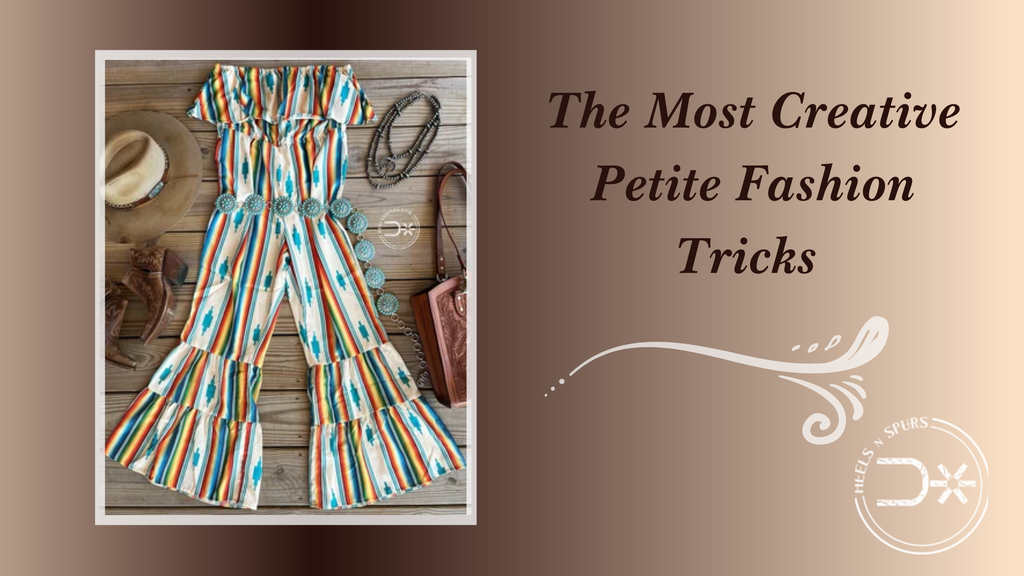 The Most Creative Petite Fashion Tricks
If you're petite and have tried out a lot of trendy women's clothing, then you must know that not everything suits your figure.
Since most petite women tend to have shorter legs, choosing the right match of clothes is the trick. We can create the illusion of looking taller than your actual height by styling your clothes in the right body proportions.
So, how exactly do we do that? With the right pick of outfits, of course. Our style experts from our women's western wear boutique, Heels N Spurs, offer some handy styling tips and tricks for petite women in this blog.
5 All-Season Petite Fashion Tricks
Before we talk about the tips for petite fashion, we have to be clear about how it works. While one cannot change a person's height, we can change the appearance with the outfits we wear to look taller than we actually are. When you have a basic understanding of how this fashion trick works, you can achieve this style every day, right from your office outfits to your party ones.
We'll give you an idea of how to break up the appearance and proportion of the body with colors and patterns that provide an elongated body posture. 
Once you get the hang of it, you can soon start styling yourself with these all-season petite fashion tricks.
Invest in a Couple of High-Waisted Jeans & Skirts
So, we were talking about splitting our frames based on proportions to look taller. But, of course, the standard rule is that the bottom clothes you wear should be longer. That is why the number one fashion rule for petite women is to invest in high-waisted jeans, trousers, skirts, shorts, and every other imaginable bottom wear. 
Just look at one of our iconic pieces in our women's boutique.
This is why the number one fashion rule for petite women is to invest in high-waisted jeans, trousers, skirts, shorts, and every other imaginable bottom wear. Just look at one of our iconic pieces in our online boutique USA.
Using the same color for the top and high-waisted bottoms is enough to give the appearance of a taller person, and the vertical stripes also lend to a leaner and more elevated look. You can go for similar pieces of high-waisted bottom and pair them up with your usual tops.
Go for Jumpsuits
Jumpsuits are the next best choice to look dressy and, at the same time, they work well for our petite frame. 
With jumpsuits, you don't need to think a lot about the accessories — just a pair of wedges, maybe a bracelet and a lovely earring, and you'll be good to go.
You can go for this simple leopard print jumpsuit that's comfy and super-stylish.
Make Dresses Your Best Friend
If there's one outfit that will always look great on petite women, it's the dress.
Dresses make us look so flattering and can add to our frame. Also, you can choose a bunch of dresses that you can wear around the season.
When you're buying new dresses, make sure to remember your body's proportions. You can pick out dresses with a cinched waist or a fit and flare model that starts from below the chest, or You can go for simple bodycon dresses like this with one sleeve that further adds to the appearance of a longer frame. 
Also, when you're wearing dresses, make sure to pick out the right heels. You don't want something flashy and strappy that breaks the illusion.
Prefer Nude Heels
Nude heels worn with short dresses add to the proportion of your lower body that works well for your petite frame. 
You can go for nude wedges, nude stilettos, nude pumps, or nude kitten heels. Bonus points if you can get a longer heel that works in your favor.
At our heels boutique, we have a beautiful pair of nude wedges that go with most dresses. You can wear these wedges with your jumpsuits too.
We also prefer wearing these wedges with shorts and jeans as it works well with all colors and all outfits. Make this pair of wedges a permanent addition to your wardrobe to look fashionable in any outfit you wear — plus a helpful trick to make your petite framework visually elongated.
Wear the Right-Sized Outerwear
We aren't precisely specifying how long your outerwear should be because it differs based on what you wear on the inside. 
If you're wearing shorts or a short dress, you can go for long coats, something that comes down to your knees. 
If your dress or shorts falls to your thigh level and the coat at the knee level, it creates an impression of two different vertical columns, one longer than the other, which works to your advantage.
For summers, you can go for long kimonos, and for winters, cardigans. You can invest in a mid-level cardigan, like the one below, which works with most western tops for women.
Wrapping Up
Creating vertical lines is the best way to dress up for petite women. Have that in mind the next time you go shopping. 
Want to check out some insanely beautiful dresses and outfits for you? Check out Heels N Spurs, the most popular trendy online boutique in the USA! From trendy women's clothing to stylish accessories, we have the best of the best handpicked at our online store.