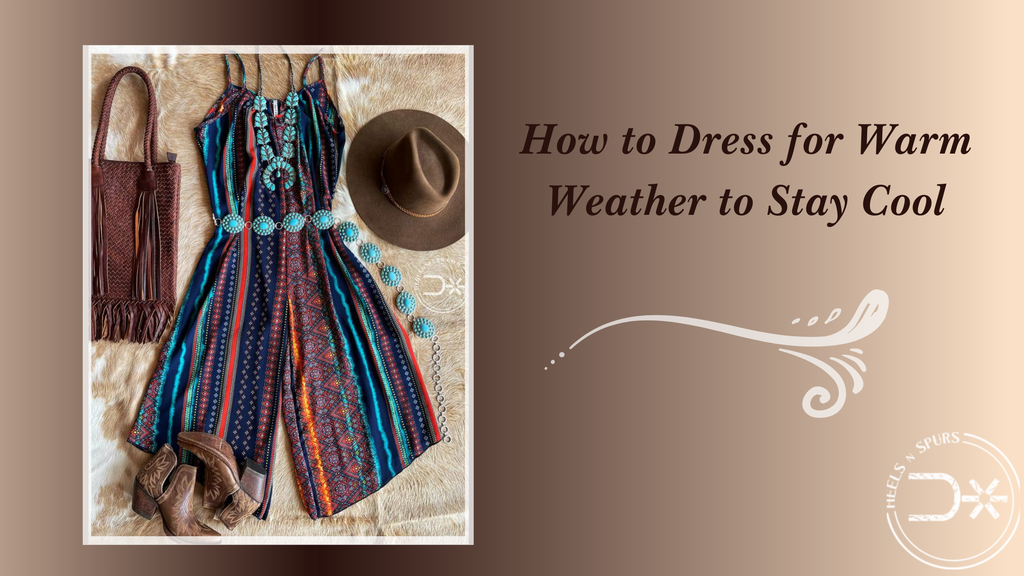 How to Dress for Warm Weather to Stay Cool
All ready and set for this summer?
Whether you're thinking about stocking up on some light clothes for the warm days or rethinking your choice of jeans as the temperature rises, this blog is here to help you out.
We understand how the summer season can make us revamp our fashion sense. We want to look our absolute best on all days but summer puts a damper on those tight-fitting dresses and thick jeans. However, you can still look stunning and pretty on warm days with our style tips.
5 Essential Wardrobe Tips for the Warm Weather
For some, achieving both comfort and style is pure magic.  But with some practical tips from our style experts, you can feel at ease and fabulous even on those warm days!
Choose Breathable Fabrics
There are some fabrics that may look light and thin but don't allow airflow. Instead, it traps the moisture during the warm days which can make you feel even hotter.
During those times, it's best to go for breathable fabrics like cotton. There are several stylish designs of cotton tops and dresses that you can choose based on your style preference. You can go for simple cotton shirts for offices, and on casual days, you can opt for cotton tops like this embroidered one.
You can wear this stylish top with shorts or jeans, and a pair of comfy sandals. This is a versatile outfit that you can wear both indoors and outdoors.
Wear Loose-Fitted Dresses
On mildly warm days, you can manage the heat with some cotton tops and jeans. But in summer seasons, there'll be these super-hot days where you just want to get drenched in the water.
Our style experts recommend wearing short, loose-fitted dresses like this one from our women's boutique.
This simple, loose dress is so airy and comfy that it'll become your go-to wear on hot days! This is ideal for hanging out at the beach, to wear with your bikinis, or for shopping on a sweltering day.
You can accessorize this dress with a simple necklace and chunky bracelets and a belt.
Opt for Sleeveless Tops
If we were given an option, we'd love to wear sleeveless tops and dresses all day during the summers! And why shouldn't you?
Invest in a couple of striking and comfortable sleeveless tops that you can wear on special occasions. It can be simple and cute, like this ruffle top that you can wear with your jeans or skirts.
Such sleeveless tops are easy to style and can be worn around the year. You can also go for cute floral tops from Heels N Spurs, one of the popular online boutiques for women's clothing. That would make a lovely addition to your summer outfit collection.
Another sleeveless combination that works like a charm is a crop top and shorts.
A simple black crop top like this one paired with your cotton shorts or even jean shorts would make up a gorgeous outfit in the summer.
Make Sandals Your Best Friend
When it's too hot outside, you don't want to wear uncomfortable footwear that makes you sweat even more. Pick out a few stylish sandals that go with your summer attire like dresses, jeans, and shorts.
Make sure to have a bright-colored sandal for the beach days, a fancy sandal to go with your dresses, and a neutral-colored one as a handy. With a healthy mix of sandals in different colors and designs, you can rock your stylish look and also feel comfy---anytime, anywhere. 
At our women's western wear boutique, we have several collections of comfy sandals at affordable prices. These bow sandals with subtle color and pretty bows elevate any outfit.
Invest in a Pair of Comfy Shorts
Summer is the time when you say bye-bye to those hot jeans that make you sweat all day. Instead, you can replace the jeans with a pair of breathable joggers or shorts that can be paired with most of your tops. 
Get simple black, blue, or ash-colored jogger shorts that work well with most t-shirts and tops. You can get these charcoal shorts from our trendy online boutique and wear them with your usual crop tops, t-shirts, shirts, and tank tops.
These shorts aren't too tight or too loose. It's just right enough to wear during the summer with any trendy women's clothing. It also comes with its own belt to tighten it up on your waist.
Wrapping Up
When the temperature rises, there's nothing more we love to do than throw on some simple, lightweight outfit and take a dip in the water! Well, you can stay cool even on warm days by picking the right outfit to mesh with the weather.
With these recommendations from our style experts, you can look stylish and feel comfy and cooler in the summer. 
If you're looking to update your summer wardrobe, shop at Heels N Spurs, a trendy online boutique. We have a wide selection from stylish tops and dresses to shoes, and accessories. We are one of the top online boutiques in the USA.
Shop online at Heels N Spurs now