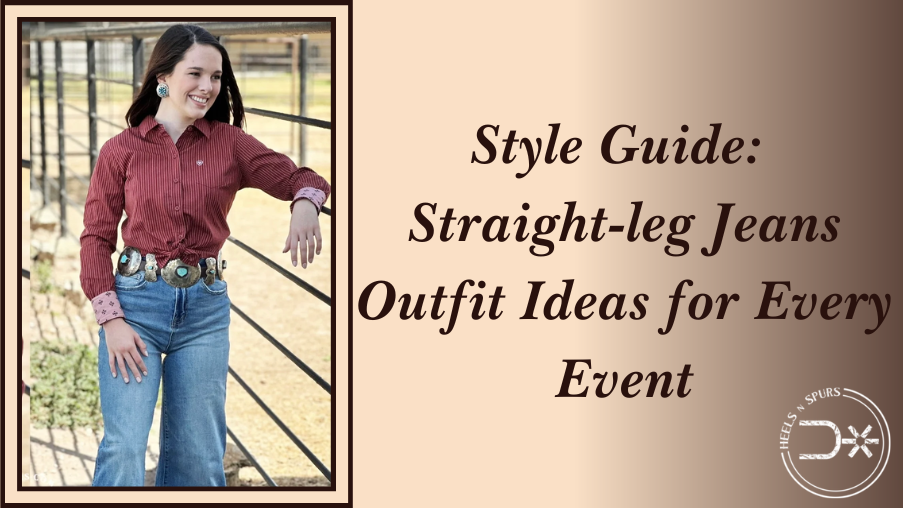 Style Guide: Straight-leg Jeans Outfit Ideas for Every Event
Meet the chameleon of your wardrobe – the straight-leg jeans. These denim wonders gracefully embrace your curves while leaving room for freedom of movement. Their clean lines and sleek silhouette facilitate the transition from casual cool to dressed-up elegance. Whether heading to a casual brunch, a night out in the town, or a fancy soiree, wide-leg jeans have your back.
Nevertheless, mastering the art of styling this timeless denim trend necessitates careful coordination with trendy women's clothing. Consider Heels N Spurs' guide as your ultimate fashion savior to conquer this.
Slay Every Occasion with Five Fashionable Outfit Inspirations for Straight-Leg Jeans
Do you want to flaunt straight-leg jeans at every event on your calendar? Let us dive into some stylish outfit ideas from our online boutiques in the USA that will have you looking fabulous every day. 
The Office-to-Evening Transformation
(Ariat Windward Snap Shirt, Ariat Clarissa Midnight Straight Jean, Rippled Hoops, and Charcoal Presley Heels)
Do you want to flaunt an effortless 9-to-5 chic with a twist? The Ariat Windward Snap Shirt from our women's online boutiques is here to ease your task. Being the epitome of Western fashion, this shirt exudes a bohemian allure. You can tuck it into the Ariat Clarissa Midnight Straight Jean for a well-defined yet comfortable silhouette. 
Add a touch of subtle luxury to your outfit with Rippled Hoops. These exquisite earrings dangle delicately, reflecting light and casting a mesmerizing glow. Complete the look with Charcoal Presley Heels, as this versatile footwear will easily take you from your desk to dinner. 
The Ultimate Style for Adventure Lovers
(Ariat Aloha Tank Top, Ariat Ultra High-Rise Tomboy Straight Jean, Authentic Navajo Pearl Choker, and Greeley Western Boots)
Want a perfect ensemble that brings out your bold spirit? The Ariat Aloha Tank Top from our Western tops for women range features a causal design that is made for all your escapades. Its sleeveless design allows maximum flexibility, letting those adventure-seeking arms move freely in any direction. You can team it with Ariat Ultra High-Rise Tomboy Straight Jean to stay relaxed and ready for the action. Their high rise ensures a secure fit, whereas the straight-leg design facilitates unrestricted motion for all your daring expeditions. 
You can accessorize the outfit with Authentic Navajo Pearl Choker, which elevates the whole look with soft silver accents. For footwear, choose the sturdy Greeley Western Boots for a rugged appeal. Crafted from durable leather, they offer protection and support for the feet, ensuring comfort throughout the most challenging journeys.
The College Fashion Staple
(Howdy Cowgirl Tee, Ariat Ultra High-Rise Relaxed Straight Crop Rinse Jeans, Black Stitching Classy Cowgirl Mini Crossbody Bag, and Ariat Hilo's Brown Floral Embossed Sneakers)
Our western boutique's Howdy Cowgirl Tee is an absolute pick for those fun-filled college days. It is a nod to classic Western flair infused with a contemporary cowgirl-inspired print. This tee is sure to keep you comfortable while channeling your free-spirited persona. You can style it in multiple ways, such as pairing it with either flare-leg jeans for laid-back charm or Ariat Ultra High-Rise Relaxed Straight Crop Rinse Jeans. Its high-rise waistline offers a flattering silhouette and a secure fit as you navigate the bustling hallways. Likewise, the cropped length adds a trendy edge, showcasing your fashionable sensibilities.
You can keep all your college essentials in a Black Stitching Classy Cowgirl Mini Crossbody Bag. The stitching details enrich the overall aesthetics of the outfit, whereas the crossbody design allows for hands-free convenience. Finish the attire with Ariat Hilo's Brown Floral Embossed Sneakers, as they provide cushioning and support for walking from class to class.
A Breezy Sophistication for Daytime Outings
(Ariat Howdy Print Tank Top, Tracey High Rise Straight Leg Hidden Jean, Riata Concho Studs, and Senora Tooled Heels)
Apart from dresses and heels, tank tops are also an excellent option for daytime outings. The Ariat Howdy Print Tank Top is like a breath of fresh air into your closet. Its vibrant hue and playful pattern infuse your look with liveliness and joy. The lightweight fabric keeps you cool under the sun's warm embrace, while the sleeveless design provides flexible movement. You can complement this tank top with Tracey High Rise Straight Leg Hidden Jean.
Its high waistline and well-defined finish accentuate your curves with a graceful fitting. Add some dainty accessories such as Riata Concho Studs for a statement-maker appearance. Their floral design exudes grace, drawing attention to your face with exquisite silver-turquoise accents. Accompanying the outfit are the Senora Tooled Heels. Their tooled design radiates artistic flair, embodying intricate patterns and textures that make each step a conversation-starter move.
For Romantic Dates and Night Time Celebrations
(Belle Sleeve Crop Top, 90s Straight Leg Jeans, White Sangria Squash Necklace, and Coastal Cowgirl Wedges)
The Belle Sleeve Crop Top from our trendy online boutique is a beautiful, feminine piece crafted to rejoice in the bliss of nighttime revelries. The bell sleeves flow gracefully with each movement, whereas the cropped length reveals a hint of skin for a whimsical look. You can match this top with flare jeans for women for a comfy combination or 90s Straight Leg Flare Jeans for a sculpted physique and carefree movement. This pair of jeans also offers the best of vintage and contemporary fashion with a flattering fit. 
Put on the White Sangria Squash Necklace, featuring intricate floral motifs that symbolize love and beauty. This necklace will become your ensemble's centerpiece, accentuating your neck and decolletage. For a great stature, opt for Coastal Cowgirl Heels. The color palette of these heels brings an attractive contrast to the outfit, allowing you to make a memorable entrance wherever the night takes you.
Slip Into a Pair of Straight Leg Jeans and Let Your Personality Take Center Stage
Want to elevate your straight-leg jeans game? The five attires mentioned above from the trendy women's clothing collection of Heels N Spurs are a must-have in your closet. They will help you style the world's most beloved silhouette, letting your fashion supremacy shine wherever you go. Mixing a classic fit with supreme comfort, straight-leg jeans are your ticket to looking and feeling your best daily.
Get ready to feel like an ultimate trendsetter in wide-leg jeans outfits!