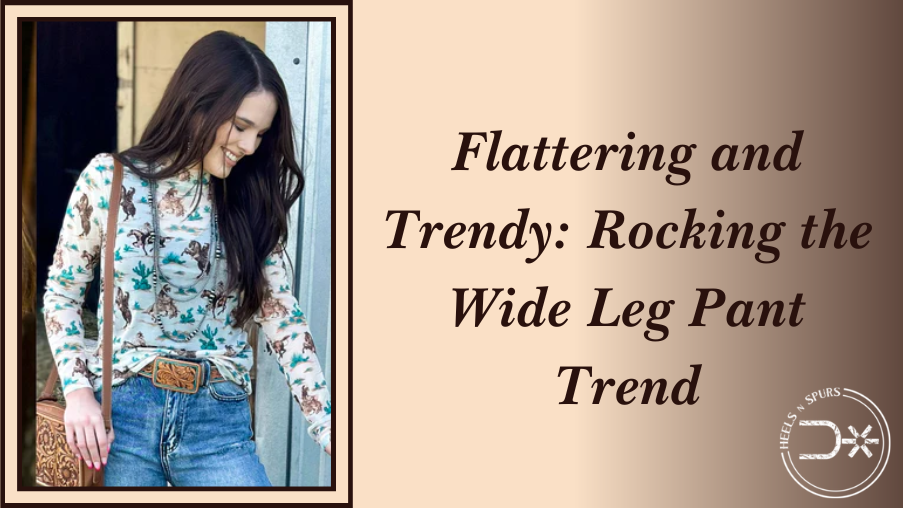 Flattering and Trendy: Rocking the Wide Leg Pant Trend
The evergreen trend of wide-leg pants represents a world of fashion liberation, where comfort and style harmoniously unite. With a nod to retro vibes and a flair for modern sophistication, these flattering bottoms have become the talk of the town. They possess an innate ability to effortlessly flatter every body shape, embracing curves and elongating the legs with their graceful drape.
Embrace the freedom of movement with sartorial elegance as this guide by Heels N Spurs will help you flaunt wide-legged bottoms. Let us delve deeper and explore the curated trendy women's clothing collection that celebrates your comfort-loving spirit at every step.
6 Wide Leg Outfit Combinations for Everyday Glamour
Step aside your skinny jeans as the wide-leg pants take center stage—all thanks to their billowing silhouette and fashion-forward charm. From bold prints to sleek monochromes, these outfit combinations from our women's online boutiques will amp up your style game.
Fun with Flirty Florals
(Sage Floral Top, Mauve Wide Leg Pants, Rippled Hoops, and Tan Presley Heels)
The Sage Floral Top radiates the essence of a blooming garden with its delicate hues and intricate patterns. This feminine piece from our Western boutique fills your appearance with infectious grace. You can dress up this top with Mauve Wide Leg Pants to create a put-together look for cocktail soirees, upscale cafes, and romantic dinners. Accessorize the outfit with Rippled Hoops as they frame the face with a hint of shimmer and playfulness. And let us not forget the Tan Presley Heels. Their neutral tone is timeless, while the heels add height to your silhouette.
Channel Your Wild Side
(The Twist Top, Leopard Wide Leg Pants, Authentic Navajo Pearl Choker, and Coastal Cowgirl Wedges)
The Twist Top is a versatile everyday staple that can also be worn in a knot style. It's subtle detailing, complemented with off-white hues, offers a refreshing and airy feel. You can team this top with Leopard Wide Leg Pants for beachside parties, weekend brunches, and adventurous outings. These comfy bottoms from our women's online boutiques allow for fluid movement with a sense of drama. You can give a contemporary twist to the attire with the silver accents of an Authentic Navajo Pearl Choker. Finish off the look with a pair of Coastal Cowgirl Wedges for a bohemian touch and stability for long hours on your feet.
The Work-Ready Perfection
(The Meghan Top, High-Rise Ariat Flare Jeans, Riata Concho Studs, and Nude Dakota Mules)
Take your workwear wardrobe a notch higher with The Meghan Top. With a shirt-style design and delicate detailing on the sleeves, it exudes sheer professionalism and modernity. It is perfect for various work settings, whether attending important meetings, presenting to clients, or participating in formal events. Slip this top inside the High-Rise Ariat flare-leg jeans for a figure-flattering, sleek, and lengthened look. You can minimally accessorize the look with Riata Concho Studs, as their floral motif brings a personality to the outfit. Go for Nude Dakota Mules for polished aesthetics and all-day comfort as you move from one task to another.
Radiating the Bright Spring Vibes
(Vintage Floral Top, Coral Desert Wide Leg Pants, Hillary Earrings, and Bling Heels)
The Vintage Floral Top featuring an off-shoulder design is a must-have for every fashion lover. Its delicate blooms and flirtatious neckline are perfect for occasions that call for a whimsical and charming presence. Explore our spring-inspired dresses and heels collection if you want more floral pieces. You can match the top with Coral Desert Wide Leg Pants for unmissable energy and vibrancy to your appearance. This combination is a hit for movies, candlelit dinners, cocktail parties, daytime events, and whatnot. Embellish your outfit with the sparkle and glam of Hillary Earrings and Blingy Heels for a confident and opulent facade.
Flaunting the Retro Flares
(Coastal Day Trippin Ruffle Top, Ultra High Rise 90s Flare Jeans, Lightning Bolt Studs, and Cowgirl Heels)
Unleash the summer spirit with Coastal Day Tripping Ruffle Top. Its floriated print and soft ruffles intertwine, giving rise to an easy-going yet fabulous look. Accompanying the top is the 90s flare jeans women adorned with distressed accents. These bottoms are a great choice for events necessitating an ultra-casual look, such as music festivals, coffee with friends, and weekend getaways. Put on minimalistic accessories such as Lightning Bolt Studs for a pop of color. When it comes to footwear, the Cowgirl Heels would be your ultimate pick. Their earthy tones and simple detailing infuse a Western touch to the attire. 
Slaying the Palazzo Panache
(Aloha Rodeo Top, Linen Palazzo Pants Black, Kelsea Turquoise Necklace, and Emery Clog Heels)
The Aloha Rodeo Top from our trendy online boutique is a top choice for sun-kissed days. Its off-shoulder design reveals the right amount of skin, while the minimal floriated pattern reflects sophistication. You can match this top with Linen Palazzo Black Pants for running errands, college, concerts, and daytime outings. Besides, the linen stays soft and breathable against the skin, keeping you cool during the sweltering weather. You can make an understated statement with the Kelsea Turquoise Necklace that balances the overall accents of the attire. Slip your feet into the dual-toned Emery Clog Heels to easily take your style from day to night.
Enwrap Yourself in a Breezy Elegance
Wide-leg pants offer the ultimate versatility, transitioning from casual chic to formal finesse. The outfits curated above by Heels N Spurs will help you make this trend a delight to wear. Browse through the trendy women's clothing range comprising flowing palazzo pants to structured flares. Your persona will gleam through this closet staple's free-spiritedness and nostalgic vibes.
Be a fashion chameleon with wide-leg pant variants adaptable to different occasions and personal styles!