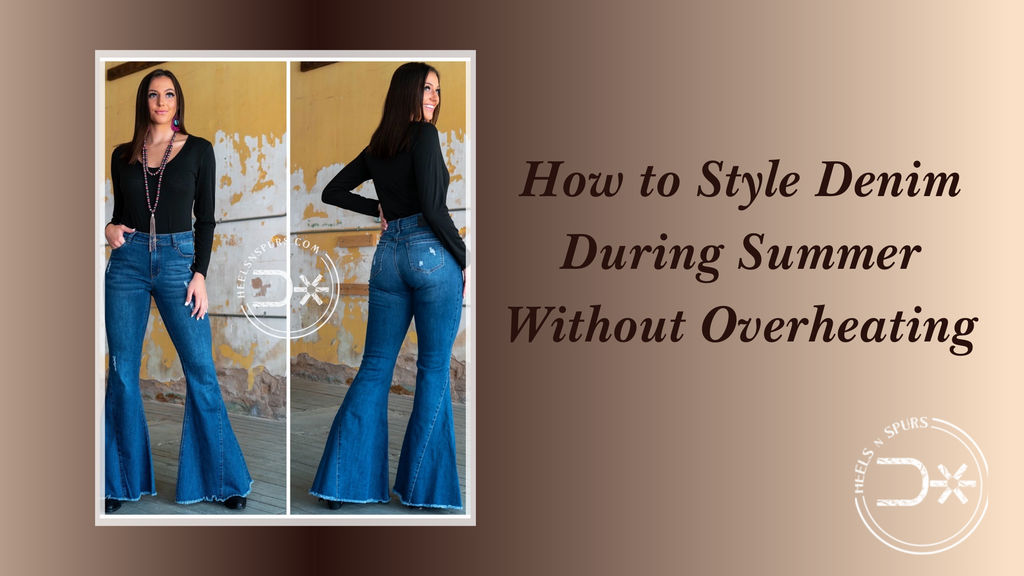 How to Style Denim During Summer Without Overheating
Let's admit it. Most of us are huge fans of denim and would love to wear them every single day out. But when the weather is getting warmer, and the summer is nearing, we're always looking for ways to branch out from the denim — to something that keeps us cool and not makes us sweat.
We get it. Denim isn't the best friend during the summers. And yes, overheating is a huge problem when you wear denim in the hot season. But what if there's still a way around to get you to wear denim in the summers?
Are you excited to know more? Read on to find out how!
Let's Make Denim Work in the Summers!
Summer is the season to get all those trendy women's clothing out and wear them out in style. The bright and warm-season put a spin on everyone's mood.
But do you still feel a pang every morning when you get up to decide what clothes you want to wear? Especially when you've got used to throwing on a pair of denim and walking out, the options of clothes without the denim can be a bit hard.
This is why our style experts have found a way to make denim work even during the summers!
Have a Loose-Fitting Denim in Handy
 When you look closely at the real reason denim makes you feel so hot, it's because of the property of the material that traps the air in. And when it overheats, you start to sweat, and it can further heat up again.
Having loose-fitting jeans or flared-leg jeans in your wardrobe is the best choice of all! Since the denim isn't stuck so close to your skin, it wouldn't trap the air, make you feel congested and hot. Instead, it lets your skin breathe through the fabric, and you'll be comfortable with this style of denim.
At Heels N Spurs, we have a handpicked selection of flared jeans for women that you can choose from.
Pick a Breezy, Distressed Denim
What's better than loose-fitting denim? A distressed and loose-fitted one!
When it's scorching outside, but you don't have the patience to pick out another dress, then it can be a tough choice to dress up.
The best way to work around this issue is to pick a pair of distressed jeans. Not just any distressed jeans but one that's a little loose enough to let the air in and let it circulate inside and outside the denim material.
You can pair it up with any western tops for women from our trendy online boutique.
Ditch the Full Jeans for Shorts
What's a better combination in the summers than shorts and tank tops! It's like the common uniform to wear in the summers, and it's rightly so. If you're craving denim but don't want to risk wearing full jeans, you can always pick the denim shorts.
Summer shorts are a wardrobe staple as they're incredibly comfy and are one of the pieces you need to pick when you're going for effortlessly stylish. You can throw on a simple tank top or another cotton top that goes best with your denim shorts, probably a simple shrug, and a nice belt and flip-flops for your casual day at the beach.
You can swap out the flip flops for ankle-length boots or shoes and the shrug with a jacket, and you'd be good for a walk around the city or a brunch date! This piece of denim shorts will soon become your go-to once you get the hang of how versatile and comfy it is.
Some Practical Tips to Wear Denims Without Overheating
While jeans are best to dress for warm weather even when it's still a bit cool, it isn't the first choice for many to wear during the summer. But it's about to change with these quick tips and tricks:
Let's say that you've already worn your best jeans on a day out, but you're suddenly feeling too hot. What you can do during such situations is simply roll up the bottom of the denim to your ankles to give yourself some air and still feel every bit as stylish as you were before.

Wearing denim in the summer is all about finding a way to give your skin to breathe. And you can make this possible by wearing a crop top and low-waist jeans that drop down below your stomach. This works when the waist of your jeans is a little loose so that your legs get some air circulation.

Skin-tight jeans may not be the best thing to wear, especially if it's too hot outside. It's best to have some loose-fitting ones to wear during the hot weather.

If you are spending a lot of time indoors, like in an air-conditioned restaurant or a shop, then you can comfortably go with skinny, distressed jeans to save when you get a little hot for a short time.
Heels N Spurs has become one of the go-to online boutiques in the USA with an assorted denim collection. You will never need to look fab and gorgeous all the time! 
Shop at our Online boutiques USA for your next wardrobe collection now!