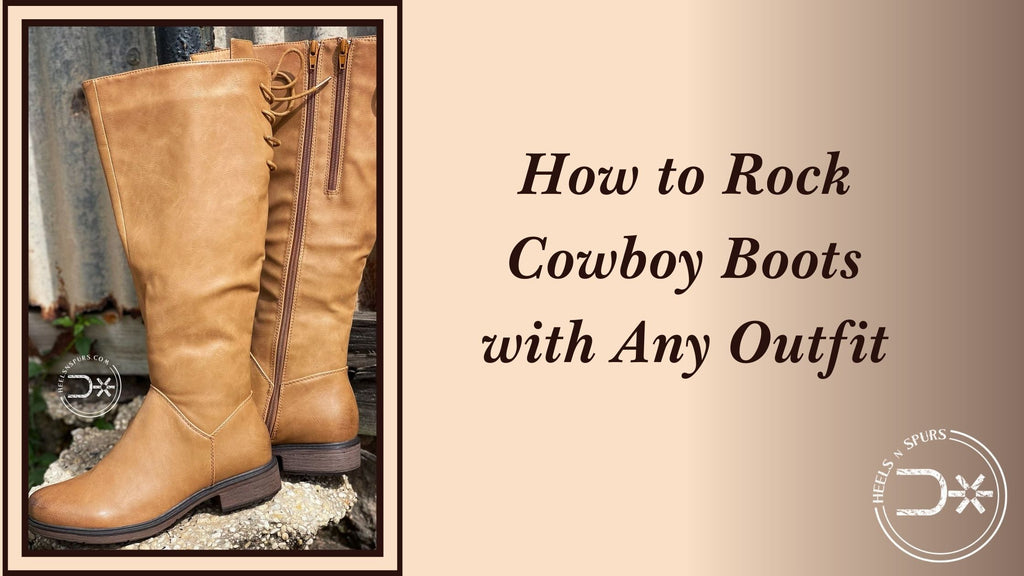 How to Rock Cowboy Boots with Any Outfit
Cowboy boots are classic! They can create a bold look that you can wear anywhere. The best part about these boots is that you can mix and match them with countless outfits and still look fabulous. If you've been hesitant to buy a pair, we think this article may change your mind!
Cowboy boots are timeless in the fashion world and always seem to be making an appearance. Not only do they look cute, but they're comfortable as well. Apart from the traditional style, they come in a wide variety of different colors, patterns, and styles. They're just what you need for a night out on the town!
Here are some of the different ideas to pair cowboy boots with tips from our style experts at our women's boutique.
Basic Styles
Western: These boots are classic. They are typically mid-calf height and have a high-styled heel. The toe of these boots can either be rounded, squared or narrow.       
Roper

: Ropers are a fresh twist on the classic style. These boots have a shorter calf than the western style and usually have decorative stitching and a lace-up design. While they typically have shorter heels, they are slowly transitioning to a

high-heeled

style.
Pulling Off Cowboy Boots
We think it's time to wear these boots for more than just riding horses and doing farm chores! So why not incorporate them into your look more often? They are too cute and comfortable not to! We've put together a few outfit ideas so you can take your look to the next level and add a little western flair!
1. Floral Dresses
You can't go wrong with a floral dress and a cute pair of cowboy boots! There's something about this pairing that seems so fitting. So, don't be hesitant to throw on a pair of our high-heeled boots with one of our short paisley print or ditsy floral dresses. To complete the look, add some simple gold hoops, a trilby hat, and a thick belt!
2. Black Mid-Length Dresses
Cowboy boots are in this season! With colder weather on the way, a black mid-length dress with a chic pair of pattern boots can be a great choice. You can switch up the look by wearing it with a long coat, a concho belt, and Western-style jewelry. Wear our classic styled boots or go bold with one of our decorative patterns. This look is perfect for any event!
You can mix and match every outfit with different boots, belts, and jewelry. For a lighter fall look, leave your coat at home and grab our denim jacket and a pair of roper boots! Here at Heels n Spurs, we have a wide variety of western-styled attire that is sure to fit your style! So head on over to our women's clothing online boutique today!
3. Skinny Jeans, Graphic Tees, and Blazers
Cowboy boots can create a unique and trendy look that works well for any season. Throw on your favorite pair of skinny jeans and cowboy boots to give them a chance to shine. We suggest opting for a plain or graphic tee to even out the look. Finish the look with an oversized blazer and high-waisted belt to create a striking statement.
4. Flare Jeans and Retro Sweatshirts
Do you want a comfortable and casual outfit? Flared jeans and retro sweatshirts are in! They help to create a show-stopping look. Retro sweatshirts are unique and can be very versatile despite their vibrant pattern. So if you're looking for some inspiration, check out this unique fall/winter look! 
This outfit is perfect for running around town, going to the rodeo, or catching up with your friends! This look can be easily paired with traditional or roper-style boots. Our boots are made from cowhide which adds more insulation, making it the perfect choice for Winter.  
 5. Shorts and Bodysuits
Are you looking for a chic yet effortless look? You can't go wrong with denim shorts, a pair of our patterned cowboy boots, and a cute bodysuit! Don't be afraid to dress up your look with a cute hat and a long, western-style necklace for a unique flair! 
Add one of our Aztec printed shrugs if you want to layer your look! It will fit right into the theme of your outfit and add the finishing touches to your adorable look! You can find a wide variety of Aztec print shrugs at our trendy online boutique! Visit our website today!  
Our Conclusion
Cowboy boots are a fun way to create a unique look. They are incredibly versatile and can be paired with so many outfits. The best part about these boots is that you can combine them with many different patterns, styles, and colors. Fashion may come and go, but classic cowboy boots will always be timeless!
We hope this guide gave you the inspiration needed to purchase your first pair of cowboy boots! Here at Heels N Spurs, we have a wide variety of trendy women's clothing to fit your budget and style! Visit our website today to shop our latest collections!