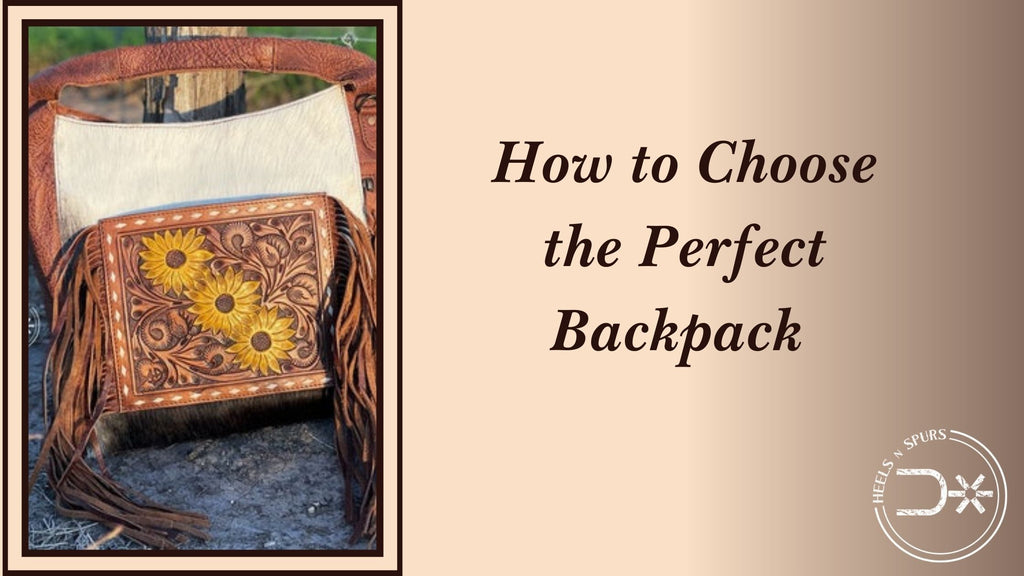 How to Choose the Perfect Backpack
Gone are the days where everyone carries a purse! Backpacks are back in style! They're especially great when you're traveling or on the go. They allow you to be hands-free while carrying everything you could ever need. However, deciding which backpack is right for you can be tricky. There are so many sizes and styles to choose from that finding the perfect pack can be a bit overwhelming.
Lucky for you, our trendy online boutique has put together the perfect style guide to help you choose a backpack that fits your style and budget!
How to Find the Perfect Backpack
1. Decide How Much You'd Like to Spend
Before heading online to purchase a backpack, we suggest setting a budget you can stick to. There are so many different brands and styles that deciding how much you'd like to spend can narrow down your search.
We suggest that you invest in a durable, high-quality piece that will last. Luckily, you don't need to break the bank to purchase a long-lasting piece.
If you are on a budget and want something that will stay in style for many seasons to come, consider picking a backpack that has neutral colors. Bold patterns may go out of style quickly, so choosing a neutral piece that won't go out of style will ensure that you will be able to use it for many seasons to come.
2. Size and Style
If you're looking to up your style game, classic leather backpacks can make you look polished and sophisticated! However, if you are young at heart and love experimenting with modern styles, try an edgy backpack with sequins and embellishments from our online boutiques, USA. They are sure to make you stand out from the crowd!
Size is important when choosing the right backpack. However, your choice entirely depends on your lifestyle and how much you plan to be carrying with you daily. At Heels and Spur, we have a wide variety of sizes to choose from! Whether you're looking for a large pack or mini, we have you covered!
The first step to determining which size is right for you is to determine the purpose for which you want a backpack. For example, are you looking to use it for vacation and travel purposes or on a daily basis? Determining this will help to narrow down your search!
On average, medium-sized backpacks are the most preferred as they provide ample space to hold all of your belongings. The micro-sized packs look trendy and adorable but limit what you can carry. If you plan to use your backpack for traveling, school, or vacation purposes, we suggest you purchase a slightly larger size.
3. Comfort is Key
People these days tend to opt for style over their level of comfort. This can be a mistake as it can actually take a toll on your health. An uncomfortable backpack can lead to back and shoulder aches, especially for those who need to carry heavy items regularly. Heavy backpacks tend to hurt the shoulders.
If you tend to carry heavier items, we suggest you purchase a backpack with padded straps to reduce the pressure on your shoulders. If pads are inserted at the base, which is typically seen in branded bags, it can help to prevent any friction to the lower back and prevent abrasion.
A backpack with an s-shape can actually help to lessen the strain exerted on the back as it assists in maintaining the natural curvature of your body. Of course, it is always nice to look classy, but not at the cost of your health.
4. What Materials Are Being Used?
When shopping for a new backpack, it is always important to pay attention to the material that was used to make it. If good quality material is utilized for making the backpack, it will make the pack more durable. The material to make the backpack varies depending on the cost and purpose.
A range of materials such as Cow Hide, Nylon, Leather, and Cordura are used to make backpacks. Leather is widely known as the best material due to its resilience and toughness. In addition, it is proven to make your backpack last longer. Although it may be a little expensive, it is sure to elevate your look. If you're planning to go hiking, skiing, or to the beach, you may want to consider purchasing a waterproof backpack.
5) Versatility
When thinking of splurging on an expensive backpack, weigh the bag's usability. Does it go with most of the apparel in your closet? Every woman needs a perfect handbag that goes on every occasion. Opt for neutral shades that can work well with any piece of clothing. Tan, black and white are the most versatile colors. We advise you not to choose extremely jazzy patterns with many embellishments like fur or sequins. You will not be able to use such bags frequently. Another consideration that can make a backpack versatile is if it can withstand every season; it should be usable in all weather conditions.
Our Conclusion
Heels and Spurs is the best place to shop for chic and versatile women's backpacks. Our women's boutiques have an authentic and phenomenal collection of small crossbody bags, shoulder bags, designer totes, and exquisite mini backpack purses for women. Every bag we sell is uniquely made with durable material. Elegant and simple, these purses can be used on a daily basis or for special occasions.