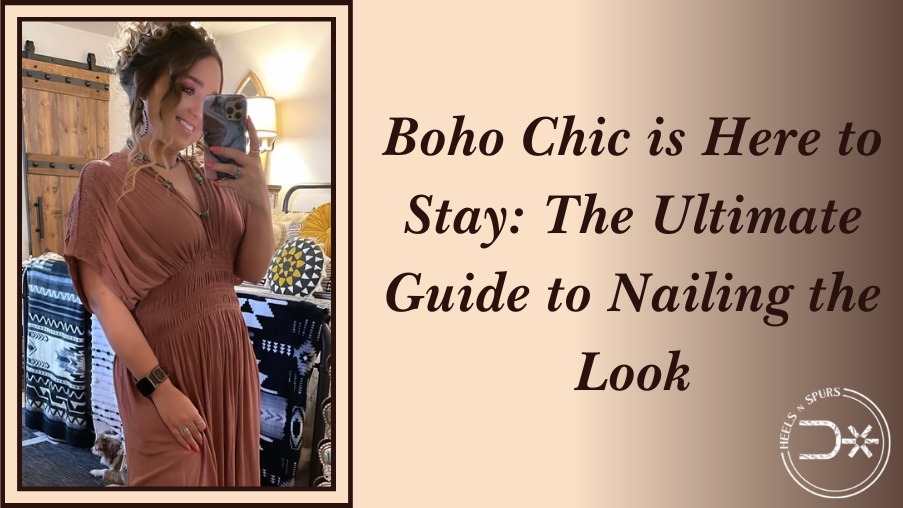 Boho Chic is Here to Stay: The Ultimate Guide to Nailing the Look
Bohemian fashion is at the heart of every modern trend – combining bold colors, patterns, and textures with a hint of romance. This timeless style embraces all the beauty of being uniquely you. It comprises a mix of relaxed, comfortable silhouettes, breezy fabrics, and vintage-inspired designs that radiate free spirit, individuality, and femininity.
Boho vibes are all about creating looks with freedom, flair, and flow to put away the winter blues and layer up for the spring. To ease your job, Heels N Spurs' western boutique has assembled seven outfit combinations that speak to your bohemian soul.
Seven Boho-Inspired Outfits to Notch Up Your Fashion Quotient
With a reflection of effortless glamor, vibrancy, and bohemian influences, there is something special about stepping out in this trend. From evergreen silhouettes to vibrant prints, let us explore seven contemporary boho looks from our online boutiques in the USA.
An Irresistible Sophistication
(Bahamas Taupe Dress, 2 Inch Dangle Earrings, and Kassi Wedges)
Need a laid-back fitting that flatters your frame as well? The Bahamas Taupe Dress from our trendy women's clothing is your ultimate pick. This beautiful maxi dress features an elasticated waistline which draws attention to your physique, but its free-flowing silhouette keeps you relaxed. 
You can style this dress not only for daytime looks but also for reveling in nighttime celebrations. It compliments every shape and size, which makes it a versatile attire for boho zealots. You can make the look more vibrant with 2 Inch Dangle Earrings. For a decent stature, the Kassi Wedges are viable footwear options for your spring styling.
Fun with Florals
(Sage Floral Top, Mauve Wide Leg Pants, Authentic Rondelle Turquoise Navajo Pearl Choker, and Blanco Dixon Western Boot)
This outfit combination screams a flirty flair with subtly bold aesthetics. Our sage-colored Floral Top is crafted with pretty florals and lightweight fabric to elevate your style for casual day outs and escapades. You can team it up with Mauve Wide Leg Pants to add a statement-making contrast to the attire. 
Since the floriated print is over the top, keep the accessories minimal to Authentic Rondelle Turquoise Navajo Pearl Choker. The Blanco Dixon Western Boots are a great accompaniment to balance the aesthetics of your look. On another note, if florals excite your sartorial senses, explore our collection of western tops for women for more such pieces.
Relishing the Wild-West Style 
(Cocoa Stockyards Set, Classic Navajo Double Studs, and Vaquera Western Tooled Sandals)
The Cocoa Stockyards Set from our women's online boutiques is all you can dream of for all your summer adventures and parties. This set comprises a V-neck, knot-style crop top paired with high-slit wide-leg pants. It amalgamates comfort with boldness to give wings to your lively panache. 
You can put on the Classic Navajo Double Studs to infuse boho spice into your appearance. Look no further than the Vaquera Western Tooled Sandals with a swanky construction to keep your movement at ease.
Flaunting the Flower-Power
(Pastel Floral Maxi Dress, 4 Mm Authentic Navajo Choker, and Off-White Lainey Mules)
Let your confidence bloom like a beautiful flower in the ultra-feminine Pastel Floral Maxi Dress. It is one of the most spring-appropriate pieces from your trendy online boutique that are fit for flamboyant personalities. This dress brings an element of grace with its off-shoulder, high-slit, and easy-going design, which maximizes the wearer's comfort. 
It also goes well with a girls' denim jacket when the cold breeze hits your skin. You can complement this dress with a 4 Mm Authentic Navajo Choker to accentuate your neck area. Top off the ensemble with Off-White Lainey Mules to feel like a showstopper on the runway!
An Everyday Boho Staple
(Loretta Embroidered Top, Hidden Tracey Distressed Crop Jeans, Authentic Navajo Teardrop Earrings, and Weathered Brown Ariat Dixon Boots)
The Loretta Embroidered Top will suffice if you need a bohemian touch in your everyday closet. It will become your go-to attire for college, brunches, outings, running errands, movies, and whatnot. The top features a square-shaped neckline and exquisite embroidery carved with perfection. 
Its black color matches varied bottoms such as flare jeans for women or the Hidden Tracey Distressed Crop Jeans. These versatile bottoms also go well with graphic sweatshirts for a casual-chic appearance. You can embellish the outfit with Authentic Navajo Teardrop Earrings and Weathered Brown Ariat Dixon Boots.
Fierce Yet Playful
(Ruffle Denim Top, Leopard Wide Leg Pants, White Sangria Squash Necklace, and Ariat Hilo's Brown Floral Embossed Slip On)
The Ruffle Denim Top is a classic piece you would love to wear repeatedly. Its cut-sleeved design with a figure-defining fitting will surely get those second glances at your attire. The Leopard Wide Leg Pants epitomize boho prints at their best. 
You can pair the top with these pants to balance colors, patterns, and textures for an edgy twist. Finish off the final look with White Sangria Squash Necklace and Ariat Hilo's Brown Floral Embossed Slip On shoes.
Keeping the Elegance in the Loop
(Taupe Boho Jumpsuit, Lightning Bolt Ariat Necklace, and Shania Tooled Sandals)
The Taupe Boho Jumpsuit expresses glamor and effortless styles intermingling together to elevate your fashion game. Its stunning minimalistic pattern, waist-cinching fitting, and wide-leg silhouette make this piece quintessential for summer. 
You can put soft bling accents on your ensemble with Lightning Bolt Ariat Necklace. Do not forget to slip into Shania Tooled Sandals for a complete boho makeover.
Reveal your spree spirit with the boho trend and exude a whimsical touch to your personality
Take a wild ride with our boho outfits and channel your inner fashionista. Attention-grabbing designs, unique textures, and vibrant colors comprise Heels N Spurs' eclectic collection. 
Likewise, our western boutique has the chicest accessories, tops, jeans, dresses, and heels to channel your inner bohemian queen this season. Your wardrobe will be spring-ready in no time, with bolder looks blending fun and freedom.