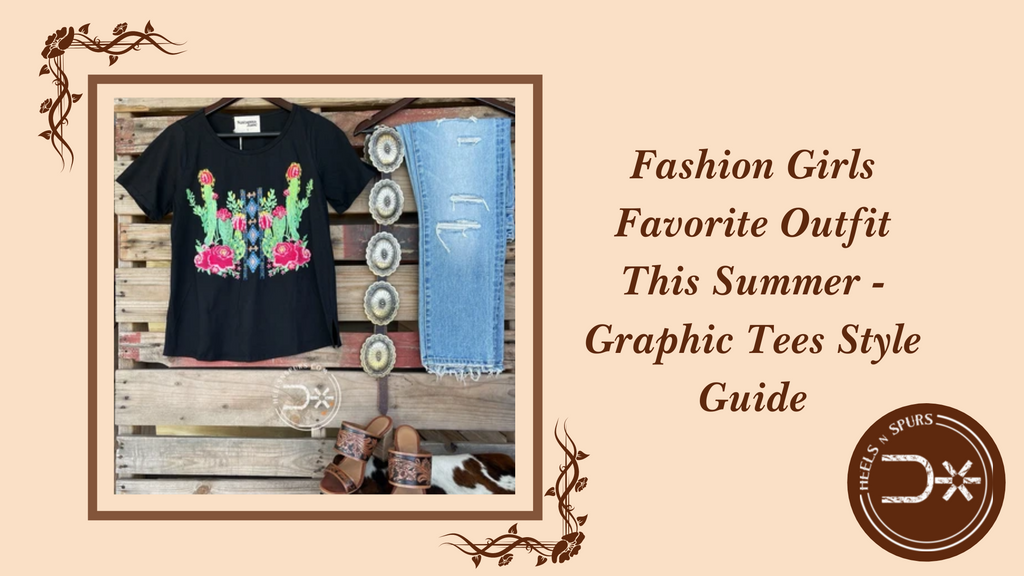 Fashion Girls Favorite Outfit This Summer - Graphic Tees Style Guide
If there's that hard-to-let-go but easy-to-pull-off essential in your wardrobe, it would be a basic tee. Whether it be plain or colorful, you can never go wrong with one of the most versatile pieces of clothing. 
When the sun is blazing, and the beach is calling, graphic tees are all you need to look laid-back yet put together. 
We all grow up having our favorite go-to clothing. I bet for you it's your basic tee, right? Like who doesn't love these cozy and loose-fitting tops?
However, tees may not be appropriate for other occasions where you need to dress up. 
That is why we have come up with few ways to spruce up your attire and wear your graphic tees in different styles.
5 Different Graphic Tees Style Ideas For Summer Season
At Heels N Spurs, we have selections of trendy women's clothing. We have a variety of women's tops, accessories, and bottom wear. You can choose from the different designs of our graphic tees and mix and match them with other clothing pieces to get a stunning complete look.
Our style experts have few pointers on how to rock your graphic tees to make heads turn. 
Tied-In Graphic Tee + Joggers:
One of the most important rules to remember when wearing graphic tees is to style them according to your body shape.
If you don't want to look and feel boxed-up in your loose-fitting tee, you can structure it by tying it or tucking it in the front. It would bring shape and depth to your waist, making you look flattering. 
You can pair it with joggers to achieve that sporty-casual look. Pair it with sneakers then, you'll be good to go.
Tucked-In Graphic Tee + Denim Shorts:
Just like how the little black dress is a classic, the combo of graphic tee and shorts is one of the golden style statements during summer. You can't go wrong with this summer ensemble.
Here, our stylists have chosen an off-shoulder tee with distressed denim shorts as one of the summer staples. Loosely tuck in the tee to give a more structured look in the waist. Pair any graphic tee with shorts for women and you'll definitely look stunning. Sneakers or flip-flops are great options to complete the look.
If you want to go for a more feminine vibe, you can replace the shorts with some short skirts and add a couple of bracelets and a sweetheart necklace.
Graphic Tee + Flared Denim:
This is one of the recent styles that's ruling the popular runaways across the world. It has become quite a hit because of the simplicity of the design. Anyone can make this graphic tee- flared denim combo work wonders in a jiffy!
Here, our stylists have tucked in the graphic tee paired with flared denim while adding a large belt to accentuate the look.
There are various designs of flared pants or denim that you can wear. You can go for mommy pants, fully flared pants, or tight and loose flared denim to spice up your outfit.
Oversized Graphic Tee + Distressed Jeans:
We all have that loungewear that we adore. I bet an oversized tee is on your list. If only we could wear them for the whole week, right?
Take your oversized tee to a different notch by matching them with a classic bottom. In this case, we paired an oversized tee with distressed jeans. 
We love pairing this outfit with sneakers. You can wear loosely-fitted distressed jeans or patched-up jeans while doing errands or when you're bonding with your girl friends.
The distressed jeans add character to the look while making you look daring and effortlessly stunning.
Graphic Tee + Layers:
Graphic tees aren't just for sunny days. When you want to wear one in colder seasons, layering is the way to go!
Nothing works better than styling your favorite graphic tee in multiple layers. You can wear a kimono, blazer, jackets, or shrugs along with your graphic tees to achieve different looks.
Wearing a denim jacket on top of a graphic tee can make you stand out from the crowd.
You can also substitute the denim jacket with attention-grabbing bomber jacket, cardigans or any throwback jackets. You can also go for an overalls like this denim jacket to make you look sleek and cool. These pieces would make awesome additions to your spring break wardrobe.
When we think of layers with graphic tees, the options are endless. The best part is that you can wear these style combinations not just during summer, but throughout the year as well.
Flaunt Graphic Tees in Style:
Graphic tees are the absolute must-haves in any woman's wardrobe. With these simple style tips, you can confidently flaunt your graphic tees anytime, anywhere!
Heels N Spurs is one of the  most popular online boutiques in the USA. It is known for  its classy, casual wear for women. We are a one-stop shop online boutique. For trendy women's clothing, you can shop from our vast collection of affordable graphic tees.