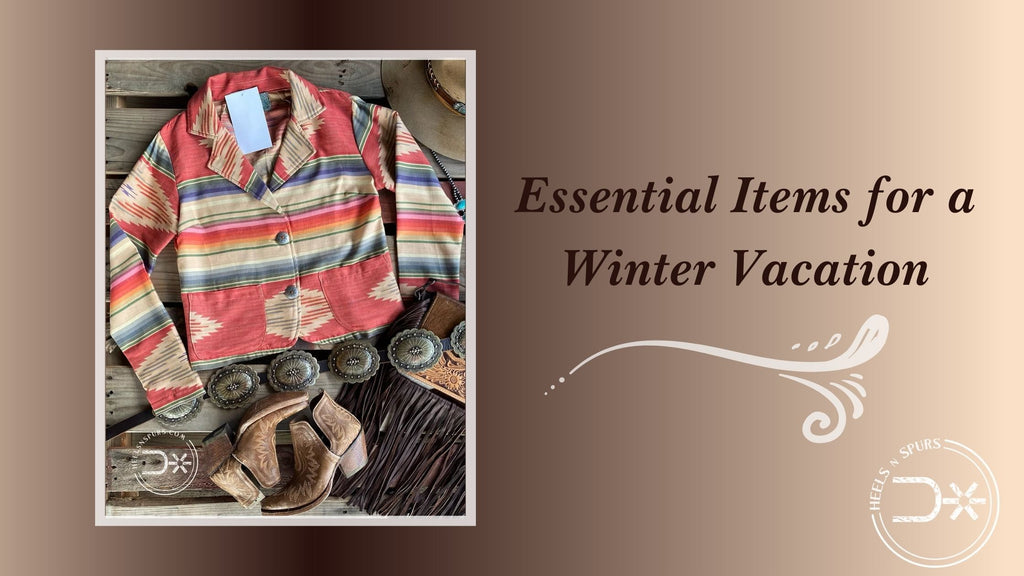 Essential Items for a Winter Vacation
We think we can all agree that weather down in the South can vary a lot. Since it hardly ever freezes in Texas, winter clothes are often sparse in people's closets. So, if you are planning a getaway to someplace cold this season, you need to be prepared for the weather ahead!
Winter vacations are probably the only time your sweaters and boots get to see the daylight. So if you're lacking cozy clothes to keep you warm this season, now is the perfect time to shop! You can head to our online women's boutique, Heels N Spurs, to buy premium quality knitwear!
Because we don't get to experience cold often, preparing for a winter getaway can become tricky. To make your packing and preparing process less stressful, our experts have come up with a list of essentials that are a must-have on any winter vacation! This article will help ensure you don't forget to pack anything in your suitcase!
Must-Haves For Your Winter Vacation
Believe us when we say that over-preparing is always better than under-preparing! The temperature drop and shift can directly affect your health, and who wants to catch a cold when you're on vacation?! So to avoid things going south, we have created a list of essential items you will need during your snowy getaway!
1) Turtleneck Tops
Turtleneck tops are a must-have during the winter! They're warm and comfortable, but they're also versatile! You can mix and match them with jeans and layers, so you have plenty of options! We recommend purchasing our fabulous Merle Turtleneck Body-Suit! It pairs perfectly with your favorite pair of jeans and a trendy leather jacket!
2) Fuzzy Winter Coats
Fuzzy winter coats are a total classic. They're warm, thick & cozy - everything you need to keep the cold away. Our Classic Mesa Coat is an ideal choice for a chilly getaway. Its thick layer will keep you warm and let you enjoy the outdoors. It also features two deep pockets, so you can keep your hands warm!
We recommend pairing this look with a pair of fleece-lined leggings, a black turtle neck, and high boots for an effortlessly chic look. If you are looking for a good quality turtle neck, check out our online boutique! We have a wide variety of western tops for women. You can also wear it with a pair of high-waisted denim jeans and a thin sweater.
3) Suede Jackets
Suede Jackets are a perfect way to keep you warm and comfortable this winter. Our Ariat Faux Suede jacket is a durable and multi-purpose item that will soon become a must-have in your closet! We suggest you opt for a plain turtle neck top, a pair of flared jeans, and cowboy boots for a trendy winter look. For Texans, cowboy boots are a necessity! At Heels N Spurs, our boots are made from the highest quality leather and will last you for years to come.
To take this look to the next level, accessorize it with simple gold hoops and black cat-eye sunglasses. In addition, you can shop for trendy clothing and accessories by visiting our online boutique today!
4) Aztec Inspired Cardigan
Bring a touch of Southern style wherever you go with our adorable Aztec Print Cardigan! This cardigan is comfy, stylish, and so unique! You are sure to look and feel great on your vacation with this look. In addition, our western-style online boutiques USA has a vast collection of Aztec cardigans you can add to your closet!
5) Warm Winter Gloves
Let's talk about accessories! We all know how cold winter gets, and if you're planning to do some outside activities on your winter getaway, warm winter gloves are a must-have! They will help you stay warm and cozy, so don't forget to bring them along! We suggest you purchase a neutral-colored pair so they'll match with a wide variety of outfits.
6) Winter Boots
You can't go on a snowy getaway without an adorable pair of winter boots! There are many options to choose from snow boots, knee-high boots, and even leather boots. We suggest you make your decision according to the weather and occasion. Are we going for a walk? Snow boots or booties are the way to go! If you're heading for a party or an event, knee-high or leather boots are the way to go. They are versatile, classic, and stylish. Check out our trendy online boutique to see our latest collection of boots!
7) Fleece-Lined Leggings
If you still want to wear your favorite dress or skirt despite the cold on your vacation, we can not recommend fleece-lined leggings enough. However, if you're headed out for a day of snowshoeing, you can easily throw on a pair of fleece-lined leggings underneath your jeans to add an extra layer of warmth. Fleece-lined leggings are thick and trendy and offer you a flattering fit. We recommend choosing these leggings in color black so you can easily pair them with any look.
8) Wool Socks
Keep those toes warm and cozy with a pair of wool socks! We recommend you invest in a thick, high-quality pair in case you're doing a wide variety of outdoor activities. They can help you to stay comfortable so you can enjoy the slopes all day long!
Our Conclusion
We hope these suggestions have helped you to better prepare for your winter getaway! Enjoy and have fun but don't forget to pack according to the weather to stay warm and comfortable! For more winter looks, check out our trendy womens' clothing! We have a wide selection of western-style women's clothing that is sure to fit your style and budget. Visit our website today to start shopping!