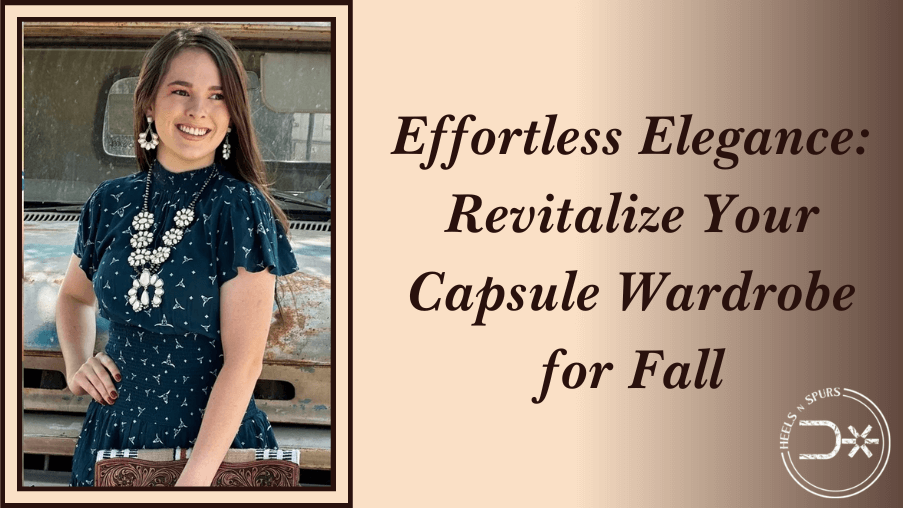 Effortless Elegance: Revitalize Your Capsule Wardrobe for Fall
Have you discovered the magic of a capsule wardrobe? A capsule wardrobe is your ticket to a stress-free, effortlessly stylish existence. Imagine a closet where every piece plays well with the others, offering endless combinations that always scream "put-together cool."
While the concept is simple, curating the perfect capsule wardrobe may seem a tad daunting. By coordinating neutral tones, subtle details, and a dash of trendiness, your recipe for a streamlined, effortlessly stylish look this fall is ready.
Ready to embark on your fashion journey? Explore our women's online boutique for chic pieces that effortlessly fit into your fall capsule wardrobe. We can make crafting your ideal fall capsule wardrobe a breeze.
Tips to Revitalize Your Fall Capsule Wardrobe:
We recommend you include these everlasting pieces in your capsule wardrobe to make a style statement:
Blazers are the ultimate power piece that'll make you strut your stuff with that extra confidence boost. The classic black crepe or tweed blazers should be a staple in any capsule wardrobe. But, if you're up for a twist as the leaves turn and the air gets crisp, consider a more laid-back linen blazer. Or better yet, choose a shade that screams "signature style."
Experiment with a plaid blazer in the cozy tones of rust, chocolate brown, or forest green to try something unique. It's like a warm hug from fall, adding a touch of prep to your outfits. Blazers can become your go-to travel buddies. They're the true champs of the capsule wardrobe because they play nice with everything – jeans, trousers, skirts, and dresses. Who can resist a stylish blazer paired with denim and sneakers? It's so darn versatile.
So, if you're ready to embrace that western wear boutique vibe, pair your Gringa 2-Strand Necklace with the Western Scene Blazer, and you're all set to rock the season with style and confidence! Giddy up!
Let's begin with the versatility of solid-color sweaters. They're a fall wardrobe essential, offering a timeless and adaptable canvas for creating a range of looks. Whether you opt for classic black or sophisticated taupe, these sweaters are dependable for any occasion, ensuring you're always in style.
The Reba Sweater ~ Off White from a trendy online boutique isn't your typical sweater; it's a style sensation. Choose one with charming cables for a classic look or an off-the-shoulder style for a more flirtatious vibe. Find this fashion gem at our online store and elevate your fall wardrobe. Get ready to slay the fall fashion scene!  
What sets it apart is Its versatility. Pair it effortlessly with a chic plaid midi skirt, or go for a casual look with your favorite flare jeans women. For more formal events, complete the look with Faux Leather Wide Leg Pants and a Ranchita Concho Belt for that extra flair. What is more, you can dress it up or down to suit your mood and the event.
Jackets are a must-have for your fall capsule wardrobe. They keep you cozy and stylish when the weather gets wild. The choices are unlimited: leather jackets, puffer jackets, girl's denim jackets, etc. Your outerwear has the power to make or break any look. Want to add a touch of sophistication with simplicity? Invest in a high-quality jacket from trendy online boutiques to steal the show.
Now, our Grizzly Jacket is a real winner. With its quilted lining, sherpa collar, and stretchy fabric, it's a warm hug that lasts all day. And remember to tie on our Wild Rag in Aqua for that extra Texan flair. It's not just cool – it's got that touch of sophistication. Wear it with jeans and high-heeled boots for girls for some edge or over a soft sweater and a flowy midi skirt for contrast. It's your go-to for fall, partner! 
Cargo pants are often underestimated in a capsule wardrobe, but they can be valuable additions that effortlessly transcend time and seasons. With a high-fashion twist, cargo pants can bring a polished look to your ensemble, provided you select the right colors to complement your outfit. While some colors may pose a challenge, opting for hues like tan or gray expands your styling options.
Terry Wide Leg Pants pants are all about comfort and style in one chic package. This look exudes a trendy yet relaxed Texan vibe paired with a stylish full-sleeve t-shirt and a sleeveless jacket. Complete the ensemble with loafers, and you'll have a fashion-forward outfit ready to impress. 
And, of course, we can't forget the classic Wide Leg Cargo Pants, where the epitome of style meets function. With the right choice of color, they can be incorporated seamlessly into your capsule wardrobe, adding a touch of sophistication to your look. Whether you go for a tan, gray, or other favorite, these pants will expand your styling horizons. 
Button-ups are a true symbol of class and sophistication! And when it's a satin button-up, you have a touch of elegance that can easily take you from formal to casual. Your satin button-up can pair flawlessly with a structured blazer at work, radiating professionalism. And when it's time to rock and roll, that same satin button-up, paired with your favorite mom jeans, exudes casual chicness. 
Whether rocking straight-leg jeans or slipping into a stylish dress, a striped or crisp white button-up shirt is the ultimate versatile layer that instantly elevates your look. Much like those classic jeans or a trusty white tee, a sharp button-up is a timeless wardrobe that every closet should embrace. 
And if you're on the hunt for that perfect button-up, you'll love the Women's Santa Fe Button-Up by Ariat. It's the essence of Western style with a touch of Texan flair!  
With the chilly weather rolling in, it's time to give those trusty sandals and flip-flops a well-deserved break. It's time to bring out your loafers or sneakers, a true fall essential. Now, what makes these the bee's knees? They're as comfy as it gets with that heel just right for strolling, and they'll make your trousers look mighty fine.
And here's the kicker: they're as light as a feather, so you don't have to worry about your footwear taking up much space in your suitcase. You can slip them into that shoe compartment of your weekender bag without a hitch. So, if you're looking to upgrade your shoe game this season, check out the Aloha Ariat Hilo's at our women's boutique. Your feet will thank you!
Another cool and trendy fashion tip for moving into fall temps is that knee-high boots must appear. These versatile boots can elevate any outfit. With the shift from summer to fall, you don't always need to layer up. Knee-high boots allow you to rock your favorite mini-dress without worrying about those chilly legs. These boots add an elegant touch and make your legs look stylish and elongated. So, if you're in the market for Abilene Western Boots by Ariat, you've come to the right place!
Your basic tee is the unsung hero of your capsule wardrobe. Whether you're kicking it solo with some denim, layering under a leather jacket or a sharp blazer, or getting your mix-and-match game on, the western tops for women have got your back.
Dressing it up or down is just easy peasy. It's the ultimate chameleon, folks, and it plays nice with all your favorite bottoms: jeans, trousers, skirts, leggings, and even your comfiest pair of jeans that you wear every day.
Now, when it comes to colors, classic shades like crisp white, bold black, cool gray, and a splash of burgundy are perfect for that extra pop. For your fall capsule wardrobe, consider having at least three basic tees and a couple of trusty tank tops. 
Check out the Cowboy Again Tee with fantastic graphics that will grab all the attention. Style it with your favorite scarf and tooled fringe purse from Heels n Spurs, and you are good to go! A roomy bag not only blends with multiple attires but is a must-have to carry your daily essentials.
Now, no wardrobe is complete without a trusty pair of jeans. They're like that old faithful friend, taking you from casual to dressed-up in the blink of an eye. Honestly, you only need one or two pairs in your rotation, and a medium wash with no frills or tears is your year-round go-to. 
Texas sunset can be quite the puzzle, figuring out what suits each season and your body type. Skinny jeans, bootcut, low-rise—they've all had their time in the sun. But truly, the sweet spot is that mid-rise, relaxed, straight-leg cut. It's the real deal: Timeless, classic, and just the right mix of old and new.
So, if you're hunting for the perfect denim, swing by our western boutiques online. We have a full range of fantastic styles that are sure to win your heart.
Conclusion
In conclusion, your fall capsule wardrobe is key to effortless style and versatility. It's a cost-effective way to invest in timeless classics that will serve you well for years to come.
With cozy sweaters, chic button-ups, classic tees, wide-leg pants, and timeless denim, you're fully prepared for the season. And remember to add a touch of glamor with stylish accessories from Heels n Spurs, making you feel like a true celebrity this fall. Happy styling!