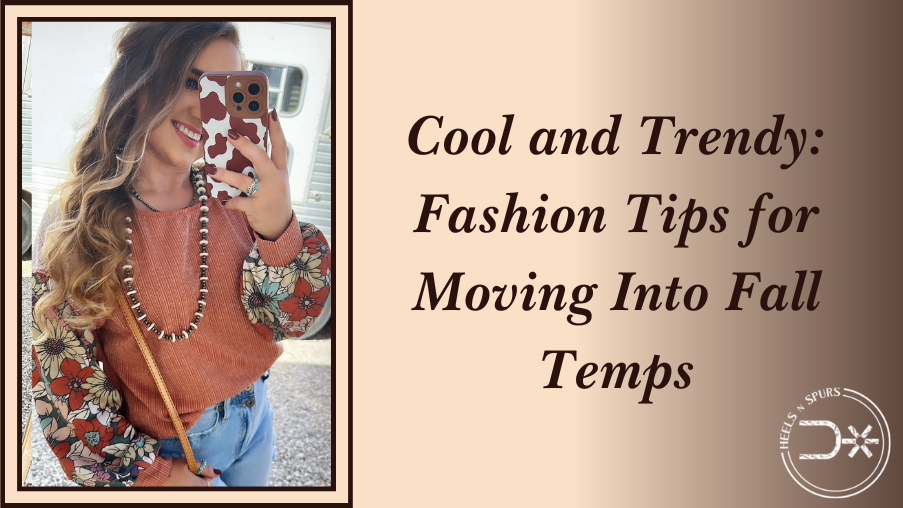 Cool And Trendy: Fashion Tips For Moving Into Fall Temps
There's nothing like the in-between weather, offering a delightful yet often perplexing blend of warmth and breezy cool. Balancing the nippy morning air with the noon's gentle warmth can be a juggling act. Enter a wardrobe packed with light-as-air fabrics and the ability to layer stylishly. Turn heads with stylish stripes, airy dresses, classy denim, crisp shirts, and statement blazers. 
Dive into the Heels N Spurs collection and navigate these transitional times with élan. Stay ahead of the game with our top picks, ensuring you're always fashionable, no matter the weather's whims.
Five Stellar Outfits for Mid-Summer Glamour and Ease
Seeking ensemble ideas that mix style with function during those beautiful sun-dappled days? Explore these five curated looks from our exclusive online selection that epitomize chic comfort:
1. Plaid Panache

Key Pieces: Dixie Plaid Top, High Rise Boot Cut Ariat Jean Rinse, Cheyanne Hoops, Wyoming Turquoise Concho Bracelet, Charcoal Persley Heels
Dress up with our Dixie Plaid Top that combines classic charm and modern style with its cold-shoulder design. Partner it with the flattering High-Rise Boot Cut Ariat Jean. Adorn with Cheyanne Hoops and a Wyoming Turquoise Concho Belt to add a dash of vibrancy. Seal the look with Charcoal Persley Heels for those casual brunches and outings.
2. Corporate Yet Casual
Key Pieces: Kirby Pinstripe Button Up Ariat Shirt, Arkansas Perfect Rise Straight Leg Jeans, Turquoise Retro Tooled Belt, Double Loop Huggies, Greeley Western Boots
Strike the balance between work and leisure with the Kirby Pinstripe Button Up Ariat Shirt. Match with Arkansas Perfect Rise Straight Leg Jeans and accentuate with the vintage-inspired Turquoise Retro Tooled Belt. Keep the jewelry subtle with Double Loop Huggies and step out confidently in Greeley Western Boots.
3. Denim Delight
Key Pieces: Yoakum Jumpsuit, Lucia Chain Belt, Amarillo Lariat Necklace, Amarillo Studs, Blanco Dixon Western Boots
Embrace summer in the Yoakum Jumpsuit from our Western collection. Enhance it with a Lucia Chain Belt and accessorize with the Amarillo Lariat Necklace and Studs. For those on-the-go moments, the Blanco Dixon Western Boots are a must-have.
4. Floral Fantasy
Key Pieces: Pink Buy Myself Flowers Dress, Sangria Squash White Necklace, White Colorado Post Earrings, Coastal Cowgirl Wedges
Flaunt summer's floral elegance with the Pink Buy Myself Flowers Dress. Accessorize with the White Sangria Squash Necklace and Colorado Post Earrings. Perfect the ensemble with the Coastal Cowgirl Wedges.
5. Boss Lady Vibes
Key Pieces: White Padded Cropped Tank, You Proof Blazer, Ariat Perfect Rise Tennessee Trouser, Rippled Hoops, Dallas Booties
Command attention with the White Padded Cropped Tank and You Proof Blazer. Complement with the Ariat Perfect Rise Tennessee Trouser and Rippled Hoops for that extra sparkle. The Dallas Booties are the final touch for the modern, empowered woman.
Shine in Mid-Summer Elegance with Heels N Spurs
Navigating the 25-degree fashion labyrinth is easier than ever. With Heels N Spurs' range of breathable, trendy outfits, you're always set for success. The above ensemble inspirations guarantee you're the epitome of elegance, even under a gentle sun.