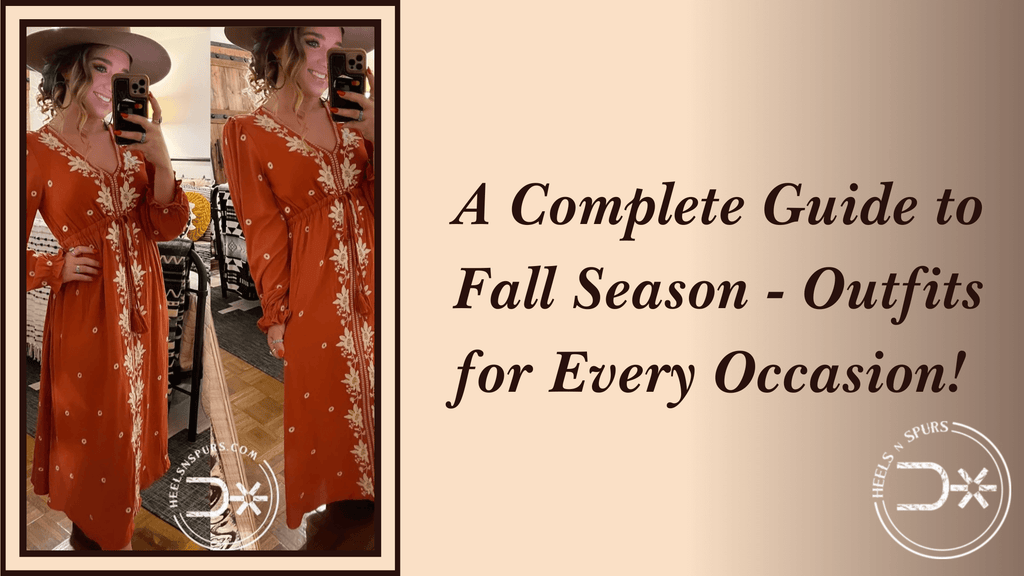 A Complete Guide to Fall Season - Outfits for Every Occasion!
Fall is the perfect season for all those fashionistas out there. As leaves change colors and there is a slight chill in the air, it is time to experiment with different styles. Fall is about that cozy, comfy, versatile feel to get you through its spell. Take on this season's chill with style and bring comfort into your routine with a scoop of fall dressing guide by Heels N Spurs. Cook up a new signature fall wardrobe from the on-trend picks from our women's boutique.
8 Fashionable Outfits to Get You into the Fall Spirit
Just because it is starting to cool down does not mean you have to let go of that fall fashion flair. This guide will go into detail on what to wear for every occasion during this season. Get into fall mode with eight outfits curated by our online boutiques in the USA.
1. Day Out at A Pumpkin Patch: Pumpkin Spice Button Up, Torrance Perfect Rise Ariat Straight Jean, and Crown Cowhide Slip-On Sneakers
As Halloween is around the corner, paying a visit to a pumpkin patch becomes a customary ritual. There could be no better way to match up your outfit with the accents of the venue. Our Pumpkin Spice Button-Up is a shirt-style top that is an unmistakable choice. You can tuck one side of it into the Torrance Perfect Rise Ariat Straight Jean for an uber-chic look. Since exploring outdoors necessitates comfort, the Crown Cowhide Slip-on Sneakers would complement your outfit, keeping your feet happy.
2. The Boss Babe Look: Black Turtleneck Bodysuit, Boho Wide Leg Pants, Ariat Chimayo Dixon Boots, Emily Earrings, and Dotted Cowhide Tote
The Black Turtleneck Bodysuit from our trendy women's clothing collection will make you feel like the best version of yourself. Pair it with Boho Wide Leg Pant for a classy and put-together look for formal occasions. The Ariat Chimayo Dixon Boots are an excellent option for adding an edge to your appearance. Keep it minimalistic with Emily Earrings and Dotted Cowhide Tote as you are donning the look for the work.
3. Nailing Off the Party Look: Black Merle Body Suit, Chimayo Ariat Skirt, Tammy Squash White, and Cash Black Jolene Ariat Western Boots
Do parties take a backseat during the fall season? Obviously not! Our trendy online boutique's Black Merle Body Suit is a versatile piece accompanied by varied bottoms. Since we are talking about parties, nothing can compare to the glamor exuded by an all-black look. Thus, match the bodysuit with Chimayo Ariat Skirt containing a white graphic pattern for a noticeable appeal. Put on a statement-style Tammy Squash White necklace and Cash Black Jolene Ariat Western Boots to embellish the outfit.
4. A Date Night to Remember: Myra Embroidered Dress, Crystal Shimmer Ring, and Western Tooled Wedges
Myra Embroidered Dress is the ultimate pick if you want to feel feminine yet sensuous on your date. It is appropriate for a date night with dainty white needlework. Likewise, it is casual enough for a bistro and formal enough for an upscale restaurant. The Crystal Shimmer Ring will make any outfit pop with its iridescent accents. These Western Tooled Wedges will get you added style points with their vintage-inspired design. You can explore more dresses and heels from our women's online boutiques to stay prepared for impromptu dates!
5. An Adventurous Trip with Pals: Ariat Desert Scene Tee, Judy Blue Cuff Jeans, Bronc Cap, and Copper Floral Cruiser Ariat
Of all our western tops for women, the Ariat Desert Scene Tee is a timeless choice for adventures and running errands. It resembles a cropped hemline with long sleeves and loose fitting for optimal comfort. The Judy Blue Cuff Jeans comprise soft denim that looks great on any body type and offers an appropriate amount of stretch for easy movement. Our Bron Cap and Copper Floral Cruiser Ariat sneakers are stylish accessories while discovering outdoors.
6. For the Fashionable Grad: Cropped Chimayo Sweatshirt, Ariat Mid Rise Arrow Fit Jocelyn Boot Cut Jean, Brown Desert Western Concho Belt, and Tammy Rust Backpack
The Cropped Chimayo Sweatshirt is a must-have in your college wardrobe. It lets you look well-dressed without being over the top. You can tuck it into the Ariat Mid Rise Arrow Fit Jocelyn Boot Cut Jean for a slimming and refined appearance. Alternatively, go for flare jeans for women to accentuate your silhouette. Add on the Brown Desert Western Concho Belt for boho aesthetics. You can opt for heeled sneakers with a Tammy Rust Backpack to have fun in style.
7. For the Spontaneous Outings: Ariat Chimayo Aztec Top, Irvine Ariat Trouser Mid Rise Jean, and Taupe Winter Booties
Fall is beautiful weather to roam around the city, have brunches, and go out to the movies. The Ariat Chimayo Aztec Top is made for all your spur-of-the-moment outings. It is decked with a contemporary design with a hint of boho vibes. You can complement the top with sophisticated Irvine Ariat Trouser Mid-Rise Jean. Wear the evergreen Taupe Winter Booties to channel the free bird in you.
8. Wear Your Holiday Dreams: Daisy Mae Floral Dress, Corduroy Mustard Jacket, and Pendleton Classic Glen Plaid Boots
Whether you are going on an all-girls trip or a solo one, looking your best is an absolute necessity. Our Daisy Mae Floral Dress is as pretty as your persona. You can put on the Corduroy Mustard Jacket for a contrasting effect or opt for a girls' denim jacket to keep things simple. Take long walks and experience the beauty of your vacation spot in Pendleton Classic Glen Plaid Boots.
Conclusion
Give your dull wardrobe a boost of new life with fall looks from our western boutique. Shop from collections of laid-back cowboy boots, pretty dresses, and trendy cover-ups in sizes ranging from petite to plus size. Nail the season in an amazing style that sets your fashion sense, a class apart.