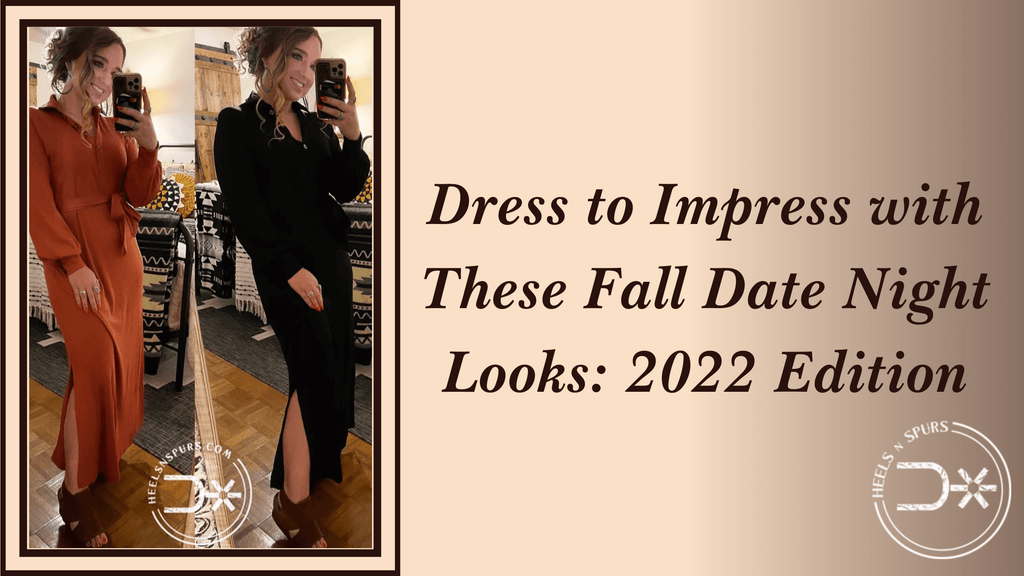 Dress to Impress with These Fall Date Night Looks: 2022 Edition
The fall is in the air, letting your love shine through the cozy yet fashion-forward outfits. It is a good time to get creative with your outfit choices and explore new trends as the season changes. Date nights are always a cherishable occasion necessitating you to dress up and look your best. You must stock up your wardrobe with ensembles that are chic, comfortable, and totally you. 
The fall wardrobe comprises shackets, sweatshirts, boots, and whatnot. Thus, picking the outfits that make you stand out confidently on your date becomes pretty tedious. Heels N Spurs' western boutique has got you covered with chic fall outfits that are sure to turn heads.
9 Flattering Fall Outfits for Your Next Date Night

Dressing for date night is a classic dilemma that most people face. You should be mindful of the weather and choose something which exudes your personal style. Here are the nine looks from our online boutiques in the USA to spice up your date night look.
1. Beauty in Basics: Black Turtle Neck Bodysuit, Ariat Clarissa Midnight Straight, Brooklyn Black Ariat Dixon Boots, and Stitched Crossbody Wallet
The Black Turtle Neck Bodysuit is a closet staple for going out on a date. It gives a slimming effect, making you look amazing in any light. You can pair it with Ariat Clarissa Midnight Straight Jeans from our trendy women's clothing collection for leaner and more attractive legs. Wear the Brooklyn Black Ariat Dixon Boots to complement the outfit's accents. Our Stitched Crossbody Wallet works as a stylish accessory with space to fit in your essentials.
2. The Vintage-Chic Reflection: Rust Abilene Dress, Western Tooled Wedges, Small Aztec Saddle Blanket Purse, and Crystal Shimmer Ring
Our trendy online boutique's Rust Abilene Dress would make you look like an ethereal beauty drenched in timeless elegance. It is ideal for those romantic and picture-perfect date nights with your loved one. Gain more stature while adding edginess to your overall appearance with Western Tooled Wedges. The Small Aztec Saddle Blanker Purse would be an idyllic accompaniment to your look. Keep the accessories minimal, and opt for the Crystal Shimmer Ring for an irresistible appeal.
3. The Effortless Glamor: White Laura Bodysuit, Black Smocking Pants, Ariat Pendleton Dixon, and Cowgirl Navajo Necklace
The White Laura Bodysuit matched with Black Smocking Pants embraces your silhouette with comfort and grace. This look from our women's online boutiques radiates a feminine vibe, making you feel like a million bucks. The Ariat Pendleton Dixon Boots and Cowgirl Navajo Necklace would keep the look refined and put together.
4. The Luxe Beauty: Talk of the Town Faux Leather Top, Ariat Perfect Rise Natalia Trouser Jean, El Dorado Concho Belt, and Ariat Women's Boots
The shirt-style Faux Leather Top with Natalia Trouser Jean is a combination made for women of leisure. This look is sleek and versatile, helping you to make a statement without breaking the bank. You can explore more options to go with bottoms from our range of western tops for women. Put on the El Dorado Concho Belt and Ariat Boots for suave aesthetics.
5. Comfort Meets Style: Keepin' It Cowboy Sweatshirt, Ariat Small Town Jogger Pant, Hold Fast Sterling Silver Necklace, and Lupi Tribal Cream Sneakers
The Cowboy Sweatshirt is a must-have for any wardrobe as it has the right mix of style and comfort. If you want to keep things casual on your date night, the Ariat Small Town Jogger Pants are the way to go. Alternatively, you can pair the sweatshirt with flare jeans for women for a contemporary look. Add some sassiness to your outfit with Sterling Silver Necklace and urbane Lupi Triable Cream Sneakers. 
6. The Delicate Enchantress: Myra Embroidered Dress, Cowgirl Dream Heels, Emily Earrings, and Tooled Rancher's Purse
The Myra Embroidered Dress is a go-to attire for the woman who wants to look and feel like a princess on her date. This dress is every fashion enthusiast's delight with a drawstring and pristine white floral embroidery. Depending on your preferences, you can either go for Cowgirl Dream Heels or wedges. Ravel through our variety of dresses and heels for more style variations. Elevate your appearance with Emily Earrings and Tooled Rancher's Purse.
7. A Chic Trendsetter: Olive Lounge Set, Rippled Hoops, Taupe Winter Booties, and Alamo Tooled Purse
It is a fun and flirty look that is sure to woo your significant other. The Olive Lounge Set is a considerable choice for keeping the look easy-going yet appealing. Besides, the set can be worn as separate pieces to create diversified looks. Embellish the attire with minimalistic Rippled Hoops and Alamo Tooled Purse. Do not forget to treat your feet with Taupe Winter Booties.
8. Wrapped in Elegance: Camel Button-Up Top, High Waist Distressed Vibrant Jeans, Bandera 3-Strand Necklace, and Boho Crossbody Bag
You can go from work to play without missing a beat in the Camel Button Up Top. It looks gorgeous when coupled with the High Waist Distressed Vibrant Jeans. With svelte and casual aesthetics, this outfit combination will make anyone swoon at your beauty. It is recommended to go for pencil heels or wedges in beige color. Instill some sparkle in your persona with Bandera 3-Strand Necklace and Boho Crossbody Bag.
9. The Power-Dressing Look: Charcoal Tribal Shacket, Black Basic Ribbed Bodysuit, Distressed Flying Monkey Jeans, and Black Aztec Sneakers
Want something dressier yet slender? Consider wearing a Charcoal Tribal Shacket over the Black Basic Ribbed Bodysuit. This will add an extra layer of sophistication to your look without feeling too heavy. You can also wear a girls' denim jacket instead of a shacket. Wear the Distressed Flying Monkey Jeans and Black Aztec Sneakers for an enviable high-street look.
Conclusion
As the weather cools down and leaves begin to tumble, it signifies the commencement of fall. Do not compromise on your fashion sense; dress up for your date nights in a flair worth every stare. The outfit ideas from our western online boutique will keep you all glammed up, ensuring you turn heads everywhere you go!