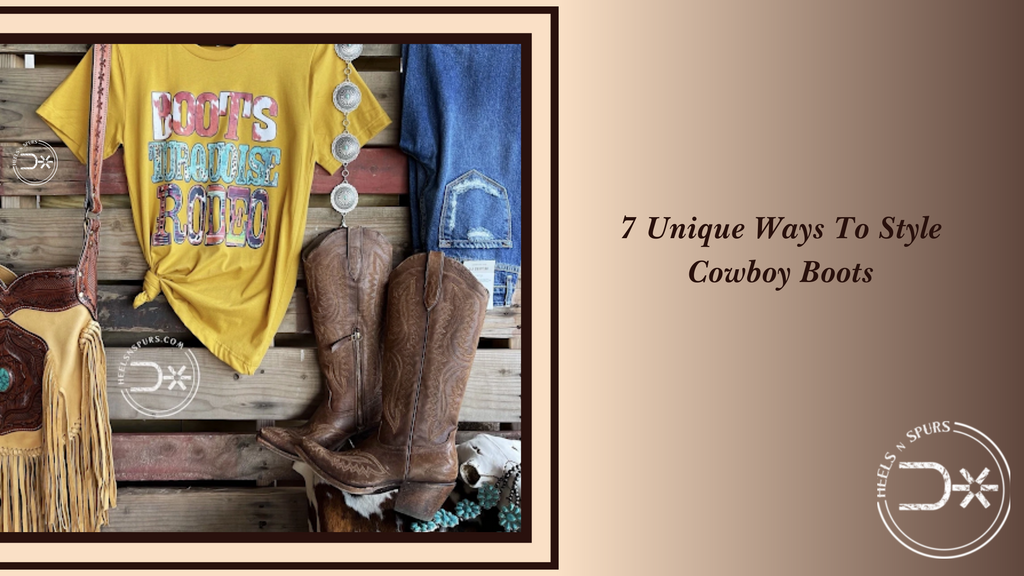 7 Unique Ways To Style Cowboy Boots
If you've following the current fashion trends, then you must know the cowboy boots are a huge craze right now. 
From high-scale fashion brands to runway walks and Instagram models, cowboy boots make their presence felt known.
Do you want to walk that 'walk' and have heads turn? Then wear those stunning cowboy boots now!
In this guide, we'll take you through different ways of pairing your cowboy boots with some trendy women's clothing.
7 Ways to Wear Cowboy Boots with the Right Outfit
Let's first start by saying that we, at Heels N Spurs, absolutely adore cowboy boots. It's so versatile that we can innovate some stylish attires to make them work. Be it a casual day-out for a very important date, cowboy boots are so comfy and stylish that we wouldn't trade them for any other. 
Here are some of the different ideas to pair cowboy boots with tips from our style experts at our women's boutique.
Make Simple Outfits Spark:
Let's say that you're going out shopping and have an undecided day ahead. You want something that's comfortable but doesn't look like you've just got out of bed!
This is the time when you can pair up a tie-down t-shirt with jeans and calf-length cowboy boots. 
Complete this look with a trendy belt if you want and you'll look effortlessly glam.
The key to this outfit idea is to keep it minimal. You can wear thin, funky bracelets if you need, but it's best to skip the necklaces to work the casual look.
Make Sparkly Outfits Better: 
We all have that sparky outfit in our wardrobe that we seldom take out.
But want a little hack to make that sparkly dress a great outfit for any casual day? 
Pair it up with cowboy boots! 
This simple trick will dial down the sparkling outfit and add a casual vibe to your entire attire. Throw on a hat if you want to go for a complete cowboy look.
Take Casual Look to Gorgeous & Stylish:
While casual streetwear attires don't usually mix with cowboy boots, the fashionistas have been known to make it word — and rather stunning and stylish too!
While there's several footwear that you can wear with mini dresses, boots are one of the best choices.
You can pair up a simple white sundress, like the one above, with brown, calf-length cowboy boots that makes you look chic. Since it's a fairly simple attire, you can pair up a long necklace to go with the boots and look simply striking!
Or, you can go for a strapped top with jeans and ankle-length boots with studded golden designs. You can keep this minimal by either picking out a long necklace or a bold belt to go with the cowboy theme.
You can find more such beautiful boots at our online women's western wear boutique.
Pair Them Up with Any Skinny Jeans:
Remember when we said that cowboy boots are versatile?
Well, you can take it up a notch and pair ankle-length cowboy boots with practically any skinny jeans! 
You can wear this combination with any t-shirts, shirts and tops. The key here is to fold the ends of your jeans so that your ankle-length boots get the attention.
Neat Cowboy Boots with Professional Attire: 
When we talk about cowboy boots, we seldom think about pairing it up with a professional dress, say a stunning knee-length attire for an office party. But with the right choice of cowboy boots, you pair up with any professional attire and still blend in.
Invest in a pair of such simple and sleek ankle-length boots that can work well with your professional wear. Instead of wearing the same old heels, you can shop for some high heeled boots for girls from our heels boutique.
Pick Out Some Animal Prints:
The beauty of the west world boots is best complemented by animal prints. Both of these, in combination, make an attire look put together and give a fashionable look. 
You can either go for animal printed in dresses, coats, or tops.
Accessorize your outfit minimally, keeping the animal prints and the boots as the main highlights and simple jewelry to accentuate them from the background.
Make Boots Your Hero Piece:
Every outfit you wear should have a statement piece. It can be your top, a piece of jewllery, an accessory or shoes. In this case, you can wear a simple dress or a top and pair it up with striking and eye-catchy boots to make it your hero piece.
Like these gorgeous sea-blue boots with frills paired with a thigh-high black shimmer top, you can couple up any dress with such stunning cowboy boots to make heads turn! 
Wrapping Up:
Boots are one of those rare pieces that can transform an outfit and lend an elegant look. At Heels N Spurs, one of the popular online boutiques in the USA, we have several designs of cowboy boots of varying lengths and sizes. You can also shop for trendy women's clothing suitable for any occasion from our online store.
Browse through our collection of clothing and footwear and upgrade your wardrobe with one-of-a-kind pieces now.