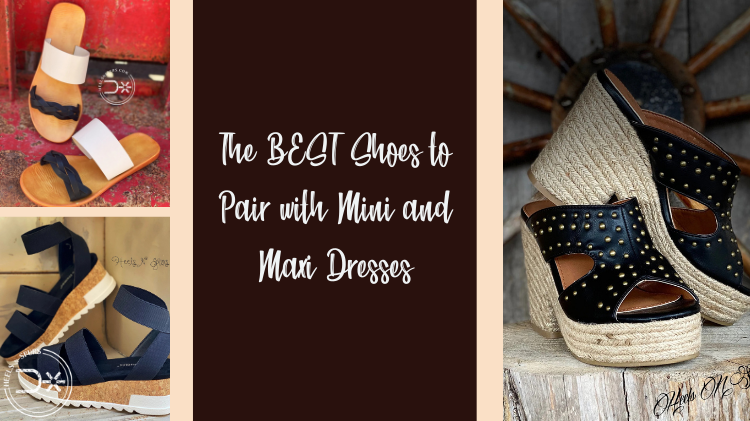 The BEST Shoes to Pair with Mini and Maxi Dresses
From light and breezy in the summer to layered in the chilly winters; you can be curvy or petite, tall or short, dresses are the most versatile part of a woman's wardrobe. What is the best way to give a dress the perfect look for almost every occasion? Pairing it with the right shoes. Heels N Spurs has the perfect pair of western meets boho shoes to complete any look for mini and maxi dresses.
Matching Shoes for Maxi Dresses
The beauty of a long sweeping maxi dress looks even better with a great pair of shoes. The question is: to pair with flats, heels, wedges or a cute pair of sneakers or boots?  Here's your guide to the best footwear to pair with your maxi dress. 
Flats with Maxi Dresses:
Pairing your maxi dress with flats tells the world you want to be fancy, yet relaxed. The ankle-length look of a maxi dress will let your flats peek out below and gives a hint of glamour. Our Gold Glitzy Sandal can add a chic edge by giving a bolder look to your maxi dress. Or you can go with the Gracie Cowhide Sandal for a more boho vibe. Either way, your laid back glam look will turn heads paired with your Heels N Spurs flats.
Flip-flops with Maxi Dresses:
Warm temps call for open toes, but flip-flops don't have to be all casual. Get a chic look by combining either our Glamour Girl Bow Sandals or Cowgirl Tooled Sandals with a maxi dress. This summer style staple is perfect for a day at the beach or out shopping with your besties. Paired with a free-flowing maxi dress, the Heels N Spurs collection of animal print and neutral toned flip-flops will bring your day look up a notch.
Heels with Maxi Dresses:
We don't call ourselves Heels N Spurs for no reason. Casual by day...glam at night, maxi dresses get a formal look when you pair them with a set of heels. If you're heading to dinner or to dance the night away, throw on a pair of heels with a maxi dress for a taller and slimmer look. We've got a great collection of western meets boho heels to choose from.
Wedges with Maxi Dresses:
There is nothing more comfortable than a great pair of wedges so they get their own spotlight. The great thing about a wedge is it can go from day to night, casual or glam. It is the most versatile shoe in any woman's wardrobe so it pairs perfectly with a maxi dress. Short girls get a boost from a wedge and when paired with a maxi dress, they get that tall, elongated look with all the comfort. Wedges have replaced pointed heels as the must have for a woman's closet. Open-toed wedges in a neutral shade are a classic combination with a maxi dress. To glam up a solid colored maxi dress, pair with floral or patterned wedges. Mix and match wedges and maxi dresses for a flirty, fun look for any occasion.
Sneakers and Boots with Maxi Dresses:
The ultimate in casual comfort, pairing any of Heels N Spurs sneakers or boots are a timeless combination with maxi dresses. Cooler temps call for closed toes, and cute outerwear; pair a cute coat, jacket, or blazer over your maxi dress. You can go patterned or plain depending on your mood or occasion, we have a wide shoe collection for your western meets boho look. 
Matching Shoes for Mini Dresses:
High hemlines of the mini dress provide a fun and flirty look for day or night. A woman should not be without this staple in her wardrobe. The mini dress can flaunt a great pair of sandals, boots, or heels. You need not relinquish your favorite summer wear at the back of your closet in winter and fall. We'll show you how to pair this look any time of the year. 
Sandals with Mini Dresses:
Whether you are wearing a spaghetti strap or v-neck mini dress, put together a dainty look by adding sandals. This carefree vibe is the ultimate in boho style. At Heels N Spurs, we like to make it a little western too. Pair your mini dress with our Old West Tooled sandals for your casual but glam style.  Shop our women's shoe collection for the best sandals for your mini dresses. 
Sneakers with Mini Dresses:
Kickin' it around town? You need all the comfort you can get. Your t-shirt style mini dress will look great paired with our collection of sneakers. Add more western flair with one of our classic tooled belts to finish your casual yet glam day on the town look. 
Western Boots with a Mini Dress:
No western look would be complete without some fabulous western boots. No girl's closet should be without many pairs of great boots. The ultimate western look, a mini dress matched with a gorgeous boot is perfect for a day out shopping or dancing the night away at your favorite honky tonk. Winter, Spring, Summer or Fall, a good pair of western boots will pair perfectly with your mini dresses. 
Shoes for all Occasions:
Heels N Spurs has the best collection of western meets boho style footwear to pair with your maxi and mini dresses. For a day out with the girls or a night out on the town, we have the trendy shoes to pair with any maxi and mini dress. Shop for trendy women's clothing from Heels N Spurs, a western-boho boutique in Kenedy, TX.