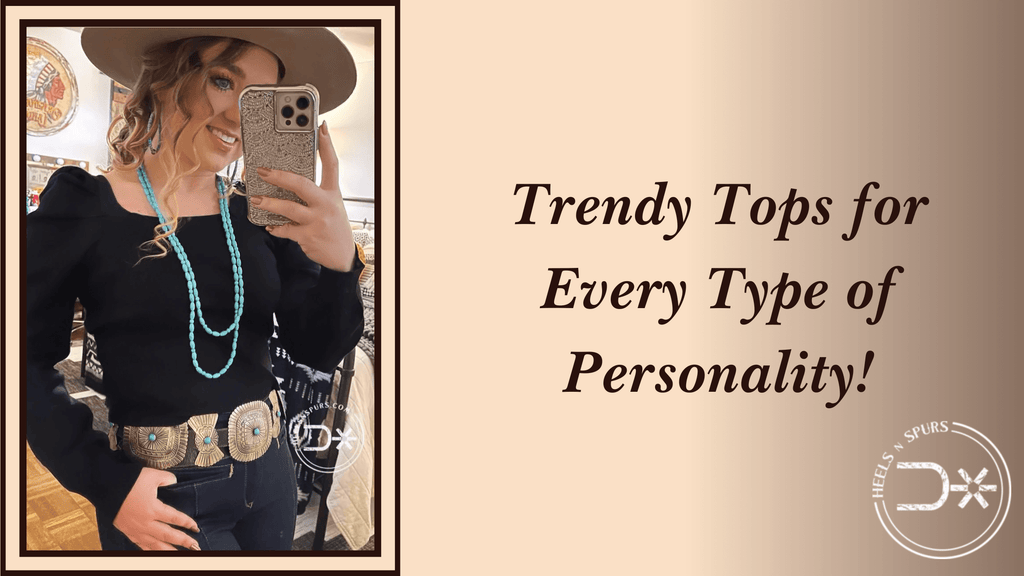 Trendy Tops for Every Type of Personality!
Fashion is a form of inner creativity that radiates our persona to its true sense. It does not follow a one size fits all approach, as every façade represents distinct qualities. In today's world, fashion is all about flaunting ensembles that are expressive and symbolic of your personality. Here is a guide by Heels N Spurs, a trendy online boutique, to help you select tops that mirror your soul.
8 Varied Tops for Every Facade
We have chosen eight tops from our trendy online boutique, with each of them narrating your fashion traits and preferences. Express yourself with a flair that is as attractive as your soul!
1. T-Shirt for Buoyant Persona: Ariat Cowgirl Canyon Tee, Distressed Flying Monkey Jeans, and Ariat Hilo Chimayo Sneakers
T-shirts are a staple in every woman's wardrobe, all thanks to their comfortable and easy-going fitting. The Ariat Cowgirl Canyon Tee from our women's boutique is an ode to free-spirited women flaunting their buoyant aura. You can pair it with Distressed Flying Monkey Jeans for an evergreen, high-street fashion. Top off your look with Ariat Hilo Chimayo Sneakers to keep your feet relaxed wherever you go. If you are someone who prefers to maintain a low-key style, this combination will not let you down at college and on outings.
2. Crop Top for Happy-Go-Lucky Ones: Blush Miranda Crop, Wild West Vibrant Shorts, and Sierra Wedges
The Blush-colored Miranda Crop top is a great wardrobe addition for jovial women preferring bolder styles to let their appearance stand out. Depending on your preference, you can wear this top with Wild West Vibrant Shorts or flare jeans for women. Make your look drab to fab in the blink of an eye with classic Sierra Wedges. This outfit combination is a win-win for brunches and movies. If you have a curvy silhouette, opt for a boxy-style crop top. However, the ones with an hourglass figure should choose figure-skimming crop tops to accentuate their waist.
3. Turtleneck for Sophisticated Facades: Senora Navy Turtleneck, R.E.A.L Mid Rise Stretch Entwined Boot Cut Jean, and Cash Black Jolene Western Ariat Boot
The Senora Navy Turtleneck is one of the most sophisticated styles from our collection of western tops for women. It serves as a jewel on the crown for women with reserved natures. The whole get-up looks drop-dead gorgeous when accompanied by Mid Rise Entwined Boot Cut Jean. You can wear it to work, casual getaways, and where not. Since a good stature is needed to show off turtleneck flair in its optimal glory, you will need Cash Black Jolene Western Ariat Boots.
4. Off-Shoulder Top for Spontaneous Beauties: Maya Aztec Fringe Top, Ariat Clarissa Midnight Straight Jean, and Cowgirl Dream Heels
Off-the-shoulder tops are a timeless trend possessing feminine and elegant aesthetics for women who like to experiment with fresh fashion. The Maya Aztec Fringe Top from our trendy women's clothing line emphasizes the shoulder and necklace. It lets you show some skin without being too revealing, whereas the fringes add subtle glam to your look. You can wear the off-shoulder top with Ariat Clarissa Midnight Straight Jean or a slinky skirt. The Cowgirl Dream Heels would match the outfits, giving wings to your spontaneity.
5. Sweatshirts for the Love of Comfort: Cowboy Time Sweatshirt, Ariat Perfect Rise Colorado Flares, and Sonora Cowhide Sneakers
Sweatshirts are forever favorites for those who prefer comfort more than anything else in their everyday styling. However, the Cowboy Time Sweatshirt is a timeless piece from our women's online boutiques offering the right balance of coziness and fashion-forward design. It is a versatile piece paired with Ariat Perfect Rise Colorado Flare jeans, lounge pants, and denim shorts. Whether you are going to college, on a grocery run, or for a chit-chat session with your girl gang, finish off the look with Sonora Cowhide Sneakers.
6. Hoodies for the Tomboy Personalities: Ariat Arctic Logo Hoodie, Torrance Perfect Rise Ariat Straight Jean, and Brown Cowhide Slip-On Sneakers
Regarding fall-winter fashion, various options are available, like girls' denim jackets, trench coats, and blazers. Nevertheless, hoodies are a staple for tomboy girls living a carefree, laid-back, and unbothered lifestyle. If you also belong to a similar tribe, look no further than getting an Ariat Arctic Logo Hoodie to stay comfy throughout the season. Accompany it with Torrance Perfect Rise Ariat Straight Jean to complete the get-up. If you adore chilled-out looks, the Brown Cowhide Slip On Sneakers will become your absolute footwear while going out with pals.

7. Shirts for the Boss Lady Vibes: Retro Ariat Button Up, Ariat Trouser Mid Rise Stretch, and Brooklyn Black Ariat Dixon Boots

Ladies having an unbendable attitude and preferring power dressing usually stock up their closets with different styles of shirts. The Retro Ariat Button Up is an eternal style from our trendy online boutique suitable for work, casual revelries, and formal occasions. Creating diverse looks with a single shirt is easier by matching it with Ariat Trouser Mid Rise Stretch, straight jeans, and pencil skirts for a more professional gaze. Coming on the footwear, go for Brooklyn Black Ariat Dixon Boots for a comfortable walk.
8. Tank Tops for the Vibrant Femininities: The Blossom Tank, Aisha Ariat Slim Trouser, and Western Tooled Wedges

Tank tops are an unmistakable choice for lively girls with a never say never attitude. The Blossom Tank is a rendition of cheerful and bubbly personalities making the most of their lives. This top is best worn with Aisha Ariat Slim Trouser if you go for an excursion or brunch. Contrarily, you can combine a tank top with ripped denim shorts for a beachside or pool party look. Whatever the occasion is, embellish your appearance with the rustic allure of Western Tooled Wedges. Need a more delicate and feminine look? Browse through our variety of dresses and heels.
Conclusion
Give Heels N Spurs' trendy online boutique a shot to build you a wardrobe that stands for who you are. Cruise through our carefully crafted selection of tops highlighting each individual's unique personality. Shop your heart out with this list of our popular tops you do not want to miss!