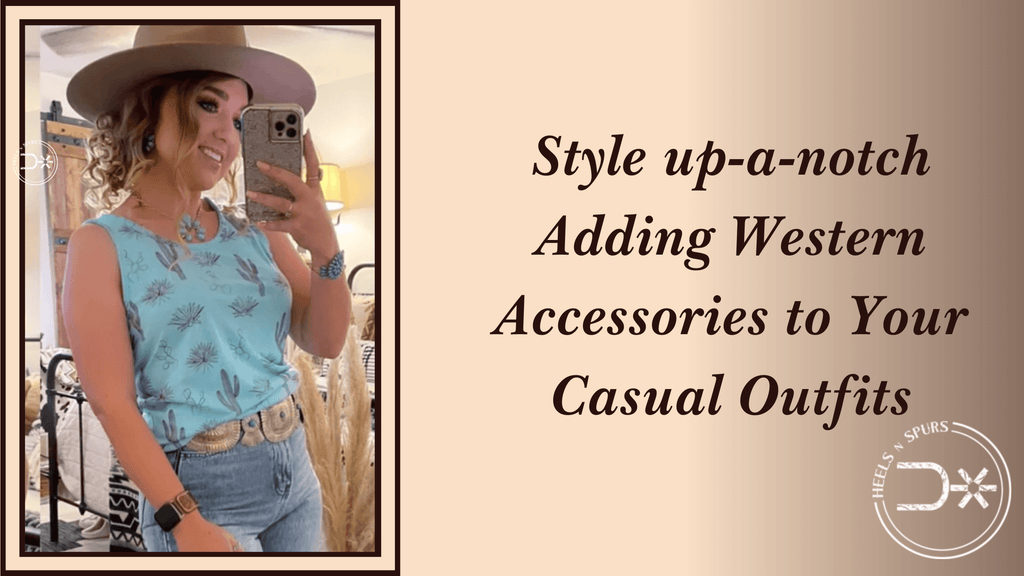 Style up-a-notch Adding Western Accessories to Your Casual Outfits
Western accessories are must-have staples in your wardrobe. They can take your look from day to night and add a touch of sophistication to your everyday style. Spice up your look by accessorizing your casual outfit and be the talk of the town!
Fashion is constantly changing, and so is the way we dress. If you are bored of wearing the same old outfit or want to try something new, adding western accessories to your outfits can do wonders for your look.
7 Western Accessories to Incorporate in Your Look
Western accessories are associated with high-end fashion and luxury. However, you can easily mix them with your everyday casual looks for more stylish and chic aesthetics.
You can use an inexpensive accessory to add extra flair to your outfit and make it more appealing. Such accessories also have a practical side as they are made from high-quality materials that will last a long time. The following accessories from Heels N Spurs' western boutique will bring out your true style and help you stand out from the crowd.
1. Put on Some Bling with Earrings
Earrings are a staple part of any style. From classic studs to trendy hoops or dangly earrings to statement pieces, earrings can foil your look with sheer elegance. If you want a minimalistic formal look, studs and tiny hoop earrings will work well. Likewise, the elaborative women's earrings go well with looks curated specifically for special occasions or festivities.
2. Accentuate Your Waist with a Belt
Belts are not just fashion accessories; they are also functional ones. They help us to highlight the waist and make us look slimmer. Many different types of belts are available in the market, but a concho belt is a hotcake. It adds definition to your waist without needing to wear a dress or skirt with darts in it. You can also pair concho belts with pants, shirts, and jumpsuits. 
3. Add a Swanky Accent with a Scarf
Scarves are versatile pieces that can be worn in many different ways. Whether you need a retro-inspired look or just something to keep you warm on a cold day, scarves are perfect for adding some style without taking much time or effort. You can pick a scarf from our women's online boutiques and wrap it around your neck in an elegant knot.
4. Glam Up Your Look with Sunglasses
Sunglasses are a must-have item for casual accessorizing, whether on the beach, the pool, or on your day at work. They can be worn with almost anything, adding an extra level of oomph to whatever you wear. From aviators to the cat's eye, there is a style to satiate everyone's fashion taste. You can use sunglasses to give a finishing touch to your daytime look.
5. Layer It with Necklaces
When it comes to styling any look, jewelry is the perfect accessory. Likewise, from statement neckpieces to multi-layered ones, you can accompany them with everything from formal to casual ensembles and in a more laid-back way. They can also be layered with other necklaces or worn as a single necklace. Necklaces are a great way to add a pop of color to your outfit or can also be used as an accent piece. Browse through a collection of delicate neckpieces with ornate embellishments from our western online boutiques for a charismatic you!
6. Beat the Heat in Style with Hats
Hats are a great way to beat the heat in style. From fedoras and straw hats to bucket hats and flat caps, there is something to go for every look. Hats can be a breeze to put on and take off, making them an excellent accessory for summertime. If you wonder how to accessorize a dress for a pool party or a casual tee for adventurous outings, look no beyond hats!
7. Complement Your Outfit with Classy Handbags
Handbags are a great way to add a dash of personality and panache to your outfit. Apart from being functional, they enhance the overall appeal of your look. From satchels to clutch bags, choose the one that compliments your outfit. A tasteful bag will go well with any type of clothing, from casual to formal wear.
Frequently Asked Questions (FAQs)
How to make my style stand out?
When you are trying to figure out how to make your style stand out, try wearing clothes that are distinct from the usual, carry a swanky bag, and wear accessories that reflect who you are. You can mix and match diverse colors, and patterns to make a statement.
What jewelry should I wear with an orange dress?
Orange is a color that is often associated with warmth and happiness. Hence, you can opt for accessories like Golden Bracelet Set, Crystal Shimmer Ring, Star Choker, and earrings with a gold or beige palette.
What are fun clothing accessories?
Fun clothing accessories are colorful items that are intended to be worn and enjoyed. They can be anything from classic hats to modish scarves and indulgent jewelry to luxe sunglasses. They are typically designed for those who enjoy being playful and imaginative.
Fashion and Style: What are the most wanted fashion accessories?
The most wanted fashion accessories are the ones that speak for you and mirror your distinct persona. These include handbags, sunglasses, scarves, watches, crossbody bags, embellished belts, earrings, bracelets, hats, and statement rings. Such accessories can be easily incorporated into your delicate style.
Conclusion
The fashionistas are embracing western accessories as their sartorial treasure. The way you accessorize your look can either help you present yourself in the best light or give off the wrong impression. Since it can be challenging to find dainty pieces that will work for you, the women's online boutique by Heels N Spurs offers an extensive range of evergreen western accessories.