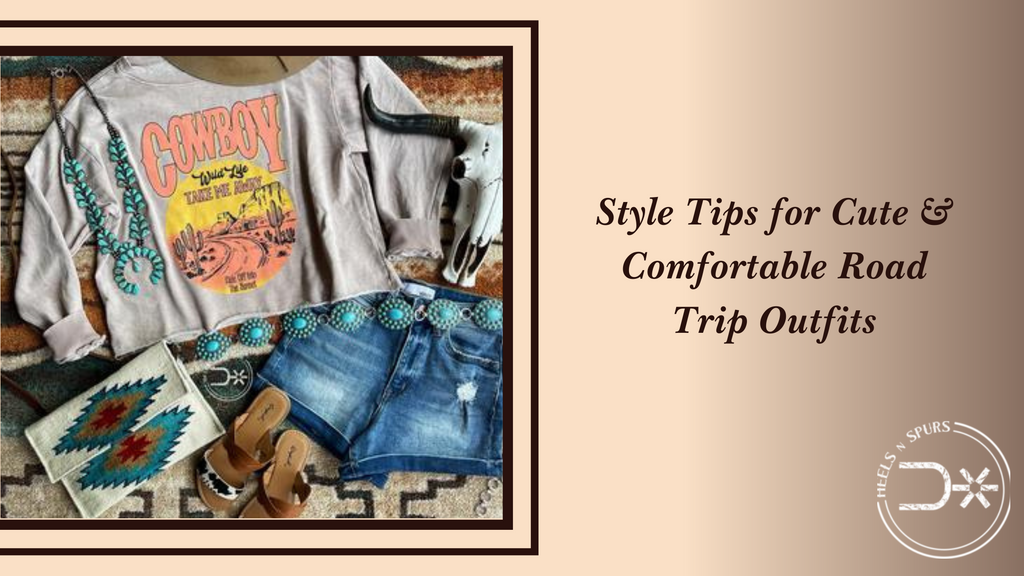 Style Tips for Cute & Comfortable Road Trip Outfits
Your long-term plan is just a stone's throw away and you're about to embark on a fantastic road trip! Yaay!
Then, reality sets in and the questions come pouring in.
What should I wear? What should I pack? How can I look cute in comfy clothes?
Road trips can be very tricky. Off Road getaways require you to wear comfortable outfits so you can last an all-day adventure. But as you prioritize comfort over style, you can't put aside aesthetics if you want Insta-worthy posts.
Imagine stopping by at breathtaking sceneries and rocking your pose with some cute outfits. 
Here are 5 Style Tips To Rock Roadtrip In Style
1. Stylish Tank Tops
Summer heat can be very draining. If you want to have fun under the sun without looking haggard, a stylish tank top will do the trick. It is a light, breathable and comfortable clothing piece that you need to pack for hot weather joy rides.
While there are so many tank top designs available in the market, you can pick those that have a breathable fabric with a nice fit. At our trendy online boutique, we have a wide selection of tank tops that suit every woman's size and style preference.
Here's a set of button tank tops in attractive colors that would match perfectly with any bottom wear.
If it gets frigid at night, you can throw on a jacket, a lovely scarf, or a dainty cardigan to stay warm. You can find more western tops for women at our boutique.
2. A Pair of Cozy Shorts
There's nothing more comfortable than pairing your tank top with a pair of jean shorts!
Shorts are an absolute necessity when you're on a road trip. You can pair them with your favorite t-shirt, or any loose or sexy top. The key here is to choose shorts that fit perfectly so you can enjoy long drives.
If you're not sure about jean shorts during the summer, you can go for loose-fitted jogger shorts that provide bigger leg room.
3. A Lightweight Sneaker
You may have to walk through a forest on a road trip, a path full of stones and tread through potholes full of water. 
On all of these occasions, the shoes that you wear can make or break a trip. On the other hand, wearing appropriate footwear that is comfortable will make you enjoy hiking and sightseeing. 
So make sure to pack a pair of comfortable sneakers that you can match with most of the outfits you've packed.
You can get sneakers in various designs and styles from our women's western wear boutique.
4. A Dependable Jacket
Even when it's summer, you still need a jacket when the air gets colder at night. Some days can be windy and you might need something to pull over your shoulders. 
This is when a jacket comes in handy. Pack a simple cardigan or a trucker jacket to warm up during trips. 
You can invest in a plain black trucker jacket and wear this with your usual t-shirts and jeans. These clothing pieces work well with dresses, shorts and skirts.
5. A Large-Sized Carry-On Bag
While you may have a big backpack to carry your clothes, you'll need another carry-on that can fit all your essentials.
When you're stopping by a restaurant or just roaming around, an easy-to-carry bag will be most helpful. You can store your essentials, toiletries, wallet, chargers, mobile phones and other electronic gadgets in such ease.
You can get a checkered, fashionable backpack from our women's boutique.
During these COVID-19 times, a stylish carry-on bag is needed to carry hand sanitizer, gloves, masks, and other important things to protect you.
Wrapping Up
These are some of the essentials you need to look stylish on your road trip without compromising comfort. You can find varieties of women's clothing at Heels N Spurs, one of the top women's clothing online boutiques. 
Your weekend getaway, browse through our collection of tops, bottom wear, shoes, and bags at affordable prices.