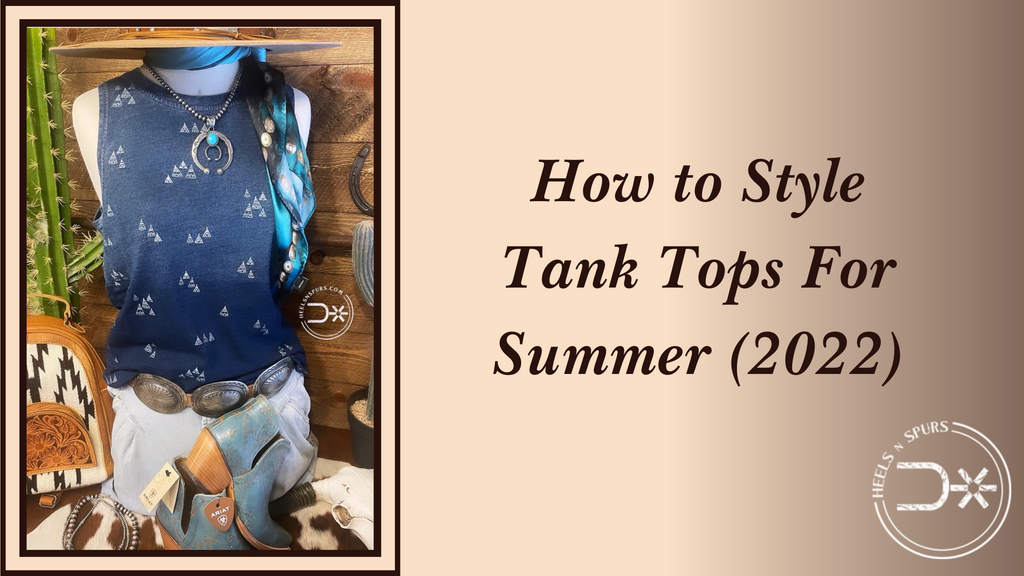 How to Style Tank Tops For Summer (2022)
Do you need some style inspiration to stay on fleek this summer? 
Cruise through the latest chic outfits from Heels N Spurs. We are an online boutique in the USA curating effortlessly chic western-boho clothing for women. Revamp your wardrobe and infuse a dash of modern fashion with help from our style experts! We have curated nine ways to style your favorite tanks this summer. Continue reading through this blog to get inspired!
Tank Top Styling Tips
Tank tops are a summer staple and one of the most versatile pieces of clothing in your closet. They epitomize an effortless way to show off your style and can be paired with anything. Tank tops, being a go-to piece of clothing for the fashionistas during summer, are comfortable and light. From pool parties to casual outings, tank tops are always a great option. They allow you to stay comfortable without compromising on style.
Embroidered Tank, Rosa Ariat Denim Shorts, and Navajo Bracelet
Want to steal the limelight, even on the days when the sun is shining bright? Look no further than this adorable assemble. Our embroidered tank will add a dash of chicness to your persona. You can pair it with the Rosa Ariat denim shorts from our women's boutique. The minimalist detailing of embroidered tank blended with the stylish hem of denim shorts creates the perfect balance. Accentuate the look with the exquisite detailing of the Navajo bracelet.
Basic Tank Top, Ariat Trek Leggings, and Sunflower Crossbody Wallet
From workouts to last-minute outings with your girlfriends, this look has you covered! Our basic tank top styled with relaxed-fit Ariat Trek leggings can completely elevate your casual look. This striking combination will keep you hooked to living life to its fullest without compromising on style. You do not want to miss out on the Sunflower crossbody wallet to channel your inner fashionista! You can shop the complete look from our trendy women's clothing collection.
Ruffle Detailed Tank Top, Beach Shorts, and Lariat Necklace
Fashion trends are dynamic but ruffles are elegantly timeless! Nothing could be better than a ruffle detailed tank top paired with trendy beach shorts. This look epitomizes comfort, style, and elegance. To take this look to the next level, shop the stunning lariat necklace from our online boutique in the USA! Head to our website to check out our entire collection.
Bonita Tank, High Rise Distressed Jeans, and Colorado Squash Necklace
Fashion is always about letting your heart speak for you! The Bonita tank from our trendy women's clothing embodies stylishness and comfort at its best. What else could be better than complementing it with high-rise distressed jeans for a relaxed yet chic fit? By adding our Colorado Squash necklace to this look, you can bring all of the boho vibes into the outfit!
Rodeo Tank, Lucy Ariat Shorts, and Conway Turquoise Chain Belt
Do you want a super casual look without going over the top? The Rodeo tank would be the ideal pick for you. From beach outings to day-out with your girls, nail every look with the chicest aesthetics of the Rodeo tank paired with the classically evergreen Lucy Ariat shorts. Enhance your look with an alluring Turquoise chain belt. You can cruise through our assortment of western tops for women to give a stylish makeover to your closet.
Lilly Mae Tank, 90s Vintage Flare Jeans, and Dixon Western Boot
The Lilly Mae tank is the perfect vintage top. It's chic yet modish aesthetic will help you enhance your millennial style. You can add to the look by rocking the 90s Vintage flare jeans. They're so classic and comfortable. In addition, opt for the Dixon western boots to conquer the world in style!
Vegabond Tank, Denim Shorts, Pistol June Chain Belt, and Western Mini Navajo Necklace
Who doesn't love to be out in the sun? Whether it is a day spent by the poolside or a night out at a concert, the Vegabond tank would keep your style nonchalantly flawless. Wear it with a pair of denim shorts for a sporty yet graceful look that is sure to make you stand out from the crowd. Style this summer outfit with a Pistol June chain belt to finish the look.
Blossom Tank, Rodeo Gal Flares, White Rodeo Girl Chain Belt, and Layered Necklace
Want to stay ahead of fashion enthusiasts? The Blossom Tank has you covered. The subtly detailed tank top embedded with the comfy flair of Rodeo Gal flared jeans will add a touch of glamor to the look. You can discover a wide variety of flare jeans by visiting our online boutique. Draw attention to the outfit by wearing the Rodeo Girl chain belt embellished with gorgeous florals in the color white. Last but not least, our layered necklace is the perfect final touch.
Santa Rosa Tank, Ariat Marine Trouser Jean, and Bandita Concho Purse
Keeping the style simplistic yet impactful is in trend these days. The ruffles-inspired design of the Santa Rosa tank top blended with the easy-going fitting of Ariat Marine trouser jean bottoms will make you look effortlessly chic. Want to be the center of attention? Don't forget to purchase our boho-chic Bandita Concho purse! It's perfect for any occasion.
Conclusion
Staying true to your boho-chic style has never been so effortless and convenient with help from our online boutique, Heels N Spurs! We have a wide variety of women's denim jackets. tops, bottoms, dresses, and heels! Shop from our trendy online boutique to support local businesses and take your closet to the next level.