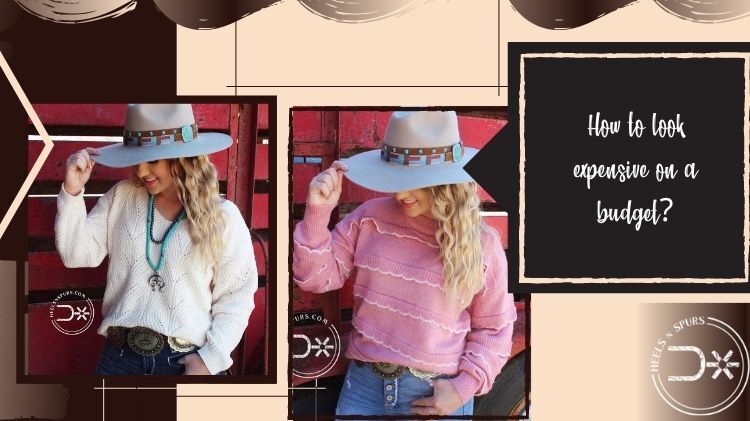 How to look expensive on a budget
Why are celebs often followed on social media?
One of the prime reasons is that we admire their looks, often craving that we can dress just like them. They look so adorable, put-together, and composed no matter what they wear or feel. Well, it's not essential to be a billionaire to look great. With little planning and effort, you too can manage to look luxurious on a stipulated budget. 
The way you carry yourself communicates a thousand things about your persona. It sure as hell creates a long-lasting impression in the minds of the onlookers. However, confidence is the key; no matter how well you may be dressed, but if you lack confidence nothing is worth it.
So follow these simple tips by trendy women's clothing to dress with style and sophistication and look just like one of your die-hard favorites.
Go monochromatic - Dress in style with a complete white or black look:
For ages, these two shades have been associated with a rich demeanor. These colors accentuate your features and will never become outdated. Wearing a completely white or black outfit from spurs shop screams sophistication and class. Many renowned designers and celebrities are often seen adorning these shades. Since they are neutral tones, they tend to match with any other color, design, or pattern. No matter what skin color or body size you have, both these shades are sure to suit you. If you want to look bold and hot, try a complete red look.
Check minute details:
The lining on clothes speaks tons about its quality and standard. Expensive wear will have an almost invisible, neat lining. Another check would be to ascertain if the pattern is coordinated at the seams. When u pick up low-cost outfits, the flow of the print is broken. This may be due to the designer wanting to save fabric or due to inexperience. When purchasing low-cost outfits with zippers, verify that they are most certainly not visible. If the zipper is visible, the color should blend with the fabric. 
Slouchy clothes must not be preferred over structured fabrics; they will not let u fulfill your desire. Fancy metal buttons with straight stitches look more elegant as compared to plastic ones. Replace them in your new purchase, but use the same color thread without fail. When clothes are too jazzy, they do not tend to look classy. Designer pieces at our trendy women's clothing use a minimum amount of lacing, sequins, or spangles. These items must be minimalistic in your outfit to let you stand out among the rest.
Jewels will make you shine:
A simple look can be exemplified with the right kind of jewelry. Precious metals like gold and platinum are considered as a mark of wealth. Adding a tinge of statement gold jewelry even with a plain outfit can add that x-factor. Even simple diamond studs or danglers look charming. Don't worry if you don't have real gold,add imitation gold jewelry that is available in abundance.
Wear an exquisite coat or blazer:
Your routine casual outfit can attain a polished touch with the addition of an overcoat or blazer. Pair them up with dresses or skirts to complete your look. A simple jeans and white top can look complete with a blazer.  Since blazers are a one-time investment, you can afford to invest in a classy piece to grab that expensive look.
Opt for pointed footwear:
You can give the onus to pointed heels, flats or high heeled boots for girls for making you look posh. Black or white pointed heels are a must for you. Match your bag and footwear for a charming look. A person's shoes generally denote the person's status. So watch out while you pick your next pair of shoes.
A smart bag is what you need:
Like blazers, these are long-term investments. Choose a good quality bag; hard-lined bags look much better than slouchy ones. They tend to even last longer giving it an aura of a designer piece. Pick neutral tones so that they can gel with any color and can blend well with your footwear. Black, white, grey, and beige are everlasting shades. Avoid pastels and bright colors; they won't give you that rich feel. Simplicity screams of class; avoid fringes, embroidery, or zippers in the bag you choose. They particularly mark a cheap brand.
Read to learn 6 tips to experiment with colors in your fall wardrobe 2020.
Few general tips:
Wear sunglasses that suit your face, giving yourself a cool and chic look. A branded or expensive pair will make even the most basic outfit look high-class.

Never step out of the house in clothes that are not ironed. You must look prim and proper with no folds or twists in your outfit.

It is sensible to spend a little more on something you will be wearing more regularly like a blazer, jeans or bag rather than spending bucks on an expensive evening gown that you may need to wear only once. You can borrow or rent one rather than investing a huge sum in it.

Bright and pastel shades are eye-catching. Do not buy bottom wear in dark colors as they tend to become dull and destroy your expensive image. 

Besides your clothes, you need to manage your overall look. Your hair must be done well. Your skin must be flawless and sparkling. You can have your nails manicured and painted. Wear a dazzling lip color in shades of tint, coral, pink, or red.
Conclusion
Heels N Spurs can provide you with a huge collection of classic dresses and heels to elevate your spirits. We have established our name as the best women's western wear boutique with affordable pricing. Whether you select our high-heeled boots, earrings, or flare jeans; you will not be a tad bit disappointed. Our range of fabulous women tops is mind-boggling. Heels n Spurs aims to satisfy the desires of all those beautiful women who work hard and want to look gorgeous.