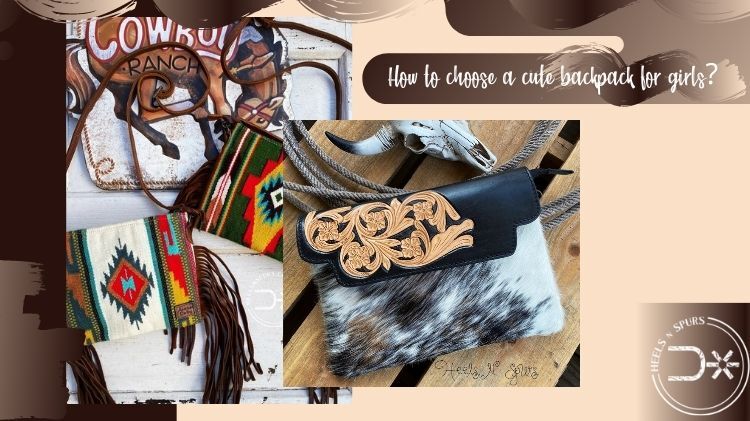 Ladies, How Do You Choose A Cute Backpack?
Ladies, backpacks are back! Whether you're hauling books to class, taking your laptop to the coffee shop, carrying your wallet and phone on a weekend trip, or rocking a stylish carryon, a good backpack can do wonders. From young girls to young professionals and the young at heart, the backpack is a highly versatile and practical accessory that every woman should have in her closet. But with so many gorgeous and unique backpacks hitting the market right now, how does a girl choose? Don't worry, babe. We've got you covered.
Weigh your pockets:
Set a budget! And stick to it! The market is overwhelmed with umpteen brands of various quality. Decide how much you are comfortable spending, and how long you want your backpack to last you (consider how often you'll use it and what kind of wear it will get).
We suggest investing in a durable, high-quality piece rather than going for brand value. Investing in a high-quality piece now could save you tons of time, money, and frustration down the line when you have to replace that backpack you got for a steal.
Another thing to consider is if you want a backpack that is on-trend or timeless. Styles don't last long, but they always come back around.
Every backpack purse curated by Heels n Spurs is of high-quality. Without a doubt, you can pick up our intricately designed cute backpacks for ladies to enhance your stylish looks. Our bags for women are reasonably priced, designed for style on a smart budget!
Size and Style:
From classic leather backpacks with a polished and sophisticated look to modern styles embellished with sequins, prints, and other fabrics, there is something for everyone in this backpack collection.
Backpacks had evolved, coming a long way from the bulky school bag. Today's styles boast a variety of sizes including sleek pieces, mini purse backpacks, and spacious adventure packs. Take the time to consider what you will use your backpack for. Are you traveling? Going on day hikes? Hitting the farmers market? Commuting? You can be practical in selecting a backpack that will get the job done and still look super stylish.
Comfort is Key:
At Heels N Spurs, we have a rule: Never sacrifice comfort for style. If you're going to be carrying heavy items like books, or packing for a long trip, consider how the backpack sits on your back and shoulders. The last thing you want when you're out and about is to be dealing with aches and pains. For heavy-load backpacks, look for styles with padded straps to reduce the pressure on the shoulders. If pads are inserted at the base, it can help to prevent any friction at the lower back. It can help to prevent abrasion. A backpack that has an s-shape is designed to lessen the strain on the back. Always aim for classy, but not at the expense of your health.
Material Used:
The higher the quality of the material, the more durable your backpack will be and the longer it will last you. More bang for your buck, as they say! Some common materials used for making backpacks include Cow Hide, Nylon, Leather, and Cordura. Leather is widely considered the best material due to its resilience and toughness. It tends to be more expensive, but it lasts longer and has that clean, elevated look. 
Versatility:
As you get ready to invest in your new backpack or backpack purse, don't forget to consider function and versatility. Does it go with most of the apparel in your closet? If your wardrobe is 99% pastels and prep, a southwestern-style bag is going to look very out of place. (That being said, we love experimenting with new styles...just be sure you have something to pair it with.) We generally advise opting for neutral shades that can compliment any look. Tan, black and white are the most versatile colors. The busier the bag, the harder it will be to pair with a stylish outfit, and the less use you'll get out of it.
Conclusion:
Let Heels and Spurs match you with your perfect backpack! We have a phenomenal collection of small crossbody bags, shoulder bags, and designer tote bags for women, and some exquisite mini backpack purse. Each of our pieces is unique and is made with durable material. Elegant and simple, these purses can be used every day or for special occasions.