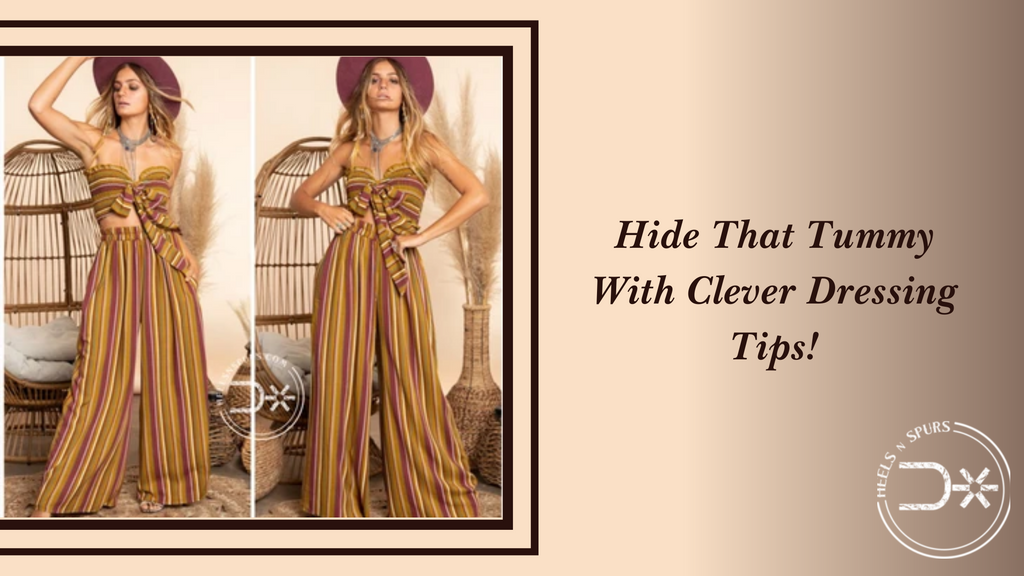 Hide That Tummy With Clever Dressing Tips!
Have you ever looked in the mirror and thought, 'If only I had a flat belly!'
Well, we have all been there at some point in time or the other. Women gain tummy fat for several reasons: menopause, thyroid, PCOD, or any other medical condition. If you don't want your tummy showing through your outfit, there are ways to manage that.
In this blog, we'll look at some clever dressing tips that you can pair up with trendy women's clothing and still look fab as always!
6 Dressing Tips to Hide Your Love Handles
Unlike what many think, it isn't that hard to hide your tummy. You have to change your dressing style and your choice of tops and bottoms to make your stomach look flat. Our stylists from Heels N Spurs, a trendy online boutique, have some helpful style tips for you to make that happen.
1. Wear a Loose-Fitted Sweatshirt
A sweatshirt is a staple in everyone's wardrobe, especially during the winters. You can pull over a colorful sweatshirt when you're cold and pair it up with your favorite jeans.
You may want to opt for a sweatshirt that is larger than your usual fitted tops. There are so many different colors and styles of sweatshirts you can pick from. You can choose a slightly loose-fitted one; nothing that's too loose for you. Since it's open, your tummy won't show prominently, and you can still look lean!
2. Choose a High-Low Top
Usually, asymmetrical tops and high-low tops tend to draw attention away from your belly. Such tops tend to create a vertical illusion, giving the impression of a thin figure. You can go for any asymmetrical tunics, tops, and shirts. Make sure to couple this with tight-fitted jeans, jeggings, or leggings and complete with a pair of ankle-length boots. This ensemble will make you look utterly stylish while hiding that tummy well.
Go for a similar high-low shirt with a cinched waist for a casual look. You can loosen up the belt at the core based on how much you want to hide the tummy and still attain a structured figure.
3. Pick a Ruffle Neck Top
Most tops with ruffles in the neck flow down loose near the waist which is precisely what you need to hide your tummy.
At Heels N Spurs, we have western tops for women in various designs. For ruffle neck tops, make sure to pick a material like silk or rayon, which can take shape as it flows instead of cotton. Take a look at this beautiful dusty rose top with a ruffle neck.
Look at how the material flows down below the waist and doesn't attract the core. These are incredible tips that you need to invest in. Make sure to wear them with high-waisted jeans that can tuck in your tummy.
4. Throw on Kimonos or Jackets
You can pick a simple girl denim jacket or a colorful kimono to wear over your top to cover your waist.
If you have love handles, go for a long kimono or a shrug. These clothing pieces will elongate your frame.
To make this work, pick a colorful kimono that falls on your thighs and accentuates your frame instead of your tummy.
Go for a simple jacket that doesn't make you bulky but flatters your body and slims your figure.
5. Go for the Combo of Flared Jeans + Crop Tops.
When you have love handles, you can go for a loose crop top and pair it with high-waisted flared jeans. These flared jeans women will make you look taller and thinner. You can add a nice belt to go with the jeans. The crop top creates an illusion of a tiny upper portion, while the jeans will make your stomach look flat.
Just look at how amazing this combination works.
Many women wear a tight tummy tucker to cover the extra bulges. However, you can skip that and look perfectly gorgeous with this combination.
6. Wear a Super-Flowy Dress
There are many types of flowy dresses. Ones that are loose on top or fitted in the waist. Here is a lovely flowy dress.
You can see that the dress brings structure at the waist but doesn't accentuate it. Instead, it flows down freely to the knees.
Shop from one of the best online boutiques USA, Heels N Spurs, to upgrade your wardrobe.
We have various tops, bottom wear, dresses, and a separate section for plus size. Visit our women's western wear boutique to browse through our collection.