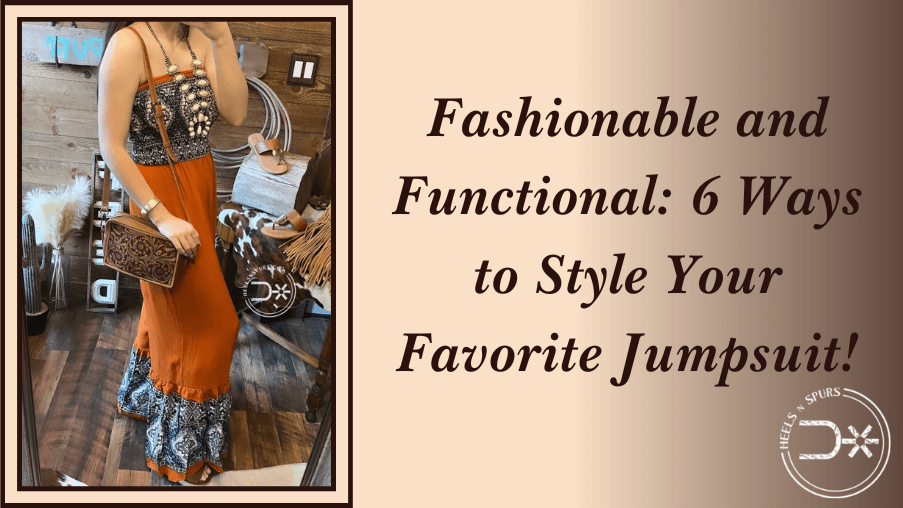 Fashionable and Functional: 6 Ways to Style Your Favorite Jumpsuit!
Since their inception in the fashion world, jumpsuits have been beloved for their easy to slip into appeal. With a laid-back silhouette and flattering designs, they offer the A to Z essentials that elevate your flair. Jumpsuits provide great flexibility to support your movement while still looking sophisticated. From work events to weekend parties, a jumpsuit can easily take you from day to night.
Wearing a jumpsuit also eliminates the chore of thinking about and coordinating your outfits. Oh, did we also mention its comfort and convenience? This one-piece wonder lets you experience an elegant, relaxed fitting in every setting. 
With so many ways to style a jumpsuit, you can create statement-maker looks with Heels N Spurs' guide curated from its western boutique. You will learn how to slip into a jumpsuit and the aspects to be considered for creating a put-together look that compliments your physique. 
Six Tips to Keep Your Flair On-Edge in Jumpsuit Ensembles 
Taking the hassle out of dressing up? That is what jumpsuits are for! 
Whether you prefer a professional look or an ultra-glam one, it is time to get creative. You can achieve different vibes in a single wardrobe piece by teaming it up with chic outerwear, accessories, and footwear. For this purpose, we have picked the six best ways from our trendy online boutique to style a jumpsuit for a fashion-forward presence. 
Pursue the Flawless Fit
(Taupe Majestic Jumpsuit)
Finding a jumpsuit that fits you well and looks flattering on your physique can be tricky. You should understand the different cuts and styles to find one that suits your body contours. With this knowledge, you can make an informed decision when shopping for the perfect jumpsuit.
If the jumpsuit is tight, it will cause inconvenience and will restrict your body from moving around. On the contrary, a loosely-fitted jumpsuit would make you appear bulky while overwhelming the frame. Likewise, the Taupe Majestic Jumpsuit from our online boutiques in the USA would easily flatter every body type. It comprises a one-shoulder design and accentuates your curves in all the right places, keeping comfort in the loop. 
You can also explore our collection of rompers and jumpsuits to pick the one that aligns with your personality. If you want to spice up things, a halter-neck jumpsuit with a waist-cinching, wide-legged design would also look great. 
Draw Attention to the Waist
(Myra Chain Belt)
Whether you aim for a look of sophistication, elegance, or all-out glamor, you can do it all with a belt. Most jumpsuits comprise a cloth belt made of the same fabric and color, so you can clinch the waist without worrying about color coordination. 
However, if the jumpsuit does not have a matching belt, you can opt for Myra Chain Belt from our women's online boutiques. You can adjust the belt per your waist size and comfort level to achieve a curvy, feminine look without sacrificing grace. 
The Myra Chain Belt's versatile design goes well with varied outfits like a romper, maxi, and flare jeans for women. Such belts can instantly add a touch of luxury to your ensemble and maximize your style. Say goodbye to shapeless outfits and hello to sleek, structured silhouettes that scream confidence!
Channeling Glam in the High-Slit and a Cutout
(Midnight Jumpsuit, Crystal Wrap Bracelet, and Hillary Earrings)
The key to styling a jumpsuit with cutouts is to keep the shades and texture simple and the silhouette clean. The best way to do this is by choosing one solid color and teaming it with contrasting accessories. Likewise, the Midnight Jumpsuit has a sleek and contemporary feel, which goes well for soirees, dates, dinners, and get-togethers. It comprises an elegant cutout at the upper waist and a high-slit design for maximizing the glam factor.
You can add bling to your look with statement-maker pieces like Crystal Wrap Bracelet and Hillary Earrings. Besides, a sleek hairdo would help accentuate the charm of the outfit and the accessories in the best possible way.
Say Yes to the Heels 
(Denim Sweetheart Jumpsuit and Bling Heels)
Do you also dream of achieving a good stature in a jumpsuit? Look no further, as Bling Heels will help you steal the show. If you wear flats, you might appear frumpy or short in a jumpsuit, especially if it is a straight or a wide-leg jumpsuit. 
Heels provide an illusion of a leaner and longer silhouette by preventing the jumpsuit's bottom from bunching up. Avoid the sandals, as they can make the bottom half of the jumpsuit look sloppy. 
Moreover, you should wear skinny heels if the jumpsuit's fabric is lightweight and airy. Footwear options like sneakers, strappy sandals, mules, or clog heels would look better on cropped jumpsuits like the Denim Sweetheart Jumpsuit.
Show Some Love to the Solid Shades
(Black Majestic Jumpsuit)
Solid colors like black, forest, or navy would be viable choices for all the jumpsuit virgins. Contrarily, printed jumpsuits with bright florals or polka dots would also go well if you prefer a little unconventional dressing. These picks are great for casual summer fun paired with playful accessories.
Nevertheless, our Black Majestic Jumpsuit is the ultimate slimming outfit with an elongating design and minimalistic aesthetics. It makes the eyes of the beholder move upwards and downwards, minus any disruptions. 
Besides, the one-shoulder design elevates the glam factor. Once you become familiar with wearing solid shades, consider experimenting with fancy patterns and spring-inspired colors.
Floral Prints for Summers
(Malibu Jumpsuit, Wild Gringa 3-Strand Necklace, and Miami Sandals)
Summer is here, and we cannot think of a better time to flaunt flirty florals under the sun. The Malibu Jumpsuit from our trendy women's clothing collection is an unmistakable pick for pool parties, evening outings, and beachside concerts.
Its breezy, off-shoulder design and clean, belted silhouette will complement the season's cheerful vibes. You can opt for playful accessories like sunglasses and the Wild Gringa 3-Strand Necklace to finish the look. Alternatively, you can wear a jumpsuit dress in colorful prints or a feminine pastel shade.
Since summer styling is more about keeping style lighter, consider wearing Miami Sandals for an intriguing yet laid-back appeal. This combination will help you survive those daily heat waves while staying chic.
Lift Your Style Game to Greater Heights
Wearing a jumpsuit is like getting dressed in an instant. The six tips mentioned above by Heels N Spurs would ensure your look is always spot-on. Spice up your personality with the coolest new trends from around the globe.
If your fashion mantra is 'confidence is the key,' our vast collection of tops, jumpsuits, bottoms, dresses and heels will entice your senses. 
It's the time to shine and bring your best fashion to the light with our western boutique.