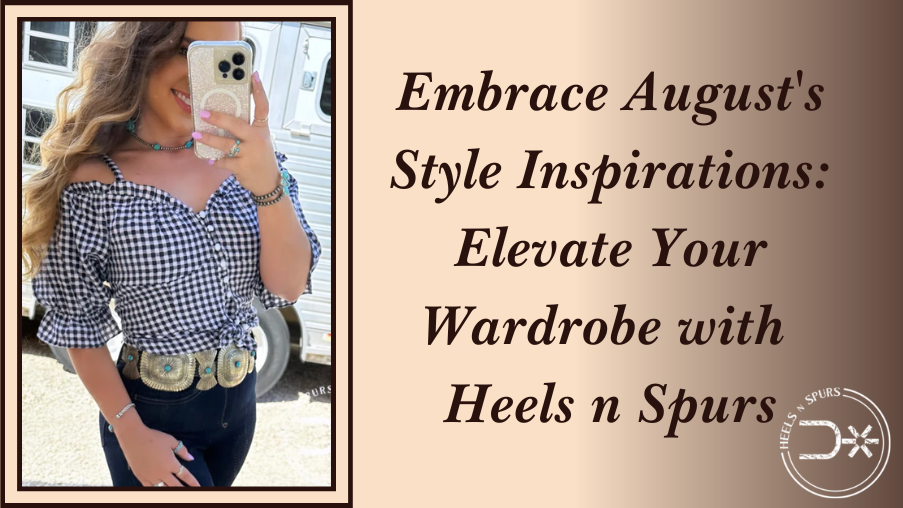 Embrace August's Style Inspirations: Elevate Your Wardrobe with Heels n Spurs
As August unfolds with its warm and lively days, we savor the final moments of summer's embrace. August's sun-kissed days and lush greenery invite us to cherish each moment before the graceful transition to fall. Whether immersed in city life or finding solace by the beach, this month promises fashionable adventures and unforgettable memories.
Yet, amidst the joy of summer, we face a common challenge - crafting outfits that blend chic style and cooling comfort. Our attire plays a pivotal role as office days and sticky commutes continue. Now is the time for a touch of fashion magic to break the monotony of summer routines.
Enter Heels n Spurs! Embrace August's potential with our trendy women's clothing, making a statement that lingers in the minds of those around you.
Transitional Dreaminess
Amidst August's enchantment of greenery and warm breezes, indulge in your whimsical dreams with our Malibu Ombré dress. Pair it with white sandals and a chic tote for a glamorous look. Elevate your style with our dresses and heels, feeling like a goddess all season.
Effortless Elegance
Explore the versatility of off-shoulder tops, seamlessly transitioning from day to night, embodying casual ease and timeless elegance. Each set becomes a canvas for your style, with accessories painting the picture of sophistication. Picture yourself in the Vintage Floral Top, an earthy masterpiece from a Western boutique, capturing nature's essence.
Graceful Balance
Discover the art of balance by combining long sleeves with shorter hemlines, embracing cooling comfort. Enchant with the Denim Sweetheart Dress, a timeless wonder merging denim charm with a flirtatious hemline. Midi or maxi lengths? Let the spaghetti straps or deep V-neck add sophistication, channeling effortless style.
Animal Prints
Unleash your wild side with chic animal prints effortlessly paired with plain pieces for bold looks. Complete your style with The Barbarosa Western Hat, adding flair and sun protection. Conquer the urban jungle in new colors and patterns, exuding confidence and uniqueness.
Boyfriend Jeans
Stay cool and chic with the ultimate summer companion - boyfriend jeans! Beat the heat while looking effortlessly stylish. Unlike skinny jeans, boyfriend jeans offer comfort and trendiness.
Pair them with anything from casual tees to button-ups. Opt for lightweight fabrics as mid-August peaks, ensuring comfort all day. Leave a few bottom buttons undone for a relaxed vibe, and accessorize with a trendy belt
Delightful Denim
Elevate your denim shorts with layers and accessories for a chic style. Longer hems, looser legs, and cleaner washes add grown-up sophistication. Women's striped shorts embody summer fashion, effortlessly charming.
Palazzo Pants
Palazzo pants make a stylish comeback! Versatile for street style, beach days, and more. Pair with crop tops or tube tops for chic looks. Revamp your scarf top with a halter style, embracing comfort and charm.
Knotted Shirts
Embrace safari-inspired looks with chic knotted shirts. Cinch your waist, flattering your figure. Pair with booties and earrings for Western chic.
Mini Magic
Discover mini bags, adding glamour to your outfit. Vibrant colors and shapes complement any attire. Venture into petite bags, embracing their capacity to carry essentials.
Cheerful Colors
Embrace tropical rainbow shades, bidding farewell to neutrals. Dive into vibrant patterns and rich solids, painting summer days with brilliance.
Monochromatic Marvels
Cosmopolitan chic thrives with monochromatic outfits. Add whimsy with prints, creating captivating contrasts.
Conclusion
Explore enchanting styles with Heels n Spurs Boutique! From timeless classics to refreshing twists, August is your canvas for a unique expression. Welcome the last summer rays with an open mind and Heels n Spurs' trendy collection.