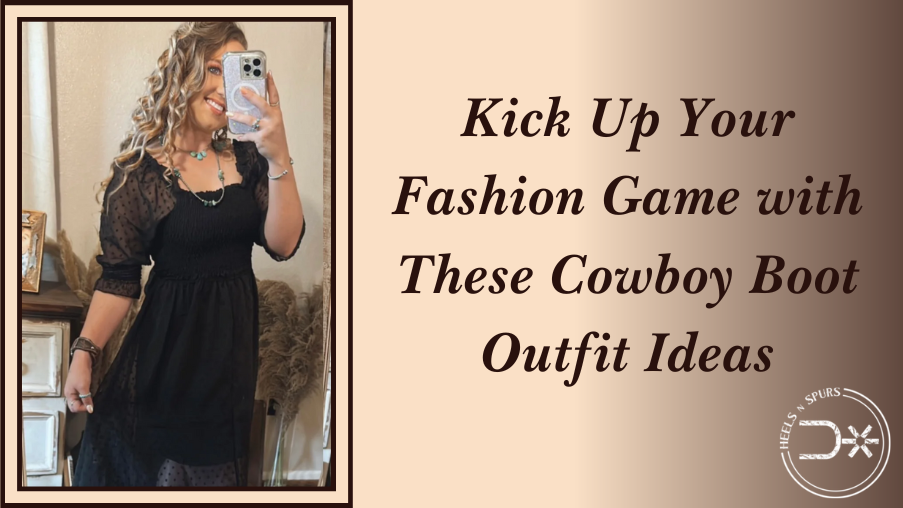 Kick Up Your Fashion Game with These Cowboy Boot Outfit Ideas
Cowboy boots are the epitome of Western style and rugged individuality. Each pair tells a story as if it has been molded and shaped by the very adventures that the wearer has experienced. The intricate stitching adorning the boot shaft showcases the artisanal craftsmanship that goes into every pair. Their unparalleled durability and undeniable charm make them the perfect accessory to add a touch of wild west flair to their wardrobe. Read the Heels N Spurs guide to style cowboy boots with your fashion staples.
7 Cowboy Boot Ideas You Can Swear By
From classic denim to flirty dresses, cowboy boots are a versatile accessory that can elevate any look. But blending them with varied outfits is nothing less than masterful art. Thus, we have rounded up seven outfit ideas from our online boutiques in the USA. Let us take your cowboy boots from the rodeo to the runway!
Boot Up Your Fashion Game with Comfort
(Western T-Shirt Dress, Belinda Stretchfit Ariat Western Boot-1, and Thunderbird Chain Belt)
The perfect trio you need to take your everyday look from drab to fab. Our Western T-shirt Dress is playful and chic, which makes it a staple for an effortless flair. You can accompany the dress with Belinda Stretchfit Ariat Western Boots. Their supple leather hugs the foot like a second skin, easily conforming to every movement and contour. Give some attractive accents to your outfit with Thunderbird Chain Belt. You can shop for more dresses and heels to mix and match your closet essentials. 
All Hearts for the Denim
(Denim Sweetheart Dress, Miranda White Boots, and Miranda Concho Belt)
The Denim Sweetheart Dress from our trendy online boutique is an evergreen piece that flatters every body type. It compliments your curves while offering a relaxed fit for optimal comfort. You can pair it with the Miranda White Boots for a decent statute and a cowboy appeal. The contrast of the crisp white boots against the rugged denim creates an edgy yet feminine look, perfect for any occasion. Whether you are hitting the town with friends or running errands, this look is a winning combination. Put on the Miranda Concho Belt to add definition to your waistline. 
Bringing an Elegant Vision into the Light
(Meghan Top, Judy Blue Cuff Jeans. And Blanco Dixon Western Boot)
The Meghan Top is an excellent choice for those who like to keep their attires simple yet impactful. It can be worn as a knot-style top or tucked inside the Judy Blue Cuff Jeans. Such jeans give a more structured look and keep the fitting laid-back. You can opt for ankle-length Blanco Dixon Western Boot to accentuate your appearance. Crafted from the finest leather, these boots are a blend of form and function, balancing style with durability. You can also shop for high-heeled boots for girls from our wide-ranging footwear assortment.
Back to the Basics, With a Twist
(Texas Tee, Hidden Sofie Shorts, and Casanova Western Boot Shades of Grain)
Channel your western-boho vibes with Texas Tee from our women's online boutiques. With an easy-to-slip style, this tee will help you confidently take on the day. You can team it with Hidden Sofie Shorts for brunches, movies, outings, and college. Bring some exciting twist to this girl-next-door look with Casanova Western Boot Shades of Grain. It suits the overall color palette of the look, adding a contemporary panache to your appearance.
Embracing the Fabulous Floral Charm
(Floral Smocked Dress, White Indigo Boots, and Riata Concho Necklace)
The Floral Smocked Dress is an ultimate choice for the warmer seasons, with its vibrant prints and a flirty yet well-defined silhouette. The outfit is elevated to new heights of grace and sophistication when paired with the White Indigo Boots. The boots provide an expensive feel to the attire while maintaining a comfort-induced sense. Top off the look with the Riata Concho Necklace for infusing personality into the dress. This combination is appropriate for summer festivals, outdoor parties, and date nights.
Keeping it Pretty and Playful
(Aloha Red Top, Hidden Tracey Distressed Crop Jean, and Nina Booties)
The Aloha Red Top comprises a delicate floral pattern, an off-shoulder design, and puffy sleeves. Its dainty design adds a touch of femininity and romance to any outfit. You can pair it with flare jeans for women or Hidden Tracey Distressed Crop Jean if wearing cowboy boots. This put-together look is further adorned with the Nina Booties. Their sleek design and crisp white color complement the floral top and distressed jeans, creating a cohesive and polished ensemble. This look would never disappoint you, from a casual day out to a night in the town.
A Fashionista in the Making
(Pink Jolene Top, High Rise Mom Jean Shorts, and Camel Adela Boots)
The Pink Jolene Top has feminine aesthetics, which are a delight to wear. Its subtle ruffles and cut-sleeve design draw attention to the wearer's arms and shoulders. When paired with the High-Rise Mom Jean Shorts, this ensemble strikes a contrasting color combination that is fit for day-to-night looks. 
The shorts hug the waist snugly and taper down to a relaxed fit, giving the outfit a pinch of street-style allure. You can slip your feet into the Camel Adela Boots for a polished appearance. Its sleek construction matches the cheerful vibe of the entire look, enabling you to stroll through sun-kissed streets to dance the night away.
Flaunt the Symbol of Freedom, Adventure, and Timeless Style
We have got you covered whether you are eyeing a casual weekend look or a show-stopping ensemble for a night out. With our cowboy boot attire curations from online boutiques in the USA, all the second glances will be on you. So, grab your boots, saddle up, and hit the trail to fashion perfection with Heels N Spurs. We have the best-in-class and iconic clothing, footwear, and accessories collection to make your appearance statement-making!