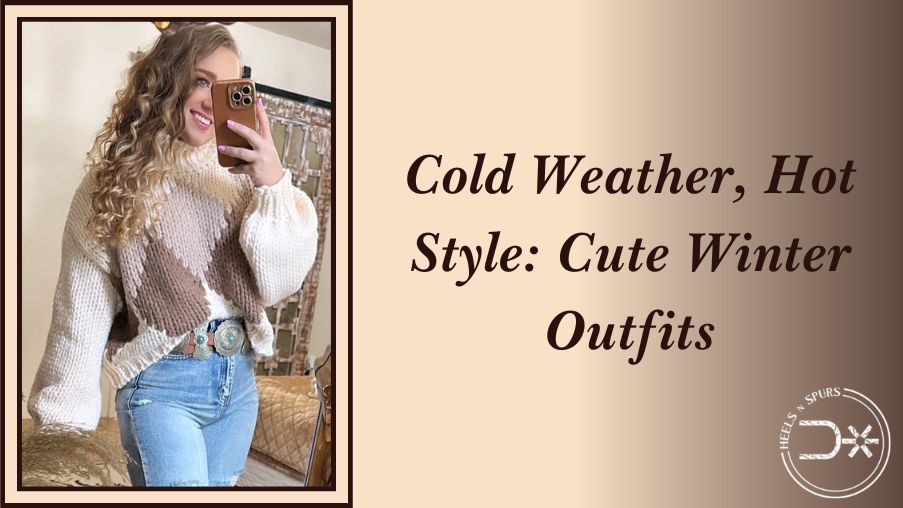 Cold Weather, Hot Style: Cute Winter Outfits
Fashionistas, listen up! Brace yourselves for the cold weather, because your style is about to heat up! Say goodbye to those boring sweatpants and hello to the hottest and cutest winter outfits that keep you looking fabulous, even when the temperatures drop. Our women's online boutique collection at Heels N Spurs is filled with trendy basics like live-in denim, versatile Western boots, ribbed knits, and much more.
Whether heading out for a long drive or just a stroll, our fashion choices will turn your walk-around-the-block attire into a fashion statement with expert tips and tricks. Get ready to slay the cold weather with hot style because Heels N Spurs believes fashion knows no temp limits!
COZY+CHIC LOOKS GUARANTEED IN CASUAL WINTER OUTFITS
Let us take a fashion vow today - "We won't let the winter blues dampen our style game." From soft knits and luxurious layers to modern accessories, our winter collection will keep you warm and stylish all season.
Stay tuned and let our outfit choices speak up now!
YOU CALL IT "LBD" & WE NAME IT "LBWD"
(Black Hills Fringe Dress ~ Ariat, Laramie StretchFit Western Boot ~ Ariat - Distressed Black Suede, Mega Fancy Cluster Ring, The Vegas Nights Ring, Turquoise Post Earrings, Rodeo Barbie Cluster Necklace)
The LBD is a party staple. But the LBWD is a Vegas staple. Our Black Hills Fringe Dress ~ Ariat (aka the Little Black Western Dress) pairs stretchy faux suede material with playful fringe, and the result is as ready for those post-rodeo celebrations as you are. With fringe detailing and a wrap dress design, this dress is ideal for adding a touch of flair to your winter wardrobe. 
We know how much you love dresses, so our trendy online boutique has brought you a black dress with an exciting Western flair. Pair it with your favorite Western fashion high heeled boots for girls and complementary accessories and jewels for a complete look. With its endlessly wearable style, you'll be the fashionista who won't let winter stop you from slaying your feminine style.
GO HANDS-FREE THIS WINTER
(Luxury Bumbag, Sydney Aztec Pullover, High Rise Wide Leg ~ HD9109, Navajo Pearl Authentic Earrings, Authentic Navajo Pearl Choker)
When it's the season to go hands-free or perhaps use your outerwear, we love the Luxury Bumbag styled with a warm and oversized pullover. What's interesting is that the stones studded in the bag at the front match the hues of your pullover, giving it a coordinated and stylish look. Now, you can wear your high-rise distressed jeans for a show-some-skin feel and look fashionable yet cozy, all while carrying nothing in your hands.
The bag offers a unique construction and features cowhide fur for luxury. Model this gorgeous bag over your front, and see how it will carry you with style throughout the day. It's the perfect solution for carrying all your essentials, including lipsticks, jewelry pieces, cards, and cute shades, while keeping your hands free and embracing practicality and fashion-forwardness.
MY SWEETHEARTS IN SWEATERS
(Sweetheart Sweater, Thunderbird Turquoise Authentic Concho Belt, High Waist Distressed Vibrant Jeans, The Lightning Bolt Stud Set)
While you may initially consider a cute winter outfit with a belted coat, why not try wearing your waist-cinching accessory under a chic sweater? Our Sweetheart Sweater is the perfect choice. With its oversized fit, turtleneck, and super soft and cozy fabric, it's a must-have for the colder months. These comfy and trendy winter sweaters boast chic patches in nude and brown tones that beautifully complement the white knit. 
Wear it half-tucked with your distressed jeans, add minimalistic accessories, and let your curls flow. For an extra hint of style, pair it with an authentic German silver and turquoise belt stamped with a maker's mark. The belt is fully adjustable, allowing you to customize the fit. By combining these pieces from our Western boutique collection, you can create dimensional looks with break-up separates, adding depth and uniqueness to your winter wardrobe.
REVERSIBLE DENIM LOOKS
(Denim Sweetheart Reversible Vest, Retro Buckle Belt, Ariat Aztec Beanie, Ariat Dixon Western Boot ~ Penny Suede)
Denim is often associated with summer, but we've given it a tough twist to play up the winter vibes. Introducing our Denim Sweetheart Reversible Vest. With its reversible design, you get the best of both worlds. One side features a denim look, while the other features faux fur. This vest runs roomy, offering a comfortable and stylish layering option. It has front denim pockets and fur and denim collars on either side, adding versatility to your outfit choices. Pair it with a belt, dark wash jeans, boots, and Western tops for women to create functional yet casual winter looks. 
And to add even more winter vibes to your ensemble, accessorize with a beanie. Designed with a faux fur pom-pom, this beanie from our Western chic boutique accessories not only elevates your outdoor look but also keeps you cozy. Whether blanketing horses for chilly nights or brushing winter coats in cold weather, this reversible denim vest and beanie combo will make you feel stylish and warm. 
TIMELESS AND FAVORITE COVER-UPS
(Aztec Rust Cardigan, Ariat Perfect Rise Flare ~ Pennsylvania, The Vaquero Chain Belt, Neon Moon Turquoise & Navajo Necklace, The Round Rock Ring)
A cardigan is a wardrobe staple that never goes out of style. It effortlessly pulls together any outfit, whether it's dressy or casual. That's why it's essential to have a variety of cardigan styles in your winter wardrobe - it's an item you wear so often. One cardigan from our women's online boutique pieces that stands out is a dramatically oversized Aztec Rust Cardigan. With its fine Western print, it gives you true holiday vibes and adds a touch of personality to any ensemble. 
Whether planning short or long trips, these cardigans will be your go-to companions, even on special occasions and holidays. Pair them with a bodysuit, flare jeans women, and layered necklaces for a stylish and trendy look. If you want a more polished appearance, add Western boots, leave your hair open, and let your outfit do the talking. 
NECKLINES MATTER THE MOST
(The Adela Sweater, Vintage Denim Trousers, Authentic Turquoise Teardrop Earrings, Crystal Shimmer Ring)
When creating a cute winter outfit, the neckline plays a crucial role. Opt for a mock neck sweater top paired with wide-leg trousers for a look that exudes sophistication and charm. Our women's online boutique staple - Adela Sweater, features a very stretchy rib-knit fabric, a cropped fit, and a stylish mock neck. It strikes the balance between style and comfort, allowing you to feel confident and cozy at the same time. 
Above the neckline, let your accessories shine! Consider wearing authentic Navajo pearls and turquoise stone earrings for a glamorous touch. To complete your outfit, opt for ultra wide-leg denim trousers with button closure, a zipper, back pockets, and a pleated waist. Combining a mock neck sweater top, wide-leg trousers, and statement earrings adds classiness and cuteness to your winter outfit.
LAYERED LOOKS ON POINT
(Serape Shacket ~ Ariat, High Waist Distressed Vibrant Jeans, Ariat Memphis Western Boot ~ Penny Roughout)
More and more layers are all that you need now to complete your cold-weather fashion. And we have just the piece to help you achieve that - the Serape Shacket by Ariat. This shacket features Western fashion prints and a stylish button-up look that instantly elevates your ensemble. Not only does it provide warmth, but it also offers practicality with its front pockets. 
To create a layered look, don the shacket over a cozy turtleneck. This not only adds an extra layer of insulation but also creates a fashionable contrast. For a refined touch, accessorize with jewels and pair the shacket with your favorite jeans. Tuck your turtleneck into high-waisted distressed jeans and add cushioned boots for extra warmth and style. With these layered looks, you'll achieve an elongated wintery look that is on point.
GET YOUR HANDS ON THESE WINTER FASHION MUST-HAVES NOW!
As the cold weather sets in, it's time to stock up on winter fashion essentials from Heels N Spurs. From cozy sweaters and chic dresses to versatile layering pieces and Western-inspired accessories, our women's online boutique collection keeps you fashionable and snug throughout the season.
With so many unique pieces infused with Western fashion whiffs, we assure you'll slay the cold weather in hot style - so get your hands on these cold weather staples from our trendy online boutique now and embrace the season in true Western fashion. 
The cold air is all set to warm up, courtesy of Heels N Spurs' hot styles!