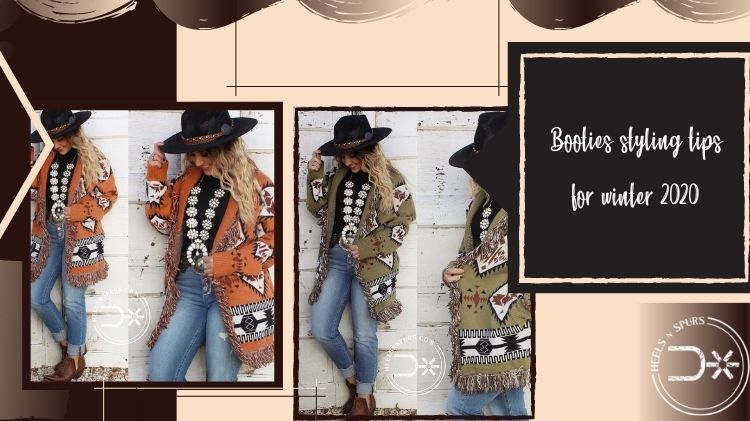 Booties styling tips for winter 2020
Want to look stylish irrespective of the season or occasion? Try this simple suggestion; wear women booties! They are truly versatile and, that is the reason most women adore them. They accentuate your features, helping you flaunt an impeccable look in winter, spring, or summer. And the best part is it is a one-time investment; you won't need to purchase a new pair during the weather transition. They look so phenomenal with dresses; we could not hold ourselves but give you some awesome ideas on how you can look chic by pairing booties with women's western wear boutique dresses.
How to select an ideal pair of booties?
When shopping for women booties, pick up a pair that gives you oodles of comfort, confidence, and style. Keep the occasion in mind before you barge into a shopping spree. Check the booties style you already possess and the purpose you are shopping. You can achieve your fashion goals with a little bit of research and understanding regarding what suits you the best.
For a poised look, opt for women's ankle booties with heels as it helps to make your legs appear more lean and slender. If you are on your feet all day long, you can stick to low block heels. But if you are looking out for something to wear out for parties, grab the high heel booties.
The fewer the colors, the easier it is to pair booties with other apparel. Neutral colors like black, white, and tan not only go with most outfits, but they are a flattering combination as well. Bold and striking colors like silver and gold can add glam to your occasional wear.
Now moving to shape. What to choose amongst rounded or pointed toe booties? Round toe booties work best for casual wear, whereas the pointed versions are apt for formal evenings. Although there is no doubt that the pointed booties may add a little discomfort due to the slim fit.
Now next in line once you pick your booties would be to shortlist your dress.
There is no dearth of options with women's western wear boutique when it comes to choosing trendy dresses in classic styles and patterns. A perfect fit is what you need to look out. And obviously, it must bring a smile on your face when you check yourself in the mirror after wearing the dress. 
Mini dresses look just fab with booties. They are flattering and easy to wear. If you have a sexy figure, highlight your curves with A-line dresses.

As we mentioned booties are super versatile and, so you can pair them with maxi dresses as well. A word of caution! The hem of the maxi dress must be just above the ankle to show-off your stylish footwear. A maxi dress with a side slit will help your legs appear elongated.

Printed patterns and silhouettes offer a unique style. Pick up a bold pattern with bright colors or animal prints. The choice is yours.

 
Assuming you have chosen your booties and women's western wear boutique dress, let's move a step ahead. 
Give finishing touches to your adorable outfit by adding some accessories or layering. 
What you choose should totally rely on whether your dress and booties are simple or elaborate. With the right choice you can have a perfect winter-look put together; the simpler the outfit more you can experiment with the accessories. If you want your stylish and classy boots to steal the show, mellow down the rest of your look.
An elegant blazer or overcoat can add tons of style to a simple dress and women booties.

For a winter staple outfit, wear black tights with black boots with a mini dress. It will help you beat the chill while providing a slim and trim look.

Wear matching boots and a belt around your sexy waist to emphasize your figure.

You can match your booties with a backpack or clutch for a complete formal look.

 
It may look simple, but wearing booties can be challenging. Unlike high boots, when wearing women booties, the jeans must be perfectly tucked and, the distance between the hem and booties must be precise.
Our first styling tip, to let your dress up or down in minutes is wearing skin tight jeans tucked in a pair of faux suede booties. The look is ultra-stylish and effortless.

Wear your most comfy pair of socks with booties to get ready when it's cold outside. Can you think of any better way to give you warmth? Fold your ankle-length socks once or twice and oh-la-la. You have a layered winter look ready.
Cropped jeans or pants are a roaring trend lately. Wearing them with your stunning ankle-length booties will leave some room for you to flaunt your flawless skin, making you look glam.

An old fashion trend that has resurfaced is styling cropped flares with low height women's wedge booties. This super stylish trend of the '90s is back with a bang. Remove any mental blocks that you may have. Look different by experimenting with changing fashion trends.

Another way to showcase your bare ankles would be to pick cut out booties. The side boot cuts are so adorable. But babe, you can wear them mostly during summers with your flair and breezy summer wear.
Wearing women's booties with a dress, denim or, rompers is such a hit fashion combo that you can wear all year round with ease. To make a mark and stand out in the crowd takes some creativity and experimentation. Heels n Spurs, an excellent women's western wear boutique, is a one-stop shopping destination for all your styling needs. We have a classic collection of women's ankle booties and wedge booties. Shop till you drop, for any season or occasion with assurance for the best quality and affordable price.