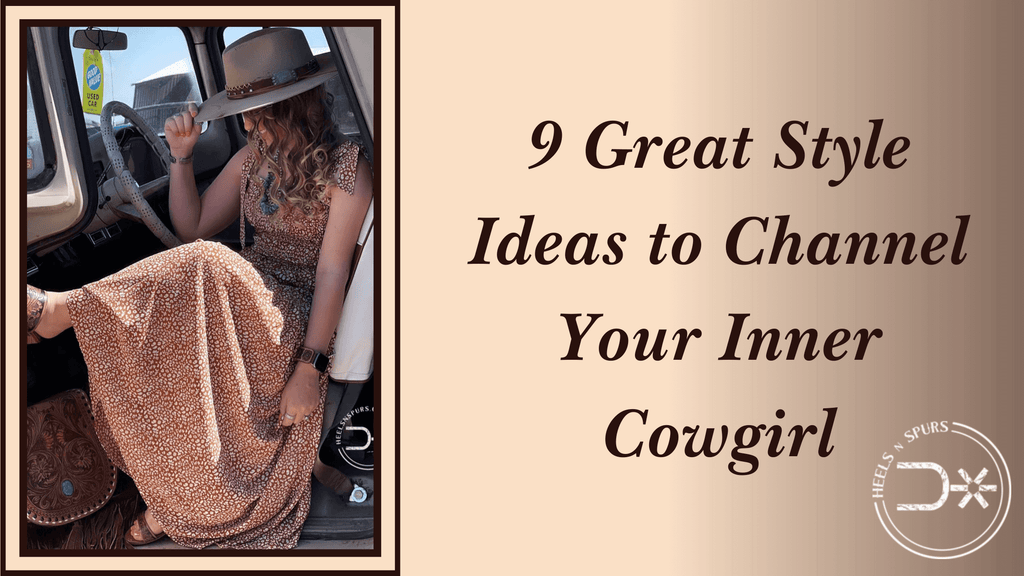 9 Great Style Ideas to Channel Your Inner Cowgirl
Want to rock the cowgirl look all summer long? Our online boutique has you covered! Heels N Spurs is a women's boutique in Texas. We specialize in a western-boho fashion that infuses a splash of glamor and chicness into your closet.  
Our style experts have come up with 9 outfits to help you dress like a cowgirl! All of these looks are available at our boutique. Let's dive into this blog!
Nine Western-Styled Outfit Ideas 
Whether you're headed to a rodeo, party, or just to dinner with friends, these western-style outfit ideas will not disappoint. They are the ideal mix of style and comfort. Channel your inner cowgirl with confidence and step out on the town in one of these fabulous outfits. 
The Must-Have Plaid Shacket with Cowboy Boots & Sunflower Purse
Want to experience the warmth of a jacket without compromising on fashion? Our Kendal Plaid shacket is an excellent option for you. It features a shirt and a jacket altogether to make your cowgirl look a bit more comfortable and casual. Pair it with your favorite tee and denim shorts to complete the outfit. Check out our crowd-favorite Round-Up Ariat Fashion boots. They are bold, beautiful, and comfortable for everyday wear. If you want to take the look to the next level, don't forget to check out the Cowgirl Sunflower purse from our online boutiques in the USA.
Accessorize Your Western-Style Look With Our Concho Belt & Turquoise Necklace
Flaunting a cowgirl look is all about self-confidence. When it comes to boldness, go the extra mile by wearing an adorable sundress complemented by our Denim Lace jacket. Be the next fashion icon in your town by accentuating the look with the El Dorado Concho belt! It is nothing short of bold and beautiful. Our high-heeled boots will help to bring out the true cowgirl in you. To finish the look, add our Running Wild necklace! You can never go wrong with a little bit of bling.
The Look That You Can't Resist - Crop Top with Flared Jeans
Our White Miranda crop top is as fierce as your personality. Embellished with high-precision detailing, it offers a relaxed fit. Pair it with the Ariat Mid Rise straight trousers for the ultimate cowgirl vibe. You can also shop exquisite western tops for women from our collection. The OL Feather Concho belt with the swankiest aesthetics adds unmatchable bling to the outfit. Our turquoise stud earrings will incorporate deep-rooted beauty into your style. Head to our website to purchase this look today!
The Fierce Cowgirl Look - Leopard Print Top & Classic Jeans
Leopard print brings a little bit of sass to every outfit! Whether you're going to brunch or a night out on the town, you can't go wrong with our timeless Santa Rosa Leopard top matched with the 90s Vintage Flare Flying Monkey jeans. These pieces create an enviably stunning cowgirl look. Browse through our assortment of flared jeans women to take your style sense up a notch. To complete the look, add our Flower Concho belt! It will accompany the look perfectly.
The 70s-Inspired Cowgirl Off-Shoulder Top & Sandals
Keep your spirits high and spread liveliness with the Vega Paisley top. Its cowgirl-inspired subtle elegance would light up any occasion. Wear it with the Western Frontier jeans as it intermingles comfort and vintage style for an effortless look. Add some extra flair to the look by purchasing the Cowgirl Tooled sandals in soft tan color to help you stand apart from the crowd!
Fringe Jacket, Western Hat & Boots For a Head-to-Toe Cowgirl Look
Fashion is necessary, even on chilly days. Our Bronco Fringe Jacket flaunts tan-colored fringes on the back for a flair that is bold yet so refined. Finish off the look with the Billy Kid Western Hat to encapsulate an unforgettable western style. Wear the Round-Up Skyler Western Ariat boots so you can walk around Texas like a true fashionista!
Cowgirl-Style in Office? Yes, Please!
Ditch the girl next door look and bring out that boss lady attitude with our black striped blazer. Pair it up with the gorgeous Falling for You merlot top to catch the attention of everyone around you. Add sophistication to your outfit with the Stockyards buckle worn over high-rise flare jeans. Polish off the look with a layered necklace and minimalistic earrings from our online boutique. Whether it is an official meeting or a casual outing, this outfit combination is perfect for any occasion. 
The Warm & Cozy Look
Do not let the chilly nights in the country stop you from living life in style. Our Maggie Plaid rust jacket will help keep you fashionably warm and accentuate your inner cowgirl. Pair it beautifully with the elegant ribbed olive turtleneck and navy blue straight-fit jeans. You can add some dazzling allure to your outfit with the eternally classic Nixon Navajo long necklace.
Casual Yet Stylish- The Cowgirl Graphic Tee & Western Boots
Who says bold can't also be casual? Our Sunshine Aztec cardigan is here to restore your sense of fashion during the colder months of the year. Top it over the Cowgirl-themed Rodeo 2021 Vegas Tee for a super casual look. For footwear, we suggest you purchase the super comfortable Primera Stretchfit Ariat western boots! They are sure to get some compliments.
Conclusion
The cowgirl look is all about boldness intermingled with a little bit of sass and comfort. Flaunt your inner cowgirl with help from our trendy online boutique. We have a top-notch collection of tops, jeans, accessories, jewelry, dresses, and heels for the modern-day cowgirl. Support local businesses by shopping from Heels N Spurs, a women's boutique! We are here to help you stay up-to-date on all of the fashion trends.