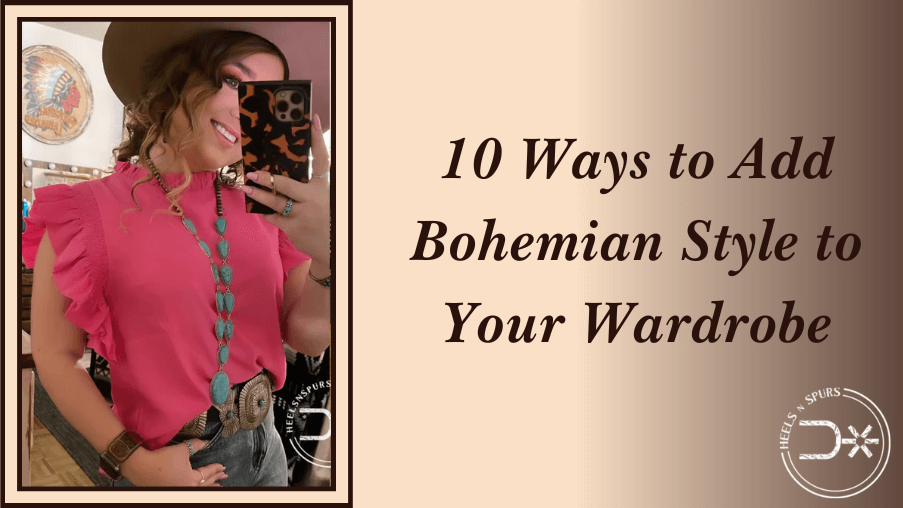 10 Ways to Add Bohemian Style to Your Wardrobe
Characterized by bright colors, playful elements, intricate patterns, and layered textures, the bohemian trend is here to stay. Besides appearing aesthetically pleasing, it reflects your free spirit and celebrates individuality. The bohemian flair is full of personality, which adds a little oomph to your appearance. Whether dancing to some tunes or giving old-fashioned a modern spin, Heels N Spurs western boutique has your back.
10 Ways to Transform Your Wardrobe with Bohemian-Style Dressing
Boho-inspired outfits are beloved for their versatility and ability to be casual and dressy simultaneously. Here are ten outfit cues from our online boutiques in the USA that will match your personality and hit the sweet spot of elegance.
#1. Pretty Patterns to Nail the Look: Beth Long Fur Jacket, Black Turtleneck Bodysuit, and Premium High Rise Ariat Straight Jean
The Beth Long Fur Jacket from our trendy women's clothing is the perfect way to make a bold fashion statement. Decked with a classic pattern and boho feel, it offers a laid-back, cozy fitting that will turn heads in chilly weather. You can team it up with the Black Turtleneck Bodysuit for a contrasting effect. For bottom wear, ditch the loose pants and opt for the Premium High Rise Ariat Straight jean.
#2. Accessories for Maximum Appeal: Chimayo Ariat Skirt, Black Scoop Neck Top, Sangria Squash White Necklace, and Black Ariat Chimayo Dixon Boots
The Chimayo Ariat Skirt exudes absolute boho vibes with its stunning pattern and figure-skimming fitting. You can dress it up or down with Black Scoop Neck Top or explore more from the western tops for women collection. This iconic outfit combination will accentuate your curves, creating an effortless work-to-the-party look. Maximize the aesthetics by putting on the Sangria Squash White Necklace and Black Ariat Chimayo Dixon Boots.
#3. Dainty Prints for a Timeless Appeal: Boho Dress, Mini Navajo and Turquoise Choker, Tulsa Hoops, and San Luis Sling Backs
With its dainty prints, vibrant hues, and comfortable fitting, the Boho Dress is an ultra-feminine piece. Whether attending brunch or going on a move date, its lightweight feel and relaxed fitting will put you at ease. You can accessorize it with Mini Navajo and Turquoise Choker, Tulsa Hoops, and San Luis Sling Backs. If you want more variations in your closet, go through our boho dresses and heels assortment.
#4. Embracing the Rustic Charm: Striped Sweater, Vintage Black Vibrant Jeans, El Dorado Concho Belt, and Ava Booties
Our trendy online boutique's Striped Sweater is an effortless way to nail the fall-winter look. It can instantly take any outfit from basic to stylish, bringing a rustic appeal to it with a soothing color palette. You can match the sweater with Vintage Black Vibrant Jeans and EL Dorado Concho Belt for edgy aesthetics. Finish off your overall attire with Ava Booties in complementing colors for a chicer movement without compromising comfort.
#5. Let Your Fashion Go Wild with Fringes: Wild West Fringe Blazer/Jacket, Navy Lainey Top, REAL Mid Rise Stretch Entwined Boot Cut Jean, and Phoenix Navajo Necklace
The Wild West Fringe Blazer from our women's online boutiques is a staple for attending a formal event or getting dolled up for a night out. When paired with the Navy Lainey Top, it adds an air of sophistication to your appearance. Likewise, the REAL Mid Rise Stretch Entwined Boot Cut Jean perfectly balances casual and formal aesthetics. Add bling to your persona with the delicate and flirty Phoenix Navajo Necklace.
#6. An Enchantress in Black: Vegas Nights Set, Rodeo Gal Squash Blossom Necklace, Light Vagabond Leather Tooled Purse, and Taylor Heeled Sandals
The Vegas Nights Set is a must-have piece in your wardrobe. This black co-ord set is sure to speak volumes of your style. You can complement it with Rodeo Gal Squash Blossom Necklace to infuse boho charisma into the look. Further, the Light Vagabond Leather Tooled Purse and Taylor Heeled Sandals would work as great additions for a glamor-studded appearance.
#7. A Love Affair with Earthy Tones: Color Block Sweater, 90s Vintage Flare Flying Monkey Jean, Navajo Earrings, and Frontier Tilly Rodeo Tan Ariat Women's Boots
The combination of Color Block Sweater and vintage flare jeans for women will do the talking for you. The earthy tones of the sweater provide an exciting contrast to the flare jeans. This attire is an attention-grabber, from casual outings to running errands. Opt for minimalistic accessories such as Navajo Earrings and slip into the Ariat Frontier Tilly Rodeo Tan Boots for an ultra-bohemian look.
#8. The Magic of Abstract Prints: Queen of Hearts Sweatshirt, Vibrant Distressed Jeans, Barbarosa Western Hat, and Chip Hoops
Take your fashion game up several notches with the Queen of Hearts Sweatshirt styled with Vibrant Distressed Jeans. From its easy-to-style nature to its eternal appeal, this combination will surely be a hit for casual dressing. You can put on the Barbarosa Western Hat and multi-colored Chip Hoops to bring an element of fashion and function to your outfit.
#9. Stirring Up the Elegance: Bell Sleeve Crop Top, Burgundy Boho Wide Leg Pants, Kacey 3-Strand Necklace, and Sedona Jolene Western Ariat Boot
The beige-colored Bell Sleeve Crop Top and the Burgundy Boho Wide Leg Pants are an excellent amalgamation of dramatic colors and silhouettes. The former provides a touch of femininity, while the latter brings ease of movement to your complete attire. You can wear the Kacey-3 Strand Necklace and ankle-length Sedona Jolene Western Ariat Boots for a party-ready look.
#10. Giving a Twist to the Basics: Lace Denim Jacket, Ranchy Tee, Ariat Perfect Rise Colorado Jeans, and Cowhide Ariat Cruiser
Give a contemporary twist to the girls' denim jacket with lacey detailing. You can throw it over the Ranchy Tee for serving style with a side of spunk. Bring flexibility to your outfit with Ariat Perfect Rise Colorado Jeans. If you want to keep the look easy-breezy, ditch the heels and go for the Cowhide Ariat Cruiser slip-on for optimal comfort.
Conclusion
Take your wardrobe to the next level with a touch of boho style. Creating an eclectic vibe with bold colors and textured fabrics is easy by shopping at Heels N Spurs western boho boutique. These outfits will unleash your creativity by combining eddy patterns, prints, accessories, and jewelry from Heels N Spurs for a truly one-of-a-kind look. Our western boutique has everything you need to make wearing bohemian style a reality.